This Mother Did the Unthinkable to 12-Year-Old Daughter for Money!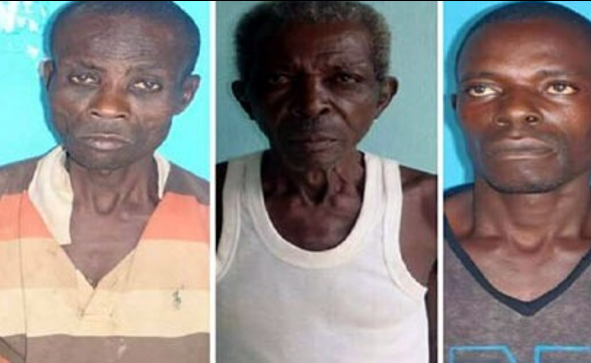 Udoaka Sunday, a mother of five, has been arrested by the Cross River State Police Command, alongside three other men for doing the unthinkable to her 12-year-old daughter.
In an interview with Vanguard, one of their neighbours confirmed the story stating that the greedy mother who has five children with five different men collected money from men including a retired 78-year-old soldier, Effiom Okon and four other men, and allowed them touch her daughter.
READ ALSO: Parents Force 12-Year-Old Daughter To Do The Unthinkable In Exchange For A New House & Van
The neighbour accused her of collecting N15,000 from the soldier.
"That woman is really insane; she is the biological mother of the girl. How can any sane mother allow men to abuse her daughter because she is poor? There is no excuse for the act apart from insanity.

She collected N15,000 from old soldier and other petty cash from four other men. Whenever she sends her out to hawk Zobo, Fufu and other items, she also reminds her not to fail to visit old soldier and other clients.
READ ALSO: Read This Mum's Emotional & Inspiring Note To All Mothers
According to information gathered, the innocent girl reported the matter to her teacher in school, who, after verifying the information, went to a child rights foundation that blew the whistle and had Udoaka arrested.
"We thank God for the teacher, who the girl reported her plight to before schools vacated. She was the one who reported the case to a foundation that exposed the trade.

She is currently nursing a baby, and the father of that child has not even visited since her arrest. That should tell you the kind of person she is; she is a bad person who is insane. No normal human being will allow that old-looking retired soldier to touch her daughter," a source said.
READ ALSO: WATCH: Al Jazeera's 'Africa Investigates' Reveals How Babies Are Sold in Exchange For Whopping Sums in Nigeria
The Cross Rivers State Police Public Relations Officer, Irene Ubgo, confirmed the incident, saying that three men and a woman have been arrested and that investigation was ongoing.
Photo credit: Vanguard