See Rude Comment Nigerian Man Posted About Mark Zuckerberg & His Kids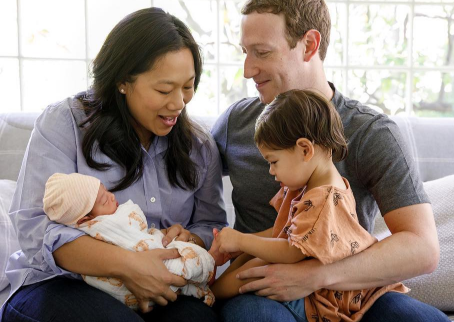 A Nigerian man who goes by the name Amoo Joshua Oluwatimilehin exposed his patriarchal views to the whole world. He claimed there would be no one to inherit the Zuckerberg fortune if he keeps birthing daughters instead of sons.
Facebook CEO Mark Zuckerberg and his wife
Priscilla Chan
welcomed their second child, a girl 
on Monday
. They took to their social media pages to share photos of their new born.
While the pair received congratulatory messages from all over the world, a Nigerian fan had something insane to say, which we guess is a result of the misogyny he has been exposed to in society.
What Oluwatimilehin said was in reference to the fact that the doting father has two girl and no son.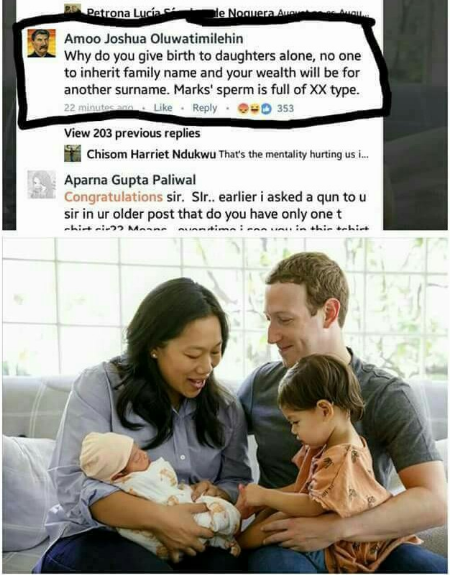 "Why do you give birth to daughters alone, no one to inherit family name and your wealth will be for another surname. Marks' sperm is full of X" he said.
In the Nigerian society, from ancient time the boy child is said to be the father's next of kin. A male son is still considered better than a girl child to some, it is only recently a lot of stereotype have been changing due to exposure.
The Laws just recently made it legal for female children to inherit property in Igbo land. More can be done to correct such inequality in society.
However, it was not proper for that man to make denigrating comments about the sex of  Mark's kids or even bother about things that are not his business.
What do you think? Share your thoughts on this.
Photo credit: Facebook