Why A Father Grievously Harmed His Son | Graphic Photo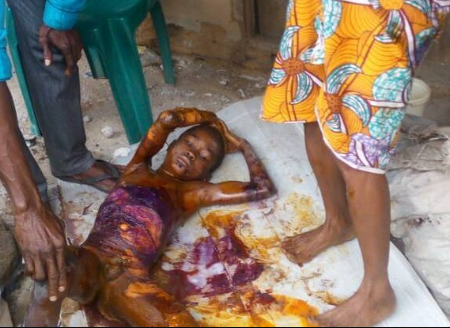 https://www.instagram.com/p/BYfmAkhh9DD/?taken-by=i_am_theblackchild
The rate of abuse meted on children in the country is increasingly disturbing. The use of harmful of objects as a tool to correct a child is nothing short of barbarism and brutality as seen in this graphic photo.
A child has had his body severely burned by his father for two reasons; for being too stubborn and stealing. He was said to have doused his son in hot water.
An Instagram user who shared the horrific photo of the child smeared in palm oil to treat the burns gave little details of the incidence.
READ ALSO: Woman Bathes 9-Year-Old Maid With Hot Water
According to the social media user, the child's father who resides in Calabar scalded his son who is now unable to speak with hot water.
The user whose handle is @i_am_theblackchild wrote:
"So this happened today this morning a father poured his one and only son hot water because he stole and he is stubborn the boy can't even talk what nonsense is this say no to child abuse."
READ ALSO: GRAPHIC: See What Neighbour Allegedly Did to Nursing Mum During A Row
READ ALSO: Child Abuse: See How Evil Woman Tortures Four Year Old Step Son
This is clearly no way to raise or discipline a child. It is our hope that the authorities look deeply into this matter and do the needful.
Photo credit: Instagram