Awww! Barack Obama Admits Being Emotional When He Dropped off Daughter, Malia at College
Former President Barack Obama has opened up about how uneasy he felt dropping his oldest daughter Malia off at Harvard University's campus saying it felt like an "open-heart surgery".
According to USAToday, the dad of two who revealed that he shed tears while he left her go, said he was however proud he did not cry in front of his teenage daughter, Malia.
During the reception of the Beau Biden Foundation for the Protection of Children Monday in Delaware, he bared his heart on how hard it was to let her off on her own.
READ ALSO: Emotional! Barrack & Michelle Obama Drop Daughter Malia off at Harvard
"For those of us who have daughters, it just happens fast. I dropped off Malia at college, and I was saying to Joe and Jill (Biden) that it was a little bit like open-heart surgery, and I was proud that I did not cry in front of her.

But on the way back, the Secret Service was off, looking straight ahead, pretending they weren't hearing me as I sniffled and blew my nose. It was rough.
READ ALSO: Adorable Photos Of The Obamas As They Arrived At The Martha's Vineyard In Massachusetts For Their Final Family Vacation
And it's a reminder that at the end of our lives whatever else we've accomplished, the thing that we'll remember are the joys that our children, and hopefully way later, our grandchildren bring," he said.
Malia who is already 19 started her first year at Harvard in August after deferring her enrollment for a year. The former America's first couple were seen on campus as they helped her move in.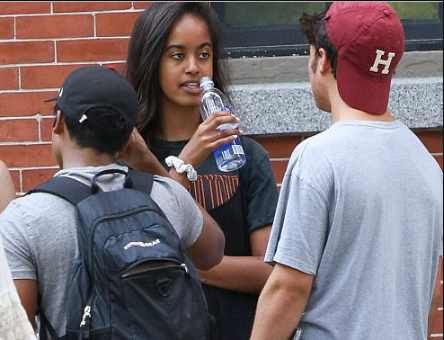 READ ALSO: U.S. First Lady Michelle Obama, Daughters & Mum Promote Girls' Education in Africa
While Malia takes on Harvard, the Obama family continues to live in Washington, D.C. while their younger daughter, Sasha Obama still attends high school.
Watch video below:
Photo credit: Instagram