Crossfire! Tonto Dikeh and Ex-Hubby Churchill Air More Dirty Laundary
For this ex couple, Tonto Dikeh and Olakunle Churchill, the drama never ends! It has been a crossfire of shocking revelations.
In a series of Instagram post, the actress and mom of one has leveled new allegations against the father of her child after he granted a new interview at a Ghanaian Media House, where he spoke about his life after divorce.
In the interview, he claimed he gave her N10m as a gift, however, she said it was money she spent on their wedding.
According to the controversial actress, Churchill made her friend's brother go to jail for a fraud he committed in Switzerland, adding that he has a daughter, Bimbo, whom he refuses to acknowledge.
She also revealed that he married her because he wanted to be that famous Yahoo boy!
READ ALSO: READ! Tonto Dikeh Talks About Remarrying, Her Foundation Amongst Other Things
Read all she wrote below…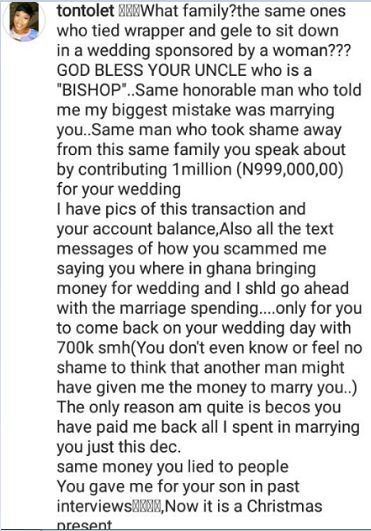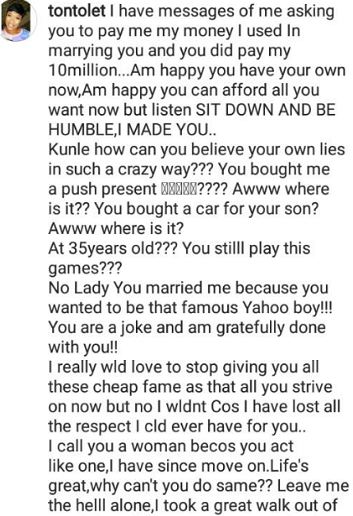 READ ALSO: Read Tonto Dikeh's Message to Those Slamming Her for Celebrating Dissolution of her Marriage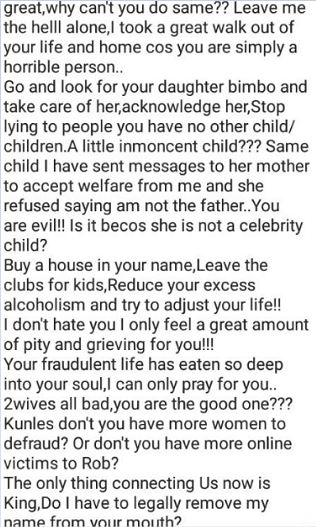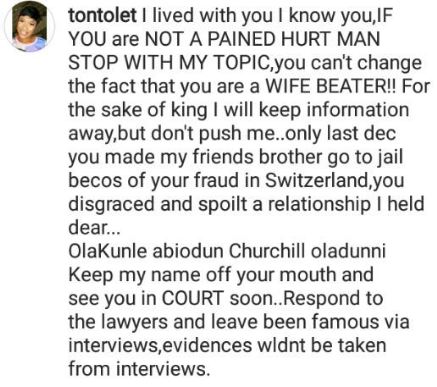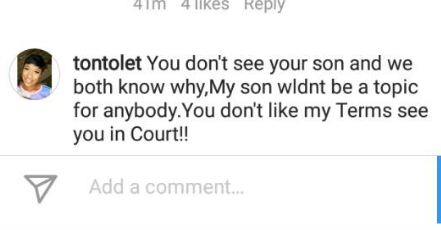 READ ALSO: Tonto Dikeh's Brother-in-law, G Wingz Breaks His Silence Over Tonto's Explosive Letter to His Mum
Read excerpts from the interview below;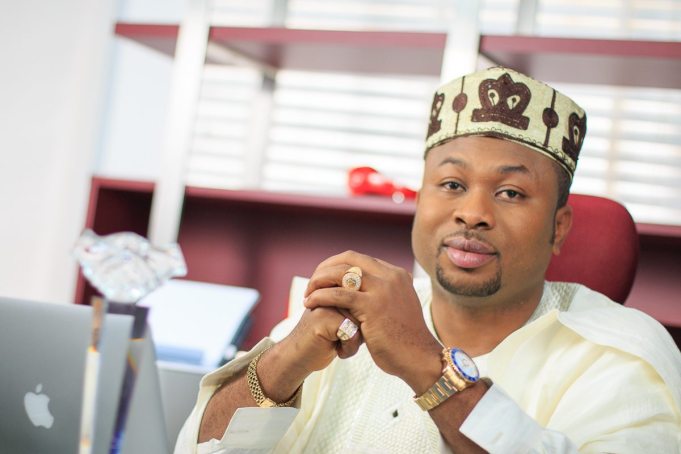 READ ALSO: "Until I forgive you, you will not find happiness" Tonto Dikeh Places Curse on Journalist Azuka Ogujiuba | See Why
On marriage and life after divorce
I've not seen my child since December and I have no option. I can't see him forcefully because Tonto Dikeh can use anything against you.
She is an extremist. The drama was too much and nobody likes that. I was warned by friends and family not to marry her but didn't heed the advice. I gave her the chance and she failed.
READ ALSO: Azuka Releases Fresh Evidence to Rebut Tonto Dikeh's Domestic Abuse Claim
On domestic violence allegations
She claimed I beat her but at that moment, I wasn't at home – I was in Ghana. I tried to protect my family but she made things difficult. She's not someone you can beat! All her allegations were planned to bring me down.
The incident that happened in my mum's house was on December 20, 2016. She had a charity event on December 22 but there was no evidence of beatings on her body.
You can Google online to see the dates' intervals about her 'road fixing' in Abuja.
As far as I am concerned, I've not touched her before. Maybe, it's her spiritual husband that beat her up. She's super hyper so I had to stay calm in our marriage. She's stubborn so you can't beat her.
Of cheques and gifts
Contrary to claims by Tonto Dikeh that she bought their family car by herself, Olakunle disclosed that he gave a $28,000 cheque to his ex-wife as a gift. Not just that, he added a push gift last Christmas.
I gave her a 10 million Naira (approximately $28,000) cheque as a gift on Christmas and in addition showered her with a push present. I have a copy of the cheque with me so she should prove me wrong.
Will this estranged couple ever stop? They have a child together and they need to behave responsibly for that child's sake.