'African parents sell their daughters as if they are prostitutes'- Man Slams the Bridal Price Traditional Practice
When a couple prepares for marriage, the thought of necessary rites which majorly surrounds the bride's price comes to mind. Over the years different communities in our Nigerian society have maintained their marriage rite traditions.
In Nigeria, bride price which is traditionally known as dowry is an amount of property or money brought by a groom to his bride on their marriage. In some countries like China, Korea, India and others not mentioned, it is vice versa.
READ ALSO: Vegetable Seller Arrested for Robbery Confesses Why He Did It
A foreigner has taken to his social media page to protest against an African parent that tendered a huge bill before him as bride price.
The man identified as StevieQue took to his Twitter page to express his anger over the issue of bride price which he believes its a viable avenue for people to get extorted.
In his words, he said he's not paying nobody parents to marry their daughter.. adding that 'they better be grateful somebody even wants to marry her."
Here's what he wrote;
"Can somebody explain to me why the Africans have no class?? Why do they throw ones at people on their WEDDING day as if they are worthless strippers with no dignity ? Please explain"
"African parents sell their daughters as if they are prostitutes and call it a "bridal fee" or some other dumb poo just to get married… smh why am I paying the parents to marry their daughter? this is sick.
Africans are known for scamming & finessing but this is just sick… can people be in love IN PEACE without you scamming for once..
"I'm not paying nobody parents to marry their daughter.. they better be grateful somebody even wants to marry her"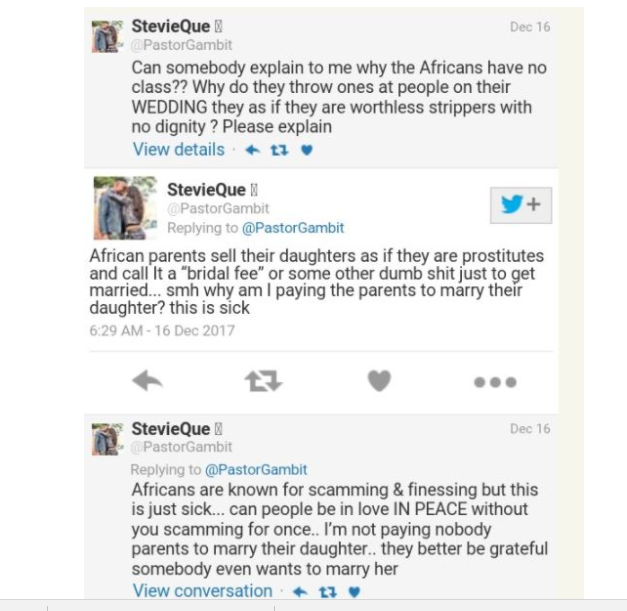 Photo credit: Twitter