Video: How SARS Officials Beat Up Pregnant Woman Who Ended Up Losing Her Quadruplets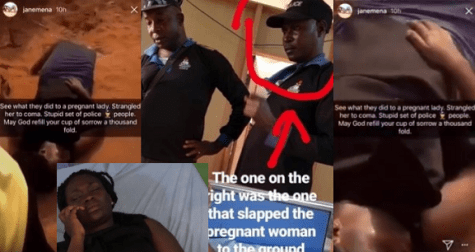 So yesterday Special Anti-Robbery Squad (SARS) of the Nigeria Police Force, Delta state were caught on camera seriously assaulting a pregnant woman and two others during an altercation.
A dancer/twerker, Janemena shared the video on her Instagram page. The heartbreaking video caught the moment the unprofessional officers lost it and began hitting and slapping Janemena's pregnant friend.
The attack left all three women with serious bodily injuries that landed them in the hospital. Jane had swollen tissues and had to have her hand bandaged.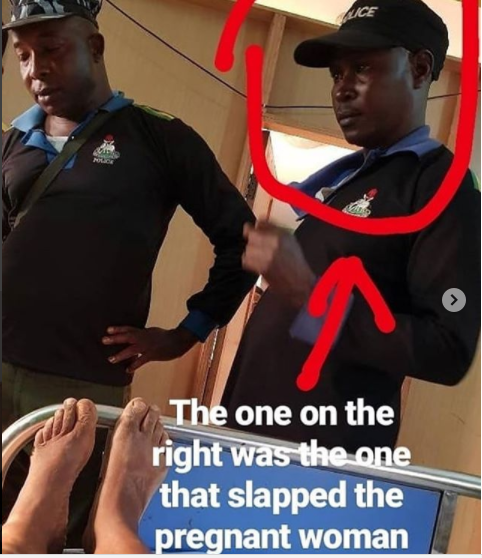 READ ALSO: If I die, look for me at Ajiwe Police Station' – Actress April Joju Cries Out After Suspected Police Brutality
According to Jane, after the altercation, her pregnant friend went into coma and was admitted at the hospital  where the doctor informed them she was pregnant with quadruplets.
New information released by Jane this morning has it that her friend has lost her pregnancy.
She said the police officer in charge later came to meet them in the hospital, offered NGN30,000 for their treatment then begged them to delete the videos of the assault and forget about it.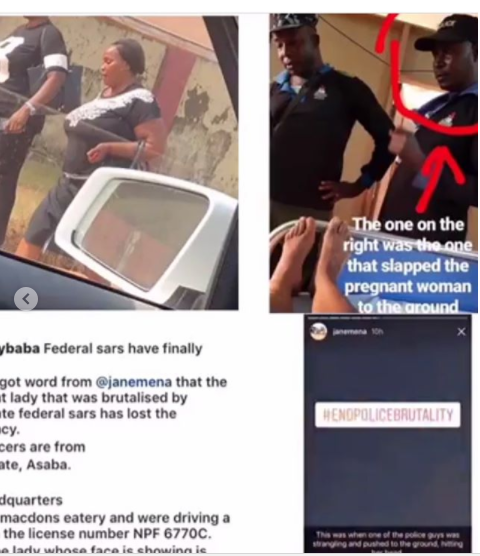 READ ALSO: Nigerian Woman Details Alleged Police Brutality Over Her Tattoos
"This whole issue started from a guy who refused to reverse back a little for my friend to drive by as she couldn't go back herself Cos of the way my street was filled with stones and her car was really low.

She then left her car on the same road the guy blocked and walked down to my house, 3mins later, we saw police men from ZONE 5 around the car, they were actually patrolling and stopped, I hurriedly told my friend to go check it out thinking we could resolve the situation amicably.

On getting there, they were about to loosen her plate number leaving the other guys car that actually blocked the road and that's when I intervened on her behalf, the minute I said "oga abeg leave the plate number" that's how these guys shouted at me, WILL YOU GET OF HERE YOU BASTARD, YOU ARE BECOMING AN UNBECOMING, pointing at me, at this stage I asked him not to intimidate us with his guns or power, and that's when he jacked up my dress, my kid sister came and intervened, before I could say "jack" these police men were dragging her on the floor, hitting her from left, right, centre and above.
READ ALSO:Distraught Mum Raises Alarm Over Kidnap of her 2 Children by Alleged Policemen in Rivers State 
She actually fainted and another slap woke her up from her slumber. Thank God for a guy who came to save her from their grips, then a police woman that wasn't on uniform, came at me shouting while we were resolving this issue again o.

YOU THINK SEY YOU DEY MAD, I MAD PASS YOU, and then she came jacking at me too o and I held her dress close to her chest too to leave mine alone and that's how they said I have beaten up a police woman "who wasn't on uniform" these men put their handcuffs on me and was dragging me on the road to their Hilux car, carrying me and hitting me like I was a criminal, all these, I still refused to enter and this went on for about 7mins before a soldier guy came and said if we must go anywhere, it must be his car I would enter.

I agreed and went into his car, at this point he started asking me, what happened, my dear brothers and sister, the next thing I saw was the policeman hitting my pregnant friend telling her to stop the video and it resulted to her strangling her neck and she went into coma. CONT FROM PIC."
Just last year, some Nigerians called for the scrapping of SARS. This followed series of complaints shared online by Nigerian youths on alleged harassment, assault by the SARS operatives.
According to observers, SARS operatives were fond of harassing youths with exotic cars, phones on highways, especially Lagos State.
Using the hashtag #EndSARS, some Nigerians have been calling on the federal government to scrap the police unit.
A petition on scrapping SARS has already been addressed to the national assembly.
https://www.instagram.com/p/Bduq0DjHBxN/?hl=en&taken-by=janemena
Picture credit: Instagram