Ex Beauty Queen Millen Magese Spills on Battle With Endometriosis & Birth of Her Miracle Son: "I had lost several other pregnancies, I didn't think I could survive another loss"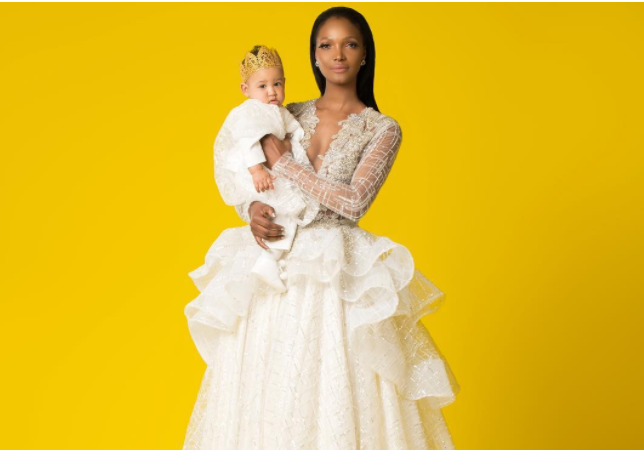 Tanzanian supermodel, Millen Magese welcomed her first child, a son last year. After years of battling & overcoming endometriosis- a gynaecological condition which can cause severe pain and infertility, Millen's doctors confirmed that her IVF procedure was successful and she was pregnant in October 2016.
Millen welcomed her super cute son Prince Kairo on July 13th, 2017.
The super mom and her Prince are the cover stars for the March/April issue of Genevieve magazine and in this issue, Millen opens up like never before on dealing with endometriosis, surviving IVF and the miracle of the birth of her son.
Read excerpts from the interview below…
READ ALSO: Nigerian Singer, Saeon Shares Motivational Post on Her Battle With Endometriosis, Cystic Ovary & Fibroid
On her journey to motherhood: 
Oh my God! What a feeling! I can't even begin to describe the feeling. IVF is really a very long journey requiring faith, patience and a lot of support! How do I capture the ups and downs, the injections, the wait and the expenses?

IVF is very costly and that's very unfair to many women whose only option is IVF but can't afford the treatment.

We waited for a long time for the egg retrieval and then the transfer. After that, my partner and I had to wait 10 more days to become pregnant.
On being pregnant of her son:
The pressure was high; I was afraid because before this time I had lost several other pregnancies. I didn't think I could survive another loss. I prayed and prayed and avoided stressful situations and tried to stay positive.

When on Day 10 I took a pregnancy test and found I was pregnant I was over joyed. I couldn't believe it. I cried! But unlike at other times, these were tears of joy! I felt like telling the world but I had to restrain myself.

I didn't want to announce it because I had lost too many pregnancies already. I kept it a secret until a week after my son was born. I only released my maternity shoot after my son was born. I can't describe the feeling that moment I held my son in my hands.
READ ALSO: 7 Ways To Cope With Endometriosis
On dealing with endometriosis: 
There's only one word to describe it! NIGHTMARE! You hardly have a life. You can't plan anything because of the pain that never goes away. You saw how broken I was during a video call with you in the course of this cover and interview.

I had had a long day of photo shoot and I needed to send you answers for the cover interview to meet the deadline.

The week had also been very challenging and stressful. I couldn't deal with it all and I just broke down and cried.
A week after welcoming her baby last year, the model shared the good news on her Instagram page with a photo of herself cradling her baby. She captioned it with an emotional post, where she spoke about her battle with endometriosis and how God turned her hopeless situation into a miracle.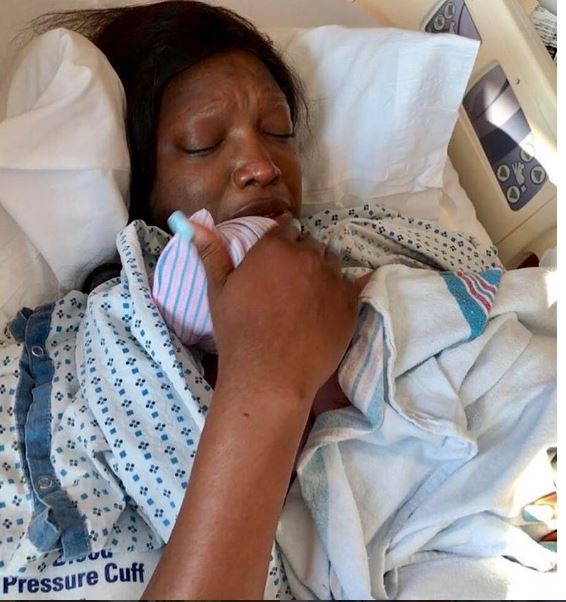 "It's a week since I first hold you in my arms. I'm still trying to absorb the whole thing. This will probably be the longest caption I ever written but please bare with me?. Through my scars you brought me a Star ⭐ Jehova you lifted me higher today.

Father Lord, I'm acknowledging you for who you're and for what you've done in my life .

You Must want to change your story for miracles to work. Miracles happens in such a mysterious way . I wanted my story to change so I prayed harder, I took risks, bold steps with no fear and sympathy. I kept my faith higher than just HOPE. I believed He would hear me out.
READ ALSO: Actress Uche Elendu Shares about her Struggle with Endometriosis as she Marks Daughter's 1st Birthday
Father I thank you, through me you showed your Power. I'm grateful. Last year around this time I lost an embryo #ZoeKhloe . June 30th 2016. It was so painful to bare but father Lord you had a plan, you're again showing all of us that, you're a living God and nothing is permanent.

Thank you father Lord for changing my story which you let it happened on the 13th July 2017 ,the same number that have been my history but now you change it with a different story.

Thank you for giving me this miracle Boy ?? I have been writing this note since two months before your arrival because I was scared and nervous that I won't have words to say today as I'm holding you in my arms.

Dear My little Prince Kairo Magese Michael My Miracle Son) You mean the world to me just like your names. Today the 20th of July , you're exactly a one week old baby and mama is grateful.

Without God's plan, Faith and perseverance I wouldn't be holding you today. As rough as this journey has been, it was all worth it to fight for you, to cry for you to pray for you, to go through Hundreds and hundreds of injections, humiliations, pain, emotions breakdown, loss, Scars but you chose me to be your mother and God chose me to be your mother.

You're truly A child we all prayed for. I'm not sure If i deserve to be your mother but all I know it was worth for me to fight to be your mother ,so I will forever be there for you . You're my Son .
Am blessed to be your Mother?….Part1
READ ALSO: 'I thought I was going to die' – Ex-beauty Queen, Nike Oshinowo Opens Up on Her Battle With Endometriosis
She went on to pray for her little miracle:
May you bring Hope ,faith and Miracles to millions women out there who wishes to hold their children just the way I wished to hold you.

May you grow to change the world and be there for others .

May you believe in God and own his miracles. As much as life can be tough, may you learn to be patient, work hard and knowing that ,everything always happens for a reason and every human being has their own path and plans from God for them.

Don't ever loose hope. And no matter what happens in your life remember,you have our God Almighty and I will be here always .

Father I thank you for making me A Woman and Finally A mother .
Father I thank you for bringing my dad back What a gift .jina Lako Lihimidiwe ???
I love you my Son ❤ And to you godmother @funminewyork . I believed you had a good heart you have been with me for 13 years but Gosh what you have done through out my pregnancy journey is unexplainable. God bless you sis I can't say more . ?????
Prince Kairo Michael Magese was born
Time :6 .58 am
Weight :9 pounds 2 oz
Date :July 13 th 2017 . You're my Victorious just like the meaning of your name "Kairo"#AChildWePrayedFor?

Glory to God. Dansaki. Asante Mungu Many thanks to Dr Seckin @endofound , Dr Lobo,Dr Gyamfi and the whole team from Columbia Doctors . Many thanks to all my friends and family oooh you guys tried @theojinika@lebogangm@samanthajansen@jimi_mugul .

Special thanks to all Endometriosis groups World wide for all you do. We will raise awareness till we find Cure ??.And to you all my supporters thank you, Don't stop supporting us. I believe A cure for Endometriosis is almost here. Support Us????

To Everyone don't you ever forget, If you knew who walked beside you, at all times, on the path that you have chose, you could never experience fear or doubt again, Have Faith ??Stand on Your Faith ??Change Your Story ??You Can Do It??
Millen Magese ?#PrinceKairo?."
Photo credit: Oye Diran | Instagram