Teju Babyface Reveals Why it Will be Difficult to Cheat on His Wife
Comedian,  Teju Babyface and his wife,  former model and make up artist, Oluwatobiloba Oyelakin celebrated the birth of their twin bundles of joy after waiting for 6 years to have a child.
Barely a week before his wife put to bed, the talk show host, real name Gbadewonuola Olateju Oyelakin, had an interesting interview with City People, where he spoke highly of his beautiful wife and why it will be hard to cheat on her.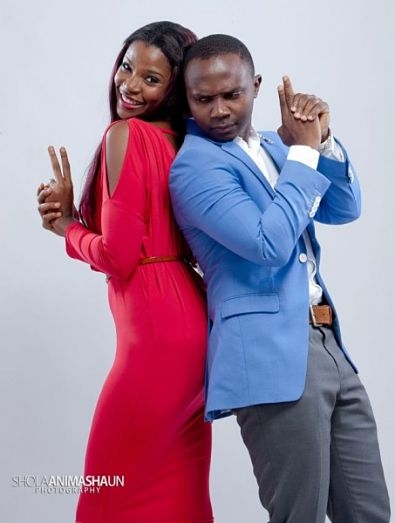 Enjoy the interesting chat below…
You have been married for about six years now, how would you say marriage has changed you?
Marriage has taken away most of my indiscipline and has helped me to keep it on a strong leash. I was telling somebody yesterday that the reason why I try to be a faithful husband is not because I am holier or more righteous than most, there are several reasons.

One of them is because I lack a sense of proportion, that is because I really don't know how to do things in moderation. If I was a drinker, I would probably be drinking excessively.

But thank God alcohol doesn't hold any interest for me. If I was a smoker I'll probably smoke excessively. What I did do was that I liked to hang out with girls, which I did excessively. What marriage has done for me is that it's allowed me to keep my focus on God by keeping my focus on one woman.

Nature abhors a vacuum, so I couldn't have been the kind of man I desired to be without a wife. Having a wife has helped me to try to be that disciplined person amongst all other things. Marrying a good woman also helps you develop greatly. In my lowest moments sometimes, my wife looks at me and just says to me some really wonderful things.
You seldom hide your love and admiration for your wife, you always talk about her on air. Share with us the first thing that struck your mind when you first saw her.
(Smiles) This girl is fine, that's what I said to myself. I like that she was beautiful in the kind of way that I like women to be beautiful. If I had to take a pencil and draw a beautiful woman, I would draw her almost exactly like my wife.

But I guess what I was seeing was not only how she looked outwardly, I guess what I was seeing more was what I was seeing through her eyes. Because she behaved exactly the way I expected somebody who looked like her to behave when I spoke to her. She didn't give me the time of day. She just blew me off.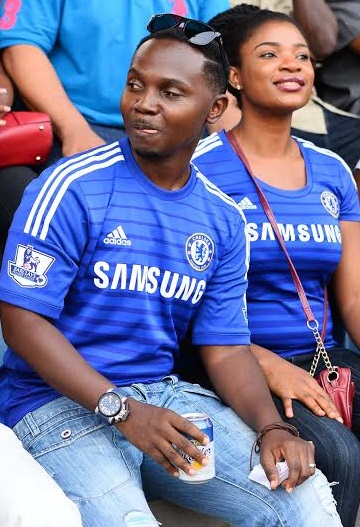 She wasn't fazed by the fact that you are a celebrity or something?
(He shakes head) It was like she didn't even know me. I almost said that, ah, don't you know me? The second time I saw her as well, it was the same thing. She also didn't give me the time of the day.

And then, one day I saw her again. She was also involved in the entertainment industry on the fringes. She was doing make –up, so we were bumping into each other once in a while.

So, this fourth time, I bumped into her again and she was suddenly very nice. I was like, what has changed? And from there, the rest, as they say, is history.
Tell us the three things that you admire the most about your wife
I like that she's a child of God. And I don't say that to pass her off as a church going person, though she goes to church a lot. She has a relationship with God. One day, we were somewhere with my mum where anybody who greeted my mum, mum went, God bless you in Jesus name.

Jesus! Jesus! To which my wife said, momsie, sha, Jesus! Jesus! Every time. And I looked and said, don't you know that you're the same? Don't you know this is how you would actually end up? Don't you know your own children too would be saying this about you? She said, really?

I said, you don't know? That everything out of your mouth is thank you, Jesus. Thank you, Jesus! That's my wife. So, I like that she's a daughter of God in that sense.

She actually has a relationship with Him and that forms the basis for everything. My wife doesn't like fight. In fact, it's one of the things she won my heart with when we were dating. No matter who was at fault, she would always apologize that same day.

The sun never went down on our fights when we were dating. The sun goes down on our fights now that we're married because after all, she has caught me finish, she can afford to do small shakara.

But I guess in the sense that we live in the same house now anyways, she figures that if we don't make up this night, we'll make up in the morning. But when we weren't living in the same house, she always made sure we sorted out our fights promptly.

And my father used to say that girl is wise, she stoops to conquer, that's what my father used to say. He used to say to me that I should look out for that when I wanted to marry a woman.

That I should marry a woman who stoops to conquer. He said obviously you're going to marry a beautiful wife, a woman who's going to be a champion.

She's going to be beautiful both in and out and quite a number of men are going to be on her case. One of the tests of knowing whether or not she's a good woman and that she appreciates the man she's about to marry, that being you, is that no matter how beautiful she is and no matter how many men are chasing her, when it comes to your case, she will always stoop to conquer.

Even when you are at fault, she will swallow her pride and apologize. It was as if my wife was a fly on the wall listening to what my father was saying because she did that perfectly. No matter whose fault it was she would always apologize and that won her a place in my heart. The third is a bit related to that. She's just a good hearted person.

I always hear that testimony from people. I remember we were once at Eko hotel when a man walked up to me and introduced himself, a big man in Lagos.

Big man in Lagos and not with a very good reputation with young girls. He said, I hear you're about to marry…my wife was in that hall working as a make- up artist, and he pointed to her. I said yes. He said I know her. She's a good girl. He said, you're lucky.

I looked at him, he said you don't understand me, I am telling you that you're lucky, you have got a very good girl. And I always hear stuffs like that, your wife is a good woman, she has a good heart. Yeah, so those are the three things I love about her.
You will definitely still be having quite some difficulty warding off the ladies. Yes, you're married, but a lot of them do not care if the celebrity they admire is married or not, you're still as good looking as you used to be several years ago when you first hit the limelight, so they won't stop coming for you. How do you deal with this?
I've already told you I don't go out. It's hard for you to come and admire me in my house now. Will you come and admire me in our home? You say I carry my wife on my head and I talk about her, it's also a defense mechanism, which is why marrying a beautiful woman should not be downplayed.

People downplay it a lot. They say beauty comes from within, that's true. Now, am I saying if a woman is not beautiful, don't marry her?

No, that's not what I've said. I've basically said that we're different and God made you a certain way and He has provided a mate for you. In my own case, I think it was important that I married a woman who was beautiful both within and without.

Why have I said this? I carry my wife on my head because I love her. But unknown to me, when God was prompting me to carry her on my head, talk about her on teevee, I didn't know what God was doing, I only found out later. I didn't know that though I was talking about her out of love and affection, I didn't know that it was also a defensive mechanism.

I only found out later that when a girl would say to, maybe her friend, that I like that Teju Babyface boy, I found out later that her friend would probably say to her, you better respect yourself! Have you seen his wife? You are not even fine, have you seen how beautiful his wife is?

Of course, many will say there are many men who have beautiful wives and still go after other women outside, that's true, except that this one not only has a beautiful wife, he also carries her on his head! And on top of that, he says he's a mentor again, encouraging people and telling them to change their lives.

God seems to have built a sort of defense around me. In fact, God has made it so now that if I wanted to cheat on my wife it would probably be very difficult based on how I've built it around myself. Okay, so, if I get to a hotel now and they see me across the counter and I book a room, first of all they'll be wondering who's coming to join me, then they see a girl, hen!

Second, where will I tell my wife I'm going? And my staff, my driver, who are always with me? What do I tell them? They'll start saying, Oga, ah..Let's even assume that I get through all that, what about the girl herself, she'll now go outside and say she slept with me. Maybe one day I could be on Instagram preaching, and she sees me, what will she say?

Really, it's hard. But regardless of all that, somebody who wants to cheat will still cheat. For me, God has shown me a bit of the future. And I liked what He showed me too much for me to give it up for hedonism or pleasures of the flesh.

Now, am I saying that I'm not tempted? No, I'm a man now. Before I got married, I was a boy, and a balling boy at that. I wasn't a church boy. I was a boy in town. One is tempted. Sometimes it's very difficult, but like I said, I liked what God showed me too much.
Photo credit: Shola Animashaun/Facebook