Charly Boy Responds To Those Who Criticized Him Over His Daughter's Lesbianism Reveal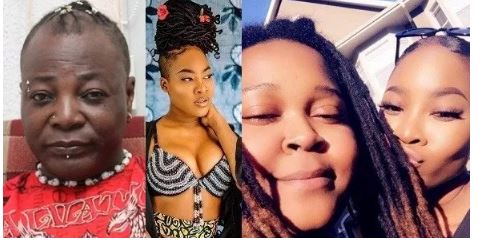 There are a few words the Nigerian society frowns at, and one of them is Lesbianism. 
It is not a word you find 'flying' around, because people thread with caution around it and most times, show their disdain when the word is mentioned.
Girls who engage in it shy away from owning up to it. Their parents wouldn't identify with them; that is, if they do not totally feign ignorance of their children's nvolvement.
In another news, the daughter of one of the most controversial Nigerian singer & entertainer, Charles Oputa a.k.a Charly Boy, Dewy Oputa, recently took to her Instagram page to declare her status and she likewise shared the picture of her partner.
Dewy, who said she has created a joint page with her partner, further disclosed that she has been trying to show off her girlfriend but did not find the courage.
"I was kind of nervous about this but fuckkkkkkkkk ittttttttttt! …….Clears throat sooooooooooooo
I and my Girlfriend decided to create a couples page because why not ????‍♀️ go follow@dewyandsj … ❤."
https://www.instagram.com/p/BlTb69chUow/?hl=en&taken-by=dewyoputa
The post was greeted with lots of homophobic comments and the commenters openly criticized Charly Boy for not raising his daughter with true African values.
READ ALSO: Actor Jackie Chan's Teen Daughter Reveals Her Choice of Sexuality in Emotional Post
Reacting to his critics, the 67-year-old dad & grand-dad, Charles Oputa  also known as Area Fada, stated that, "the best thing about being true to yourself, is that no one can tell you what you've already told them."
Defending his daughter, Charley Boy wrote:
"For Those going Gagas over my Princess Dewy's post. Hear This, The best thing about being true to yourself is that nobody can insult you by telling you what you have just told them. Acceptance has to come from, Within.

I am blessed with beautiful Children and grand children. Love em All. Thank you God."
READ ALSO: "Charly Boy Had Seven Kids From His Away Matches" Wife, Lady D Reveals