Eucharia Anunobi Lets Out, "Forget My Make-Up, It's Been Days, Nights Of Tears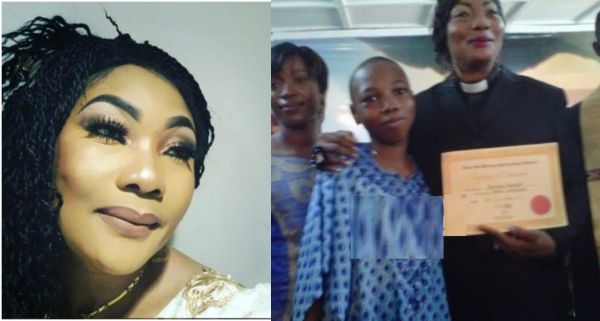 Nollywood veteran actress Eucharia Anunobi, 53, who lost her only child in 2017 after suffering from a  Sickle Cell Anemia crises, has recounted the challenges she has faced so far.
According to the star actress turned pastor, who recently organised one year memorial thanksgiving service for her late son, Raymond Ekwu, (read here) at the Rose of Sharon Centre, Redeemed Christian Church of God, Ikeja GRA, Lagos; she is yet to recover from the loss.
In an interview with Saturday Beats, the strong woman said she still misses her son. She also corrected the misconception that her son died as a result of sickle-cell anaemia. The actress stressed that her beloved son didn't die of his condition but rather, as a result of his doctors' mistake.
"It is not possible to overcome the trauma of losing an only child; it is a scar that will always be there. I don't even know if I have the strength. People only tell me that I have the strength but all I know is that I am very fragile and weak.
READ ALSO: "My son was mistakenly killed by the doctor." – Mourning Eucharia Anunobi Reveals
Forget the powder and lipstick, it is just a cover-up; it's been days and nights of tears. I still miss him so much, especially when I have to drive home and I remember that he's no more; he used to give me a warm welcome anytime I got home.

I never nursed any fear when he was born. I need to correct a misconception. He didn't die because he had sickle-cell anaemia, he died because the doctors made a mistake, but I don't want to go into that right now."
READ ALSO: "If I could finish my exams while burying my son, you can"- Eucharia Anunobi Inspires as She Graduates from School
On adopting a child, the veteran actress said it would happen in God's time.
"In the fullness of time, I will adopt a child in God's time; although, I still have people that stay with me that I've been taking care of, even before he (my son) died," she said.
It was gathered that at her son's memorial service, the pastor who anchored the event commended Anunobi, saying that despite the loss of her child, she was still able to successfully complete some major pastoral leadership programmes.