Remember Him? Little Boy, Taju Who Went Viral Is Barely Recognisable In New Photo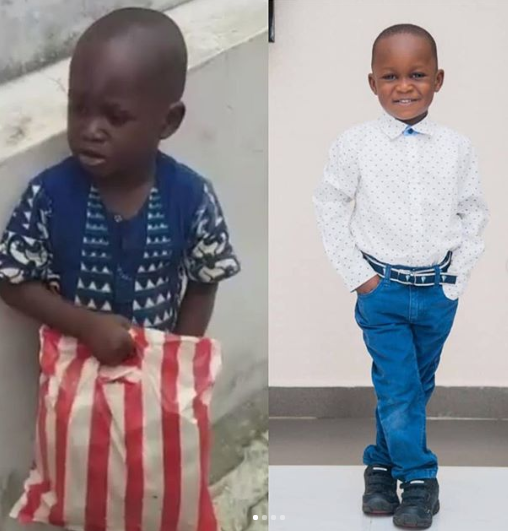 Luck smiled on little Taju after he was discovered months back and made to go viral.
In the video that went viral, Taju could barely communicate in the English language and his indigenous accent amused a lot of Nigerians across the internet, catching the attention of some Nigerian celebrities in the process, who became interested in giving the lad a brighter chance at life.
READ ALSO: Dayo Amusa Enlightens Women On How To Keep Their Vag Fresh
Actress, Funke Akindele has now given an update on the boy's life and also shared a new photo to show his progress.
It was also revealed that his name has been changed from Taju to Opeyemi.
Updating her fans and well-wishers of 5-year-old Taju, the actress wrote:
A couple of months ago the video of TAJU a little boy from Ibadan, Oyo state went viral on instagram courtesy @aycomedian I reached out and told him that I would like to meet TAJU.

@funmiawelewa brought him to me and I fell in love with his intelligence and vibrance. I thought about how TAJU would have better care alongside a secure future and the best thing to do was hand him over to his state government, so I reached out to Her excellency Mrs Florence Ajimobi the First Lady of Oyo state and founder , Access Basic Care Medical Foundation @accessbasiccare through my darling @abi_kd

READ ALSO: https://motherhoodinstyle.net/2018/06/13/operationfindtaju-help-find-smart-boy-taju-whose-video-going-viral/

I'm delighted to let you all know that this little boy is doing well under this foundation @accessbasiccare and I present to you the new Taju now called OPEYEMI. Thank you ma. May God bless you more @florenceajimobi

Thank you @funmiawelewa for reaching out to the boy firsthand. @aycomedian n for taking interest in him, starting up a fundraiser and putting in effort to make his life better God bless you.

PS: In whatever way you can touch a life, please do and do it selflessly. You never can tell whose light you can help shine.