Man, Saveme Akpila, Gets Huge Reward For Giving His Newborn Twins These Names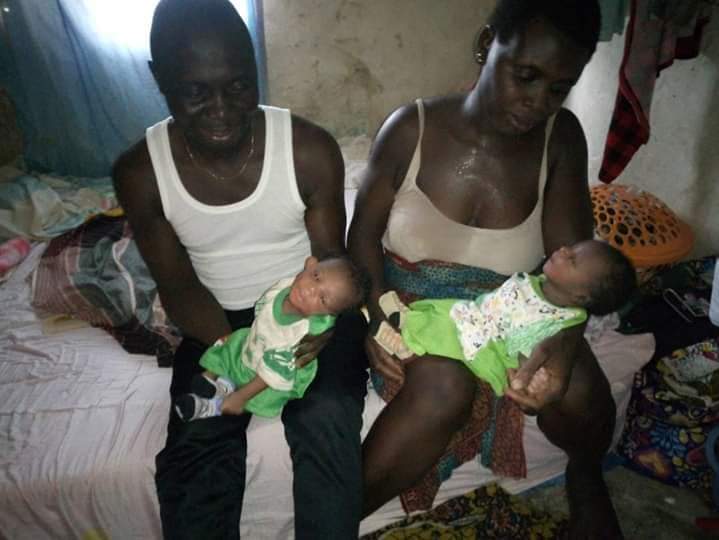 A Nigerian man, simply identified as Saveme Akpila,  from Rivers state has earned himself and family 'huge' financial gain because of his choice of names for his newborn twins.
READ ALSO: Woman, Hafsat Suleiman's, Resolve To Vote For Her Preferred Presidential Candidate Lands Her In Hot Water With Husband
Saveme, who is obviously impassioned by the ongoing political activities in Nigeria at this time, towards the forthcoming election, saw the timely arrival of his twins as an opportunity to further establish his political leanings.
He therefore named his twin sons, Atiku and Wike after the presidential candidate of the Peoples Democratic Party (PDP) and the current Governor of Rivers State, respectively.
READ ALSO: Kaduna Government Bans Adoption and Fostering of Children in the State | See Why
According to a blogger and member of the Odual Community in Rivers State where Saveme hails from, Joy Oyaghiri- Fagbemi, who shared the story, the new dad was a member of the ruling All Progressives Congress (APC) party, until he recently decamped to the PDP during Governor Wike's visit to Abua Odual, Saveme's community, for the PDP presidential campaigns.
Read Joy's account:
"An Odual man from Ward 11 identified as Saveme Akpila, a former member of the APC who decamped to PDP the day Gov. Wike visited Abua Odual for the PDP campaigns, has named his newborn twins Atiku and Wike.

After the PDP Presidential Candidate and Gubernatorial Candidate of Rivers State, respectively.

They were delivered on his way home after the PDP campaigns at Ayama, Abua on Tuesday.

To God be the glory!"
READ ALSO: Nigerian Dad, Agoboye Monday Francis, Embodies True Parenthood In A Most Heartbreaking Manner
An update from Joy's Facebook account revealed that Saveme's political enthusiasm has paid off in a most unforseen manner,  as the Chief Medical Director of Rivers State Hospitals Management Board, Dr. Okagua Kenneth Eghuan has given a generous cash gift to babies Atiku and Wike after hearing of the circumstances that led to their naming
Joy's update read:
"Just like that, babies Atiku and Wike get a very fat cash gift from the very generous angel in human form, the Chief Medical Director of Rivers State Hospitals Management Board, Dr. Okagua Kenneth Eghuan.

The family is absolutely overjoyed and surprised at how such a powerful leader blessed them so.

That's the power of social media. May God replenish his pockets.

When I tell people that Abua Odual has got the best PDP leaders, I'm not joking!"