Nigerian Dad, Agoboye Monday Francis, Embodies True Parenthood In A Most Heartbreaking Manner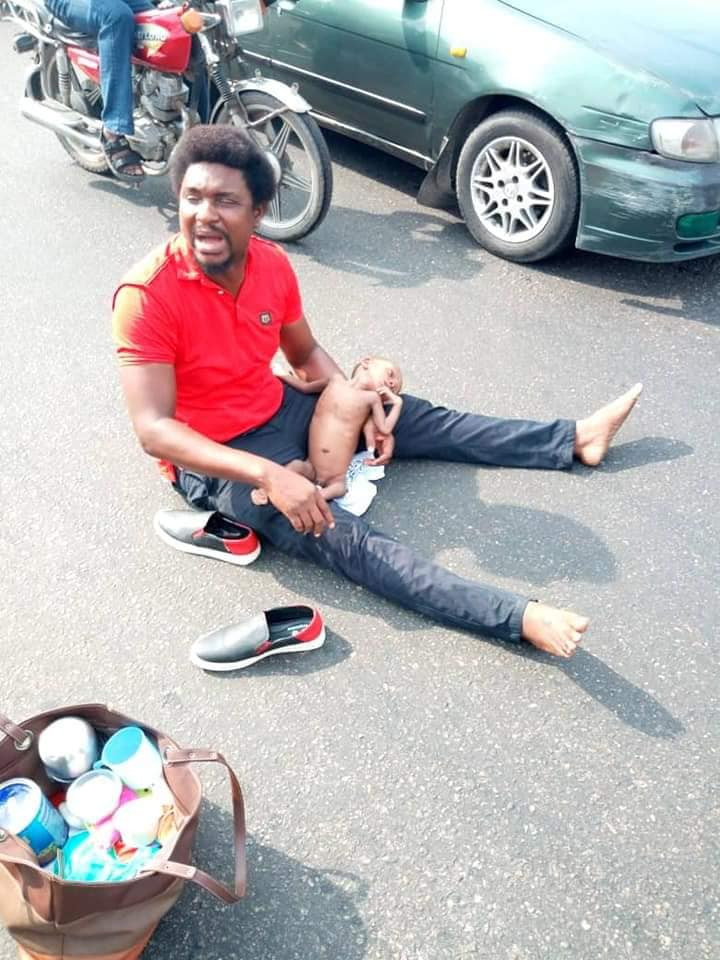 https://www.instagram.com/p/BtF7JL6BqDb/
A heartbroken Nigerian dad from Okrika, in Rivers State, Agoboye Monday Francis, pushed to wits end by his inability to alleviate his ailing child's plight, threw composure in the air as he sat weeping and cradling his visibly sick and unclad son in the middle of a busy road, just in front of the Rivers State government house.
READ ALSO: See Why Dad of a Newborn 4Qhen, Almost Took His Life
Baby, Beniah, was born with multiple holes in his heart and requires about N15 million for an emergency surgery; otherwise he would not live longer than 64 days accccording to the distraught father.
Unable to meet the financial demands of the surgery that could potentially save his child's life, the emotional dad said he ran from pillar to post seeking financial aid from his state government, churches, and well meaning Nigerians, but his efforts did not avail much.
READ ALSO: Nigerian Singer, Jodie Pens Inspirational Notes To Mothers of Special Needs Children
On Thursday January 24th, he took his child to the Rivers state government house to see if he could by any chance see the state governor, Nyesom Wike, but the security officers sent him away.
Mr Agoboye shared photos of an appeal he wrote to the state government for help but up till now, there was no response.
Lexy Mueka, a resident of the state who witnessed the distraught father's frustration said he could not hold back his tears as he watched the father humiliated and listened to his lamentations sitting with him in the middle of the road.
Lexy, who first brought the story to public notice took to his Facebook page to write the following:
"That moment when a Dad is told his sick child has just 64days to live if a quick surgery is not done on his child.
Saw this very ugly unfortunate scenario yesterday in front of the Rivers State Government House.

Saw some security details pushing & dragging a man carrying a very pale sick looking child. I questioned what the Problem is & the explanation from the man got me & some other passers-by tearing.

He lamented how he has written to His Excellency Chief Barr Nyesom Wike for support severally. To him he believes the Governor haven't seen his letter else he knows the Governor whom he knows have been helping others would also help in saving the life of his child.

MY WORRIES;
The young man is from Okrika LGA in Rivers State. What has happened to the much advertised HEALTH CARE SCHEME IN RIVERS STATE.

What has the Commissioner for Health said because he said he has written & Even met with him. (Find the letter attached)

Nobody can tell me that this child will be allowed to die for just N15million when he has a serving Sen. Andrew Uchendu as senator representing Rivers East, An Assembly member in the RSHA, A House of Representatives member representing his constituency in

The Federal House of Reps, a Local Government Chairman & most of all The Governor of the almighty Rivers State.
I can imagine the frustrations of this man.

I can imagine living & sleeping with a dying child that money can save.

THE RIVERS STATE GOVERNMENT CAN SAVE THIS RIVERS CHILD TO THE GLORY OF GOD!
Please help & share let's save a child."
READ ALSO: Father, Njama Paul Takes Extreme Measures To Support Newborn Lying Critically Ill In Teaching Hospital, Calabar
It appears that succour has come the way of Agoboye and his cries have reached the ears of kind-hearted Nigerians who are determined to help him raise the funds required for Beniah's surgery.
Radio personality, Ifedayo Olarinde aka Daddy Freeze has taken interest in the matter and is championing the cause to help Beniah regain his full health, with the support of his "FreeNation" compatriots whom he is charging to make donations towards Beniah's surgery.
Read what he wrote below:
"I NEED TO SPEAK TO THIS MAN WHO HAS HIS DETAILS… URGENT!
–
UPDATE!!!! Just spoke to him, his account details are 0067660529. Diamond bank. Agoboye Monday Francis.
Please leave #FreeNation as transaction reference so we can know how much is raised.
–
This is the saddest thing I have seen this year so far.
–
Doesn't the salvation pastor have a Rolls Royce and a Jet? And he allegedly only gave 20k????? is the same man not building a 150,000 seater temple?

What happened to the healing power of the pastors? Does it disappear in the face of real issues?
–
We are the church NOT a building.
–
This year alone, in the past one week, the #FreeNation has raised =N=800,000 for the man whose son needed surgery for eye cancer, =N=200,000 each for school fees plus treatment for 2 blind boys plus what we are doing for the community behind the Redeem building you can see from the 3rd mainland bridge.
–
We are a church, not those temples hosting concerts.

In the early churches there were no needy people, while today's church is filled to the brim with the needy and with pastors living in luxury.????
–
◄ Acts 4 ►
New International Version
All the believers were on
[32] All the believers were one in heart and mind. No one claimed that any of their possessions was their own, but they shared everything they had. [33] With great power the apostles continued to testify to the resurrection of the Lord Jesus.

And God's grace was so powerfully at work in them all [34] that there were no needy persons among them.

For from time to time those who owned land or houses sold them, brought the money from the sales [35] and put it at the apostles' feet, and it was distributed to anyone who had need."
See pictures and watch the heartbreaking video below: