Little Boy, Edward Cortez's Letter To His Teacher Who Queried Him Over Not Doing His Homework Will Leave You In Stitches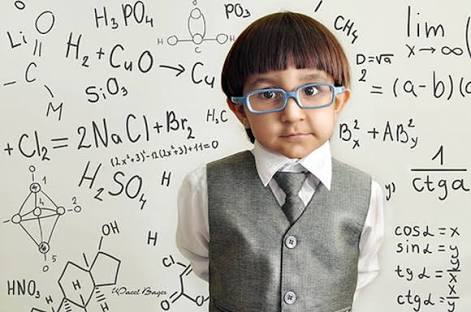 Edward Cortez's letter to his class teacher who queried him over his failure to do his homework is making its rounds on the internet.
Kids are hilarious. They really don't care much about what you are going to say or whether they are going to look odd for saying or doing what they truly feel. Perhaps it is their greatest virtue even to be so direct and unapologetic in expressing themselves, something that is not so common with adults. American Twitter user, Lydia, under the handle @_Lyddz, shared this rather amusing letter written by her cousin's little son, Edward.
READ ALSO: Is This Funny? Parents Share Photos of Naughty Things Kids Do
Lydia took a picture of the hilarious letter and posted it on Twitter,  expectedly many people found it completely brave and smart of Edward to express himself with such refreshing candour.
Lydia shared the letter writing;
"So my cousin and his wife got an email from their sons teacher.

He didn't do his hw so she asked him to write a paper saying why he didn't do his hw and this is what she got…"
The boy who in his response letter to his teacher absolved himself of any wrongdoing over not doing his homework said; weekend is a stress-free time and he would hate to be bothered with schoolwork at his leisure time, when he ought to be hanging out with his friends, watching  TV, or playing games.
He wrote:
"I didn't do my homework because I don't want to do schoolwork over the weekend,

because it's a stress free time to go out with friends, watch TV and play games."
READ ALSO: Five Annoying And Funny Things Nigerian Parents Have Caught Their Kids Doing
In another part of the letter,  Eddie stated without regrets that he is not going to make himself unhappy just because of homework that has no application in the real world.
He wrote:
"I don't do it also because it makes me very mad and unhappy, I do what makes me happy.

Plus my mum has been finding some grey hairs, not trying to stress out.

…the real world jobs don't give you homework unless you are a boss or teacher, homework is not a real thing in the real world,

so we should not have to do it in school because it's not useful. Case closed."
If you thought the lad was done venting, you thought wrong! He assumed the role of a judge and delivered a final ruling on the subject, declaring himself free of any blames.
He wrote in conclusion:
"The court rule in favor of Edward Immanuel Cortez in the case of student vs homework."
See photo of letter and screenshot below: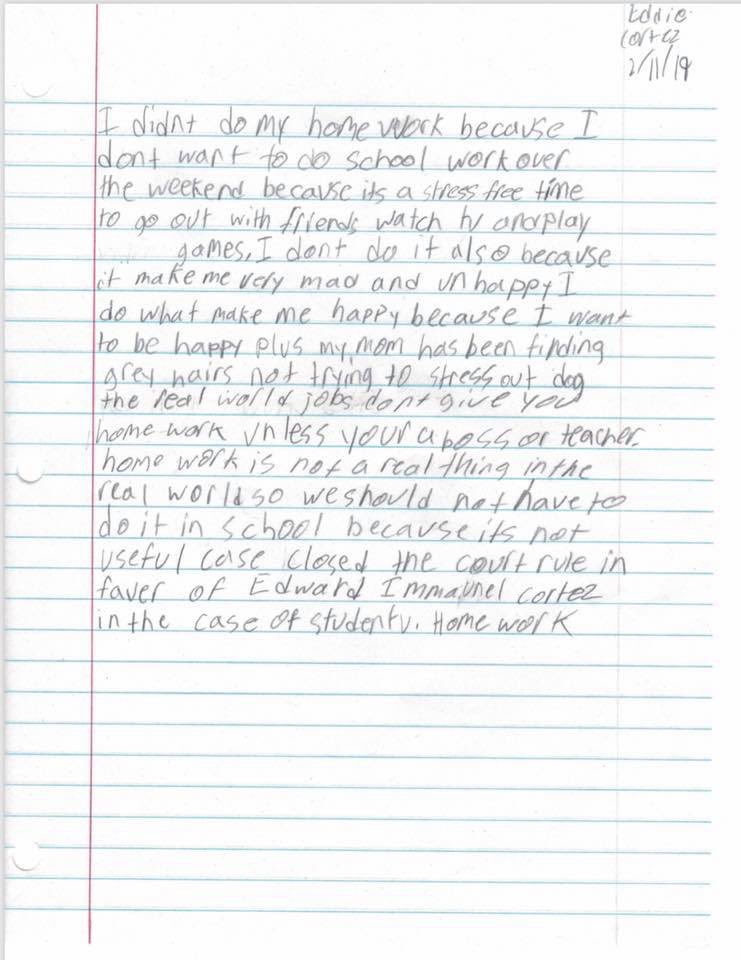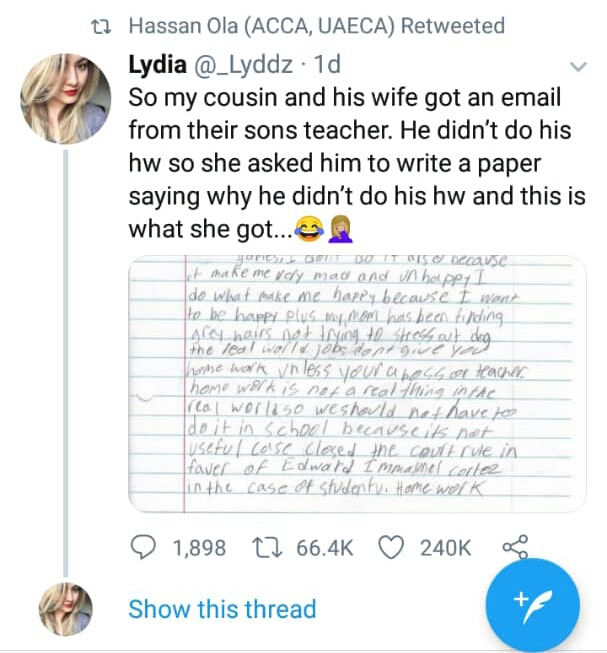 Edward's letter amusing to say the least,  but can anyone imagine what was going through his teacher's mind as she read the letter?