Incredible: Meet The Strong Woman, Thelma Chiaka Who Birthed Six Babies In Just 9 Minutes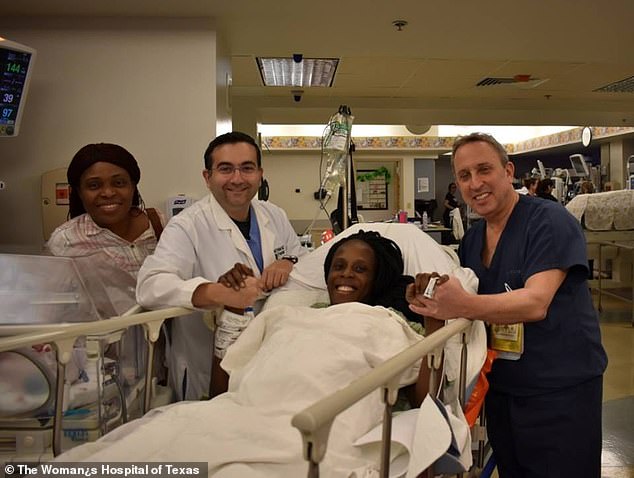 A Nigerian woman Thelma Chiaka based in Houston, Texas, has delivered as many as six babies in just nine minutes, stunning doctors as well as family and friends.
Defying remarkable odds of one in 4.7billion, Thelma delivered her sextuplets, two sets of twin boys and one set of twin girls between 4.50am and 4.59am on Friday March 15, according to a press release from the Woman's Hospital of Texas where she delivered.
It was gathered that the woman delivered at exactly 29 weeks and two days. All six babies weighed between 1 pound 12 ounces to 2 pounds and 14 ounces. The hospital said the sextuplets are in stable condition and will continue to receive care in the hospital's advanced neonatal intensive care unit.
Thelma has reportedly named her daughters Zina and Zuriel. The names of the boys, meanwhile, are not disclosed yet.
A statement from the hospital said:
"The Woman's Hospital of Texas, an HCA Houston Healthcare Affiliate, which delivers more babies than any other Texas hospital, early [Friday] morning welcomed sextuplets, the odds of which are estimated at one in 4.7 billion."
READ ALSO: After a Long Wait of 17 Years, Nigerian Couple Finally Blessed with Sextuplets
According to The American College of Obstetrics and Gynecology, babies born "before 32 weeks of pregnancy can die or have severe health problems, even with the best of care."
Chiaka's pregnancy is certainly rare but she does not hold the record for most children born at a time.
Nadya Suleman, better known as 'Octomom,' became world famous when she gave birth to eight babies in January 2009, aged 33. She is the only woman to have given birth to a set of octuplets to live past their first week.
Photo credit: The Woman's Hospital/ Nataliesuleman Instagram