'We're told to pray it away' -Hollywood Star, Taraji P. Henson Gets Real On Her Journey To Tackle Her Mental Health Issue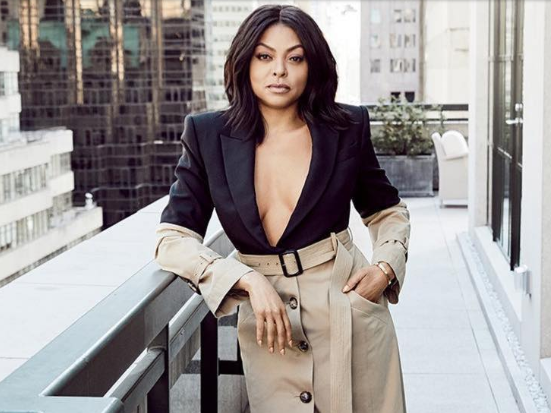 Turns out the 'go and pray about it' is not peculiar to Nigerians, the Golden Globe-winning actress Taraji P. Henson said they were told the same in their battle with mental health.
The Empire star, 48, who is being celebrated as one of Variety's Power of Women nominees for her work on the Boris Lawrence Henson Foundation, which she founded in her late father's memory, is bravely speaking out about her struggles with depression and anxiety.
In her interview with the outlet, the actress says she's sharing her struggles in a bid to eradicate mental health stigmas in black communities.
"We're walking around broken, wounded and hurt, and we don't think it's OK to talk about it. We don't talk about it at home. It's shunned. It's something that makes you look weak.

We're told to pray it away. Everyone was always asking me, 'Do you have a charity?' Well, dammit, this is going to be my calling, because I'm sick of this".
The Oscar-nominated star of "Empire" also reveals that dealing with mental health issues is not just work but a personal issue.
"I suffer from depression. My anxiety is kicking up even more every day, and I've never really dealt with anxiety like that. It's something new."
While Henson's acting career is at an all-time high, her movie What Men Want, she says fame has had a negative impact on her mental health. In order to get a grip on her depression, the single mama-of-one stepped back from social media and started seeing a therapist:
READ ALSO: Tee Billz Raises Awareness About Mental Health in Aftermath of Suicide Saga
"It was fun at first, but the older I get, the more private I want to be. I think there's a misconception with people in the limelight that we have it all together, and because we have money now and are living out our dreams, everything is fine.

That's not the case. When they yell 'Cut' and 'That's a wrap,' I go home to very serious problems. I'm still a real human.

I talk to someone. I have a therapist that I speak to. That's the only way I can get through it. You can talk to your friends, but you need a professional who can give you exercises. So that when you're on the ledge, you have things to say to yourself that will get you off that ledge and past your weakest moments."
READ ALSO: Mental Health: Working Long Hours Increases Depression Risk In Women — New Study Reveals
She continues;
I turn off everything. This [picking up her phone] had become a problem. You get on here to check messages and next thing you know, you're on social media.

Social media is good and it's bad. It plays a doozy. Even if life is good for you, you can still get on there and become depressed because people are filtering pictures and living these false lives, and it makes you second guess yourself – not intentionally, it just does.

That's what this does. It makes you compare yourself. If you just stay in your lane and mind your business…that's why I put that away.

It was affecting my mood. I'd wake up in a good mood and I'd see something on there. I can control that — just don't look at it! Because that thing can depress you. It can knock you off your game.
READ ALSO: You Can Eat Your Way To Better Mental Health – New Study Reveals
Henson says she sees her therapist regularly.
"It has to be regularly, and that's what I learned. It gets frustrating because you're waiting for them to fix you, but it's not that easy.

Going and talking to all these different therapists, that's a craft. You've got to keep going until you find the right one. It's like a relationship. I've got to feel comfortable because that's the only way I'm going to keep coming back to you.

To keep dealing with this ugly stuff, I have to feel totally safe. I need to feel like even though I know we don't have all day, you've got to make me feel like we have all day."
In 2018, the actress founded the Boris Lawrence Henson Foundation in honor of her father. Henson's father was a Vietnam War vet, who also suffered from mental illness. He died in 2005.
Just two years before her father's death, Henson's former partner, William Lamar Johnson, the father of her son Marcell Johnson, was murdered.
READ ALSO: Stella Damasus Reveals How the Loss of Her First Husband, Jaiye Aboderin, Took It's Toll On Her Mental Health
After the two tragedies, Henson made it her mission to find her son a therapist. However, it wasn't easy. The Hollywood star told Variety;
"When we started doing research and I started looking for a therapist that at least looked like him, so he could trust them, it was like looking for a unicorn".
In February, Henson opened up to PEOPLE about raising her son, and the fears she faces as a mother.
"He has a really good heart. It's just hard to know that the world can pick him out and turn him into a monster at any given moment.

That's what I fear, that's something that I carry — I think every black mother does. All parents worry about their kids, but then when you see the news and you see people getting off for killing innocent children with no weapon it's like, that doesn't exempt my son."
Photo Credit: @tarajiphenson/Getty Image