TV Host, Wendy Williams Finally Files For Divorce After 20 Years Of Marriage To Kevin Hunter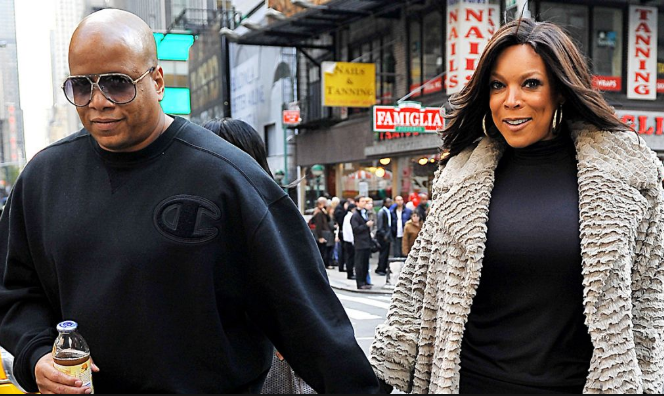 Daytime talk show host, Wendy Williams is reportedly splitting from husband Kevin Hunter of nearly 20 years after persistent cheating rumors and breakup buzz.
The mother-of-one, 54, filed a complaint for divorce on Wednesday in Essex County Superior Court in New Jersey, according to NBC News.
Williams cited "irreconcilable differences" that "have caused the breakdown of the marriage for a period of six months and which make it appear that the marriage should be dissolved as there is no reasonable prospect of reconciliation" as the reason for the divorce.
Williams and Hunter, 46, who got married on 30th of November, 1999, share a son Kevin Jr., 18, together. Hunter also served as Williams' manager.
The divorce news comes after Kevin Hunter and his longtime mistress, Sharina Nicola Hudson welcomed a baby girl last month.
READ ALSO: Wendy Williams Stands by Her Husband Amid Cheating Allegations | See Details
YouTube vlogger, Tasha K claimed that Kevin and Sharina's love child was born on Wednesday (Mar. 22), and the couple is said to have pulled all the stops to make sure this "confidential information" didn't leak to the media.
During her highly anticipated return to her daytime talk show earlier in March, Wendy Williams addressed the state of her marriage to Hunter.
"I want to shout out to my husband. I'm still wearing my ring," she pointed out. "Believe me you, when you've been with somebody for 28 years…married for 25 years…we know each other.

He's my best friend, he's my lover, he's all this and he's all that. I know what you've been seeing and I know what the streets have been talking about."
READ ALSO: American TV Host, Wendy Williams Makes An Emotion Laden Return To TV, Touches On The State Of Her Alleged Marriage Breakdown Over Husband's Infidelity| Video
In a video posted to her makeup artist's Instagram on Thursday, the American TV host casually showed her hands to the camera, hinting at the lack of a wedding band as she was getting glammed up backstage at "The Wendy Williams Show."
The talk show host, who likes to "tell it like it is" and dish the latest gossip to her audience, has been candid about her own health struggles, including a diagnosis of Graves' disease, an autoimmune disorder caused by an overactive thyroid.
Last month, after taking an extended break from her show, Williams returned and told her audience that she has struggled with addiction and has been living in a sober house in New Jersey. Williams did not disclose specific details about her addiction.
Williams said when she returned to her show:
"Nobody knew because I look so glamorous out here. After I finish my appointments, seeing my brothers and sisters, breaking bread, I am driven by my 24-hour sober coach back to the home that I live in here in the tri-state with a bunch of smelly boys who have become my family."
Photo credit: Getty Images