OUTRAGE In Georgia As The Most Extreme Abortion Bill Is Signed Into Law
Whenever the word "Abortion" comes up, it stirs up a lot of conversation and controversies nationwide. On Tuesday, Georgia Governor, Brian Kemp, a Republican, signed the most extreme abortion ban nationwide.
The measure is a "fetal heartbeat bill," known as HB 481, that would ban abortion after six weeks into pregnancy, which is when a heartbeat is sometimes detected in an embryo, but before many women even know that they're pregnant.
The heartbeat bill doesn't just curtail women's reproductive freedom (no minor offense); it criminalizes the procedure itself, which means women who get an abortion could face life in prison and even the death penalty.
That's because, as Slate.com explains, once HB 481 takes effect, a woman who terminates her own pregnancy with, for example, a drug easily available on the internet, "will have, as a matter of law, killed a human—thereby committing murder."
Under Georgia law, the punishment for that crime is life imprisonment or capital punishment. HB 481, which is due to take effect on January 1, 2020, would also have consequences for women who suffer a miscarriage.
If a woman were to miscarry based on her behavior such as use of drugs or alcohol, she would be liable for second-degree murder, which is punishable to 10 to 30 years' imprisonment. Even if she opted to leave Georgia to obtain an abortion, she would still be just as liable for punishment in the state.
READ ALSO: Barbaric! Court Upholds 30-Year Jail Term for Woman Who Suffered a Miscarriage
If a woman travels to another state for an abortion, she may be charged with conspiracy to commit murder, which can lead to 10 years' imprisonment. And if you're a woman who wants to help a friend cross state lines for her abortion, you could also be charged with "conspiracy."
A woman who travels out of Georgia to obtain a legal abortion elsewhere could still be prosecuted under the new law, and imprisoned for up to ten years. pic.twitter.com/p090h7odDO

— Mark Joseph Stern (@mjs_DC) May 7, 2019
Georgia's heartbeat bill does make certain exceptions, including in cases of rape and incest, but only if a woman files a police report before seeking an abortion. The bill also makes exceptions if a mother's life is at risk and if a fetus is determined to not be viable because of medical issues.
Governor Kemp, flanked by supporters of the bill, said Tuesday morning before signing the legislation at the state Capitol: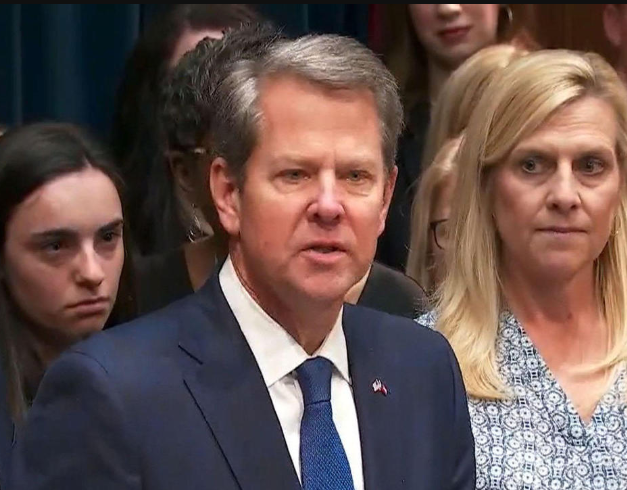 "(The bill) is very simple but also very powerful: a declaration that all life has value, that all life matters, and that all life is worthy of protection.

I realize that some may challenge it in a court of law. But our job is to do what is right, not what is easy. We are called to be strong and courageous, and we will not back down. We will always continue to fight for life."
READ ALSO: Catholic Bishops Resist Ministry of Health's Alleged Plan To Legalise Abortion In Nigeria
Still, for many women, the bill would largely prohibit abortion before they are even aware they are pregnant. As Britain's National Health Service, NHS, notes on its website,
"There are many reasons why a woman may miss her usual monthly period, or why periods might stop altogether" outside of pregnancy. Most women have a period every 28 days or so. However, it is common to have a shorter or longer cycle, with some cycles ranging anywhere from 21 to 40 days."
The NHS further notes that some women do not always have a "regular menstrual cycle," meaning their period may come early or late, and how long it lasts or how heavy it is may also vary each cycle.
In addition to pregnancy, a woman's period may be late, or appear to stop altogether, because of "stress… sudden weight loss… being overweight or obese… extreme overexercising… reaching menopause… taking the contraceptive pill" or because of certain medical conditions, such as polycystic ovary syndrome (PCOS), a common condition affecting women's ovaries that can cause irregular periods. The health service further states:
"Periods can also sometimes stop as a result of a long-term medical condition, such as heart disease, uncontrollable diabetes, an overactive thyroid, or premature menopause."
Noting that pregnancy is a "common reason why periods unexpectedly stop," the NHS also states that "it might be that your period is simply late, so you could wait a few days to see if it arrives."
Legal experts have been quick to point out that this bill appears to violate Roe v. Wade, the landmark 1973 Supreme Court decision that protects a woman's right to terminate a pregnancy until the fetus is viable, typically between 24 and 25 weeks.
And lawmakers have already called out the shaky legal ground on which HB 481 sits. Elisabeth Smith, chief counsel at the Center for Reproductive Rights, told CBS News:
"This law is bafflingly unconstitutional. Bans like this have always been blocked by courts. We will be suing Georgia to make sure this law has the same fate.

Georgia's intentions are clear. They want this law to make it up to the Supreme Court to challenge Roe v. Wade. They see new justices on the court and think it's possible

But the composition of the court has changed many times in the 46 years since Roe, and the Supreme Court has continuously reaffirmed that women have the right to decide to have an abortion."
READ ALSO: President Donald Trump Signs Executive Order to Strip Women of Abortion Rights
Elizabeth Nash, a senior state issues manager at Guttmacher, also said:
"The surge in attempts to ban abortion in the earliest stages of pregnancy underscores that the end goal of anti-abortion politicians and activists is to ban all abortion—at any point during pregnancy and for any reason."
Congresswoman Alexandria Ocasio-Cortez (D-N.Y.) took to Twitter to add that:
"6 weeks pregnant = 2 weeks late on your period. Most of the men writing these bills don't know the first thing about a woman's body outside of the things they want from it.

It's relatively common for a woman to have a late period + not be pregnant. So this is a backdoor ban. For context, this kicks in within days of a typical at-home test working.

If you were sexually assaulted (stress delays cycle), took a morning-after pill (throws off cycle), or have an irregular cycle, you'd have no idea. There are a TON of ways this law ignores basic biology."
Talcott Camp, deputy director of the ACLU Reproductive Freedom Project, said in a statement echoing Smith's response:
"This bill is part of an orchestrated national agenda to push abortion care out of reach and we won't stand for it. Governor Kemp, we will see you in court."
Already in Georgia, women face a number of state-imposed barriers to abortion, according to the Center for Reproductive Rights.
In addition to state health insurance limitations, the center said women also face a stipulation that they receive "biased counseling designed to deter them from having an abortion" before having to wait 24 hours before they can undergo the procedure.
Critics say Georgia's legislation "would ban safe, legal abortion and criminalize the most intimate decision women and couples make."
Outside the nation's Capitol, dozens protested the legislation Tuesday morning, including four women dressed in red cloaks in the style of "The Handmaid's Tale." Those four stood in silent protest, holding signs with various messages, including "Trust Women."
A woman dressed in a red cloak evoking "The Handmaid's Tale" protests outside Georgia's Capitol.
Another protester, Gloria Tatum, 76, of Decatur, Georgia, held a sign reading, "Say no to Republican and anti-woman sexist laws."
Tatum said that if supporters of bills such as this have their way, Roe v. Wade will be overturned and access to abortion will be gone.
Tatum states:
"Women are not going to take it. They will get a revolution in this country like they've never seen before, because we are not going back."
Andrea Young, the executive director of the ACLU of Georgia, told CNN:
"Today's women can only thrive in a state that protects their most basic rights — the right to choose when and whether to start a family. Georgia can't afford to go backward on women's health and rights. We will act to block this assault on women's health, rights and self-determination."
Georgia became the fourth U.S. state this year to outlaw abortion. Mississippi Gov. Phil Bryant signed a bill into law in March that would ban abortions once a fetal heartbeat can be detected, Ohio Gov. Mike DeWine signed similar legislation in April and Iowa passed one last year.
Courts have blocked the Iowa and Kentucky laws, and the others face legal challenges. The American Civil Liberties Union of Georgia and the Center for Reproductive Rights have also vowed to sue to stop this law.
Photo credit: Getty Images/ CNN/ Twitter