Rape Is Never OK, But Actor, Ime Bishop, Endorses Sexual Violation Of Women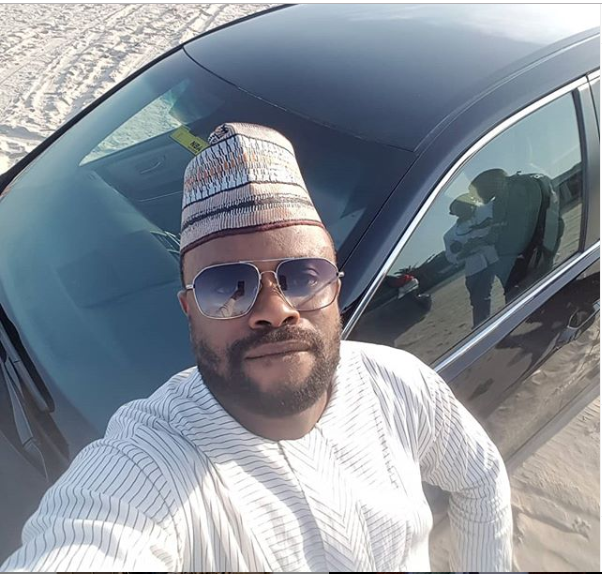 https://www.instagram.com/p/BxP-pmUnv-D/
Nigerian actor and comedian, Ime Bishop known popularly as Okon Lagos is under fire for defending the alleged rape of scores of women by police officers in Abuja. About three weeks ago, officers of the Nigerian police force reportedly raided nightclubs in the FCT and rounded up the women they found hanging out that night, about 70 of them.
Those women were carted away to the police station and labelled prostitutes for being out at night. However, a number of them who had wedding bands to show as proof that they were married were allowed to go, while the rest were allegedly raped by officers who one of the victims alleged in a video used sachet water nylons as condoms.
READ ALSO: "I am who I am today because God gave you to me" – See Actor 'Okon Lagos' Lovely Birthday Message to Wife
While the outcry following the rape and abuse of the women is yet to die down, the actor and dad-of-two thought it would be wise to lend his voice to the debacle and what he had to say is nothing short of unguarded.
The actor in a video he posted to his Instagram, essentially said rape cannot happen with prostitutes since they have no dignity.
According to him, the police officers were right to force themselves on those women, but were wrong for not paying them a token for it. He continued to express that prostitutes sell their bodies as merchandise and their goods were bought but unfortunately not paid for, the reason he called the police men thieves and said finally that he did not see the need for the agitation since both parties involved are criminals.
READ ALSO: Comic Actor, Bishop Imeh Shares Sweet Note To Wife As They Mark 3rd Wedding Anniversary
The video of him making those remarks has since gone viral and generated a lot of backlash. He has been called out in his comments section but the actor lashed back out and called some more people prostitutes at the same time reiterating his stance on why the police cannot be said to have raped those women.
See screenshot below: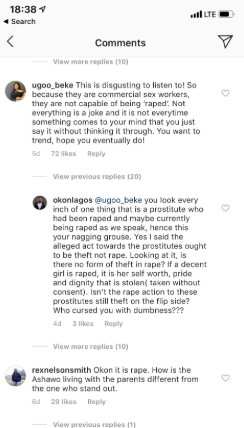 Here's the caption he attached to the video:
Both are criminal acts but different… Rape and Theft. There is a little of one in another
See original post below: