Banky W, Abike Dabiri, Festus Keyamo, Others Demand Justice After Senator Elisha Abbo Is Caught On Tape Assaulting A Nursing Mom In An Abuja Sex Toy Shop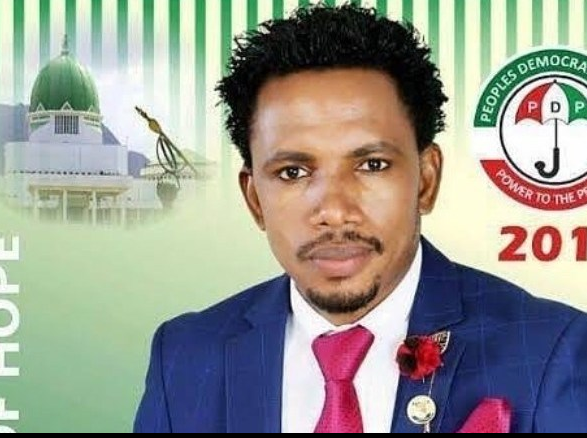 Have you watched the Video? You need to if you haven't. All because she said "Take it easy", a senator of the Federal Republic of Nigeria, Elisha Abbo of Adamawa State, is seen on tape ruthlessly slapping an innocent nursing mom at a sex toy shop in the Wuse 2 area of Abuja.
Elisha Abbo, who defeated the respected Senator Binta Garba, to emerge as the winner of the Adamawa North senatorial district, is said to be the youngest senator in the country, at 41. The married dad had reportedly gotten into an argument with the shopkeeper, and, perhaps power drunk, started assaulting her.
The CCTV from the sex shop surfaced online yesterday. The incident according to reports happened on the 11th of May, 2019.
An eyewitness who gave an account of the whole incident said:
"The senator walked in with three young women to purchase adult toys. But shortly after they began shopping for the toys, one of the three girls brought in by Mr Abbo started throwing up.

She vomited multiple times, prompting the shop owner to remark that the woman should have vomited outside and not inside her shop, especially since she was not a child. Abbo, who was said to be agitated by the sudden illness of one of his girls, was said to have accused the shop owner of poisoning the store's air conditioner.

The shop owner's argument that if the air conditioner had been contaminated others in the shop would have also taken ill was said to have angered Abbo, and the two began exchanging words over the matter.
The senator was said to have called a policeman who he then ordered to arrest the shop owner.

The shop owner quickly called her father to inform him that Abbo had called the police over the matter and that she was about to be taken away.

The shop owner's friend who had been standing nearby tried to intervene by pleading with the second man to take things easy but was slapped repeatedly by the lawmaker."
READ ALSO: Law Student's Recount of How She Was Assaulted By A Man Who Bashed Her Car Highlights Misogyny In Nigeria
In a swift reaction to the viral video, the senator said his team are putting up words together and he would give a robust response soon. He told Punch correspondence, Eniola:
"Hello Eniola, I saw your message and I am aware of the report. I am putting my team together. I am aware that the thing happened around March this year but I will get in touch with you when we finish discussion. I am in a meeting now."
Reacting to the unfortunate incident, many Nigerians, including celebrities and those in authority have called for the senator to be arrested, demanding justice for the woman.
Singer, Banky W called for the senator to be arrested and made to step down as a member of the senate. Banky also said this is why he's been insisting we pay attention to who we let into the National Assembly.
Below is what he wrote:
"I've been saying that we need to pay attention to who we let into our National Assembly. Now we have CCTV footage of a SITTING SENATOR physically assaulting a woman in an adult toy store in Abuja, IN THE PRESENCE OF A POLICE OFFICER.

Her only "crime" was saying "Oga take it easy" when he got aggressive with her female store owner friend. For that, he slapped her multiple times, and then made his policemen arrest her. This is an absolute disgrace.

Pls repost and share until our Police force agree to #ArrestSenatorElishaAbbo – he must face the full wrath of the law. This is what happens when we don't pay attention to the people we let into our leadership roles.

This is what happens when we have a culture that subconsciously treats our women as second class citizens. We have a lot to unlearn as a country.. about how we select/allow leaders AND about the way we treat our women. We must do better. We must be better.

#SenatorStepDown#ShameonElishaAbbo."
READ ALSO: You Are Likely Going to Face the Law if you Assault or Maltreat Your Househelp
Rapper M.I Abaga described the lawmaker as a "f***ing woman beater" and must face the full wrath of the law.
According to lawyer and public analyst, Japheth Omojuwa, Senator Abbo by his action, has shown he has the capacity to murder. One Twitter user pointed out that the video has shown how he treats his wife in their home.
"I just watched the video of Senator Elisha Abbo beating up a shop attendant. That Senator has the capacity for murder. He is a threat to humanity. His fellow senators must condemn that barbaric act, the ones that aren't Barbarians themselves. He should be made to pay for that!

If the Senator doesn't get sanction, they are saying his barbaric act acceptable to the Senate. And if that is the case, it wouldn't be a Senate of and for civilized people. It would be a Senate of and for Barbarians."
Also reacting, Nigerian lawyer, Festus Keyamo (SAN) calls for the police to immediately arrest and arraign him in court of law.
Abike Dabiri, the Chairman of the Nigerian Diaspora Commission on twitter says the Senate must not protect Abbo as he deserves to be in prison.
Don Jazzy called on Vice President Yemi Osinbajo to ensure that such behaviour displayed by the Senator doesn't go unpunished.
Actress, Kate Henshaw added: "Shame on you Elisha Abbo. Shame on you! Putting hands on anyone is NOT acceptable. Shame on you."
President Buhari's media aide, Lauretta Onochie said that she doesn't understand why Nigerians are calling for Senator Abbo to step down. According to her, she wants people to instead call on the Police to arrest and prosecute him for the crime.
Taking to her Twitter page to react, she wrote:
"Serving Nigerian Senator Elisha Abbo assaults a female staff in an Adult toy shop with a Police officer watching. What I don't understand is why Nigerians are calling on him to step down. How does stepping down help? We should be calling on the @PoliceNG to arrest and prosecute him."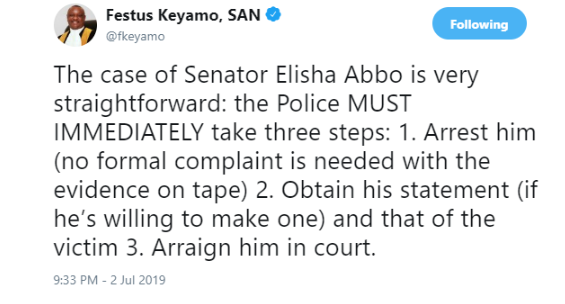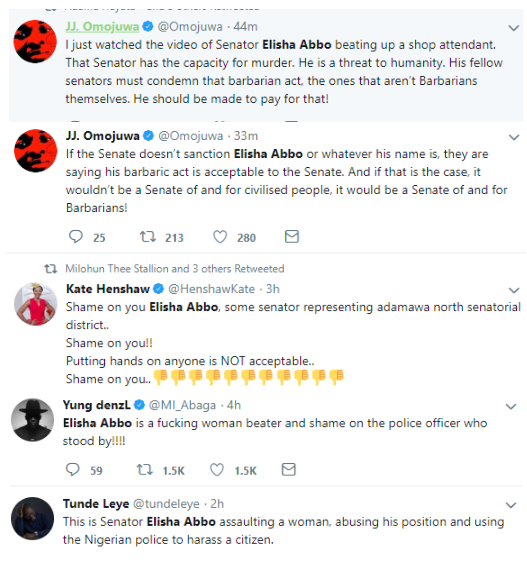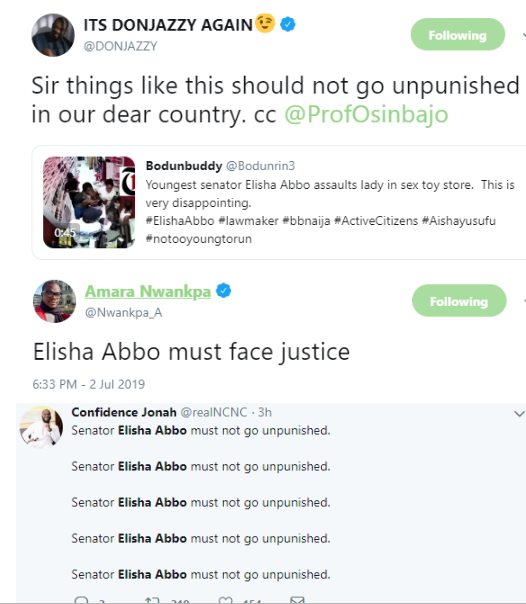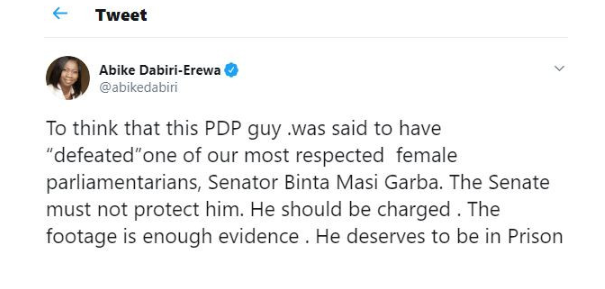 I've been saying we need to pay attention to who we let into the National Assembly. Now look: a sitting senator caught on camera assaulting a woman. These are our "leaders".. our "lawmakers". Shame on us. Elisha Abbo should face the full wrath of the law:https://t.co/6XeHJ48mJF

— Banky Wellington (@BankyW) July 2, 2019
This is the face of a coward. Senator representing Adamawa North, Elisha Cliff Abbo @ElishaCliff @AbboElisha is a woman beater.

Certainly NOT a beacon of hope. You're a disgrace to the youthfolk #ElishaAbbo pic.twitter.com/97Dwg36Ni5

— 'Lekan Balogun (@iamtheLb) July 2, 2019