Nigerian Mum Who Had Twin Sons, One An Albino And The Other Dark Skinned Shares Her Dilemma Upon Their Birth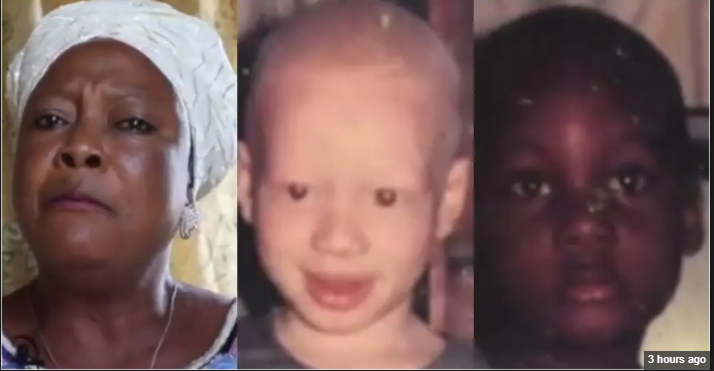 Imagine the possible trauma of being a completely black mum with a completely dark-skinned husband but being presented with your twin sons at birth, one an albino and the other a black child? In Africa- Nigeria?  Well, that is the reality of one Nigerian mum who revealed to BBC Africa that she got scared and was lost as to how to explain why one of her twin sons looked nothing like anyone in the family lineage.
Her twin sons, Taiwo and Kehinde Olateju now in their late 20's also spoke to BBC about their obvious difference. Taiwo was born an albino while his brother was born with a dark skin. brothers narrated the story of how they grew up understanding their differences and enduring what people had to say about it. Their mother said she had no idea until the day they were born and she realised one was an albino.
READ ALSO:Woman, Roseline Rufai Who Welcomed Twins After 19 Years Relives Her Harrowing Journey Into Motherhood
According to her, the scan had only shown that she was having twins and she never expected them to be so different. She noted that she was scared, but her husband saw them and immediately accepted it.
Taiwo, who is the albino, explained that he had a lot of difficulties growing up. He said he wondered why he was the only one different in his family, especially with a twin brother that was supposed to be the same as him. He said growing up people called him names as he passed by, and in school people made him feel bad. He added that there was a time he thought about taking his own life.
Kehinde also explained that he only started realising the difference between himself and his brother when he grew up and heard comments made by people. He said he had to come to his twin's defense in many cases.
READ ALSO: Superfecundation: Woman Births Twins With Different Fathers In Rare Case
The supportive twin added that there were times he took it upon himself to educate others about their condition. However, he noted that after a certain time he stopped defending Taiwo because he believes he can take care of himself.
Due to beliefs about albinos in Africa, their mother expressed that she was scared that someone might take her son's life. She noted that one of Taiwo's friends had tried to use him for something supernatural once.
Watch the video below:
"I got scared. How would I explain my fair-skinned child?"

Taiwo grew up with albinism, while his twin Kehinde did not have the condition. The Nigerian twins and their mother shared the challenges of living in a society where people with albinism are often discriminated against. pic.twitter.com/bOuZlAOo1s

— BBC News Africa (@BBCAfrica) July 6, 2019