"I married my husband after he died" – BBC Documentary Gives Insight On A Long-Standing Tradition Among The Igbo People | WATCH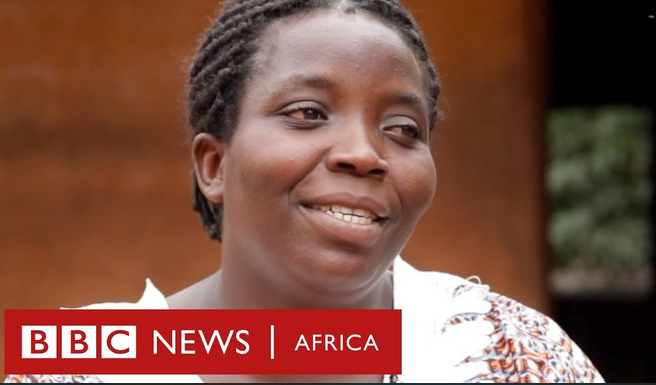 This is a story of a long-standing tradition among the Igbo people that you probably have never heard of.
The Igbo woman pictured above is Chinyere Ikemefuna Orji. Chinyere was married off to late Ikemefuna Orji who passed on at his prime without a wife or children.
After Ikemefuna's sudden death, his mom, Felicia Orji was determined to find a wife for him so the family lineage could continue as part of an Igbo custom in South-East Nigeria. They finally met Chinyere who agreed to marry Ikemefuna despite being dead. The Orji family performed all the marriage rites and Chinyere joined their family as Ikemefuna's wife.
Speaking to BBC Africa crew, the mom-of-three stated that, there was absolutely nothing wrong with the arrangement. She also went on to reveal that, nobody forced her into the marriage and she had personally agreed to the arrangement.
READ ALSO: Tradition or Wickedness? Widow Forced to Drink Water Used in Washing Husband's Corpse Cries Out
Recounting how long she has been married to her dead husband, she says that, September 2019 will make it 12years. The wedding had held in 2007. Twelve years later, Chinyere now has three children, whose father is an agreed member of Ikemefuna's extended family.
The young woman stays in the family house with the mother of her dead husband who calls Chinyere her wife and they have been living in peace together.
Felicia revealed in the documentary that her son had died before he'd married or had children. She further narrated how her dead son's wife assists her with chores, like going to the market together, buy food, cook and they eat together.
In response, Chiyere says, she is happy where she is and her dead husband's family takes proper care of her. Although, when she was first told about Ikemefuna's death, she expressed sadness, but nudged her self up.
READ ALSO: Nigerian Man, @MrBure, Recounts How He Saved His Mum From Harmful Traditional Practice During His Dad's Funeral
Felicia excitedly shares the reason behind the whole marriage arrangement. According to her:
"The joy about the marriage is that despite the fact that my son died abroad, God provided a wife for him."
Watch the documentary below…
What are your thoughts on this?