Nigerian Artiste & Mum, Aralola Olumuyiwa 'Ara' Shares Her Thoughts On Why Single Parenthood Is Trending Amongst Female Artistes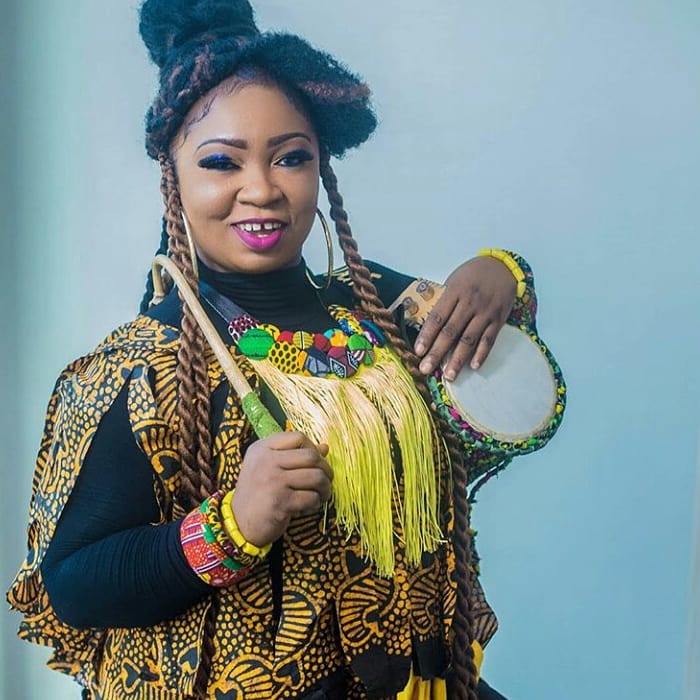 Nigerian mum and foremost female talking drummer, Aralola Olumuyiwa, popularly known as 'Ara' has shared her thoughts on career and the trend of single parenting among female artistes in Nigeria.
In her interview with Punch, the mum-of-two debunked the idea that it was a matter of choice that many female artistes became single mums. According to her, the real problem is that not all men have the capacity to handle successful women.
"When I talk to my colleagues, I realize that we still want to be loved and married.

I personally believe in the marriage institution, and most of my colleagues that I interact with are of the same opinion. But nobody wants to stay in a bad relationship.

Very few men can manage a successful woman. It takes a self-confident and God-fearing man to be with a popular and successful woman.

And this is not just about entertainment; it also applies to women who are successful in other fields. It is a major issue, trust me."
The mum-of-two said.
READ ALSO: "I was at my mother's place today"- Three Decades After, Singer, Sola Allyson, Says She Finally Opened Up To Her Mum About Suffering Multiple Sexual Abuse
Acknowledging that some female artistes have succeeded marrying their managers who understand entertainment and the demands of the career, she insists, it's not for everyone.
"It is largely a personal decision for any of us who finds herself in that category.

It's deep because most female artistes tend to date and get married to their managers.

Then, they later get to find out that they cannot mix business with pleasure. Your manager cannot be your husband.

However, there are some exceptional cases, such as Azeezat and Seyi Allen."
READ ALSO: APT! BBNaija Star, Bambam Counsels Parents On The Importance Of Child Training
Ara also disagreed with the notion that there aren't many female artistes at the top of the industry because they were often envious of one another and brought themselves down.
She stated,
"That is not true. We don't really have many female artistes out there because there are many societal demands on women to get married, and have a family.

When you are of a childbearing age and you start making babies, it would slow you down. When you are married, you tend to want to please your spouse at the expense of your career.

You could either opt to remain single, be a single mum, or if God blesses you with the right man who understands you.

Look at Angelique Kidjo– she never slowed down. Even Christy Essein-Igbowke till she passed on, she never slowed down. So that is not to say that as a female artiste, you cannot have a vibrant career.

It is just about finding the right man to understand you. Female artistes also have to be of good character and composure when married. The truth is that it is a man's world and the demand is less on the guy."