'I almost lost my life' -Juliet Ibrahim Shares On Her Tough Childhood Experience, Love Life & What She Thinks Feminism Is | Watch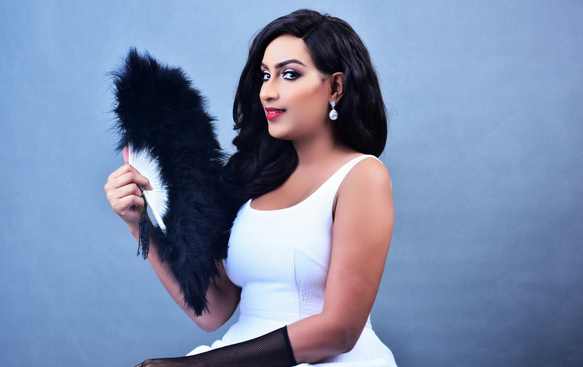 Actress and mom, Juliet Ibrahim has once again opened up about her tough childhood experience during a recent chat. Sharing about her life journey, the 33-year-old Ghanaian star revealed that she has experienced three civil wars.
"As a young girl from six years old, I have experienced three civil wars…and three different ones. I have lived as a refugee with my family and I am the first born. So I had to grow up very fast and be stronger.

I didn't want to see my siblings see me cry. I dealt with the situation on my own which is not good for some people. For me, I have a stronger personality.

I feel like I was able to go through it on my own and how I did that was by reading or listening to audio books or praying to God about whatever situation I was going through."
She also spoke about her childhood sexual assault and molestation since age 8. She went further to narrate how her grand uncle molested her in the room while her parents were outside the house.
Talking about her love life, the author and mom who recently launched her new book, A Toast to Life, said she's had some bad relationships which she spoke about in her book. One of those bad relationships was with an "entertainer".
READ ALSO: 'I was raped' – Mom-Of-One, Juliet Ibrahim Recounts Bitter Childhood Experience In BBC Interview
Miss Ibrahim added that she's also had some good ones but isn't in a relationship at the moment. The star went on to reveal what she desires in a man. According to her, she wants a man who is honest and blunt. She said:
"I don't look for things in people. I don't try to have expectations. But I know that if I meet someone and he's honest enough and that spark is there… that's what I look for. I like honesty. I like people who are blunt, from the beginning you just pour it all out."
During the chat, the beautiful mama shared what she thinks of the feminism movement. The 'Toast of Life' author who through her influence, helps young women reach their full potential, said she believes in gender equality but doesn't understand how some people interpret it.
READ ALSO: Single Mum, Juliet Ibrahim, Admonishes Women In Unwholesome Marriages
The  mom-of-one added that she doesn't like to "go into it" because people are abusing it but what she stands for is that women be given a chance to achieve all they want to.
Miss Ibrahim was once married. She reportedly married Kwadwo Safo in 2010, after she got pregnant for him in the course of their friendship. The duo were however granted a divorce in June 2014, after he allegedly cheated on her.
Watch her open up in the video below…