Reality Star, Porsha Williams Speaks Against Social Media Pressure To Have New Mums 'Snap Back'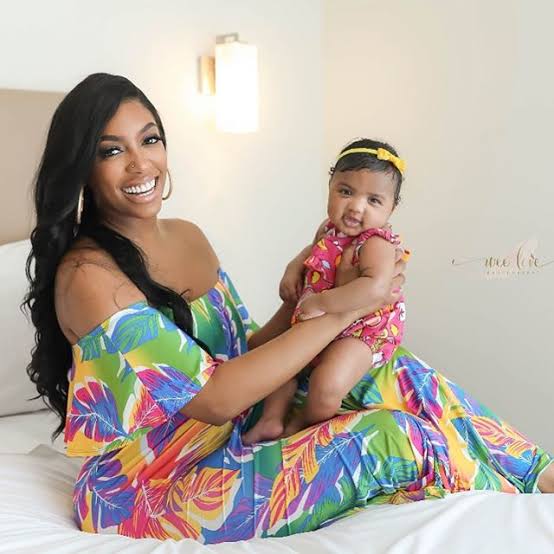 https://www.instagram.com/p/B1OSQELnerZ/?igshid=101d3ok230r98
Real Housewives Of Atlanta star Porsha Williams has wanted to be a mum for quite a while, but it didn't happen until she turned 37 and now the proud mum can't understand why people would keep mounting pressure on new mums to 'snap back', without regard for the life-changing experience that motherhood puts their body and mind through.
Now that her beautiful daughter Pilar Jhena is here, she is 100% focused on being the best mum she can be. However, that doesn't mean she won't carve out a little time to put the body shamers in their place.
After trolls shamed her for taking too long to 'get back in shape', Williams  was quoted as saying;
"I THINK SOCIAL MEDIA HAS ALTERED PEOPLE'S PERCEPTION OF WHAT MOMS LOOK LIKE,"
The new mum recently had a pool day with her sister Lauren and her best friend Shamea, and both of their daughters. It was the perfect mix of family and bonding time with the little ones, but the trolls came criticizing.
Though she did receive tons of love, Williams was criticized about her body under a photo of herself and her daughter.
"It looks a teeny bit photoshopped,"
one commenter wrote.
"You need to cover up P until you lose the baby phat,"
Another comment read.
READ ALSO: Mom-Of-3, ChaCha Eke Faani Shares, Simple Unorthodox Tips To Snap Back Shortly After Delivery
After scrolling through some of the negative comments, Williams set the record straight with her followers that she isn't buying into the pressure society puts on new mums to shed their pregnancy weight.
"Moms are badass don't let anyone tell you different," she writes. "Ps: It's just weird I actually get this a lot. I think social media has altered people's perception of what moms look like.

A lot of moms tell me how they get under handed compliments or jokes about their weight and it really affects them in a negative way.

I just feel like we should be able to bask in motherhood and let our bodies naturally heal and evolve."
She wrote on her Instagram page.
In an exclusive interview with ESSENCE back in April, Williams said she's in no rush to get back to her pre-pregnancy weight.
"I would definitely enjoy a snatched body, but I'm not concentrating on that…

I waited 37 years to have this baby. I'm concentrating on PJ and her health and how she's doing."
Online trolls aren't the only ones who have criticized Williams' appearance. The reality star posted a text message spat between herself and another reality star, Nene Leakes, who allegedly called her fat six days after giving birth.
Experiences like this are why Porsha's says she's done subscribing to unfair body image standards.
"I had Pj 4 months ago and I just don't feel ready to workout," she continued in her recent post. "The snap back culture has put pressure on most moms so they end up feeling insecure about what their body is naturally doing and looks like. Ion know call me weird but I actually adore my lil marks and feel like it's a lil badge of honor as all moms should??‍♀️❤️ I just want to use myself to encourage fellow mommies."
See the original post below: