More Trouble Brews For COZA Pastor, Biodun Fatoyinbo As Former Church Member And Ally, Actor, Akah Nnani Makes Damning Fresh Revelations Against Him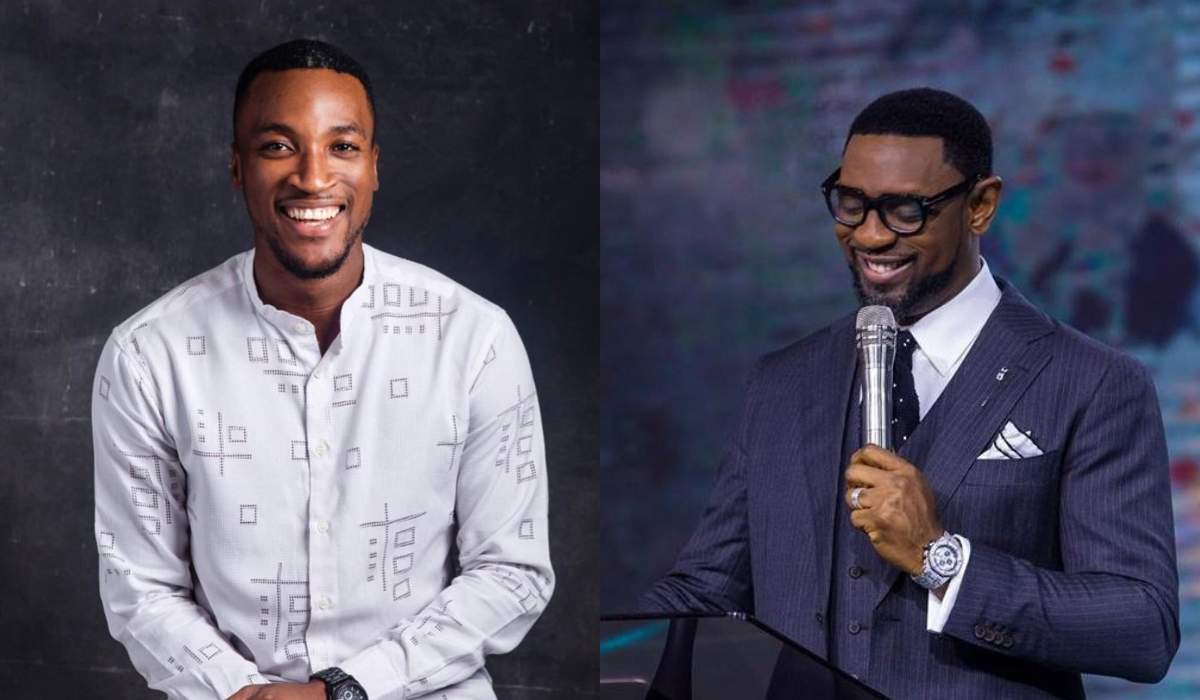 Nollywood actor, and former member of the Commonwealth of Zion Assembly church, COZA, Akah Nnani is the latest of former allies of  COZA pastor, Biodun Fatoyinbo, to speak up as well as accuse the pastor of complicity in several sexual abuse cases. The clergyman's ordeal began in June, this year when mum-of three, who is also the wife of singer, Timi Dakolo, Busola Dakolo revealed in a no-holds-barred interview that the pastor sexually abused her as a teenager.
Busola's revelation caused major uproar that sparked protests and public discussions, which eventually led to the pastor stepping down temporarily from his position as senior pastor of COZA. Akah, who at that time was a member of the church and worked closely with the pastor was accused of helping the flashy pastor hide his crimes as many deemed he should know a thing or two since that was not the first time the pastor was getting named in a sex scandal.
READ ALSO: COZA Rape Scandal: Biodun Fatoyinbo's Former Mentor, Pastor Busola Olotu Makes Shocking Revelations About The Pastor
In a new development, the actor in a series of tweets on his Twitter page is now corroborating many of the stories that have been making the rounds, including a very damning allegation that said the pastor impregnated and may have caused the death of one vulnerable lady, identified as Ms.Ifeoluwa Dolapo, after he forced her to get an abortion. A public interest lawyer, Pelumi Olajengbesi had before now filed a petition to the police on behalf of the deceased.
Akah also said in his tweets that more women had reached out to him personally , detailing their sexual abuse experience with the pastor. According to him, even more women are lurking in the shadows, afraid to speak of the sexual exploitation they suffered at the hands of the pastor. Akah said he felt betrayed that someone he had so much reverence for and saw as a mentor could lead him on falsely about righteousness.
READ ALSO: Rape Allegation Update: Biodun Fatoyinbo Reacts To Fresh Interviews Of His Former Spiritual Mentors, Oset and Olotu Who Are Standing With Busola Dakolo
Read what the actor and former COZA member wrote below:
"So apart from raping pregnant women, married women, There is the case of forcing a lady to abort which led to her death. I didn't know of this story till I left COZA. A family friend of the victim reached out to me in the DMs. This was the one took me out. It was all too much

Some of my female friends opened up to me about him trying to get them to hotel rooms and how they curved.. some he made advances to from seeing them at airports or something.. The said they couldn't tell me cos they knew how much I loved him. Sigh…

Me wey I don hear say the libido no normal. Na jazz dey make the man do am. And the wife know. Dem dey service sontin. Me I nor know oh!

Everyone knew that he did it. But the court system can be rigged. And rape cases are the hardest to prove. How do you prove rape? Especially one that happened years back or even a few months back? How! The court needs proof. But with testimony, the public will smell fire. Yup.

There are still so many stories, so many more in the shadows. Women that don't want to revisit that history, yes there are a lot of consensual sex, and it's going on with a lot of them in the church now, but this rape… Is deep. So many don't want to come out publicl. Cos hate."
See Akah's original thread below:
So apart from raping pregnant women, married women, There is the case of forcing a lady to abort which led to her death. I didn't know of this story till I left COZA. A family friend of the victim reached out to me in the DMs. This was the one took me out. It was all too much. ⬇️ https://t.co/4mXrssVR8z

— Akah Bants (@akahnnani) September 29, 2019
See the petition papers filed below: