Man, Luka Balewa & His Wife, Nyrumah Who Just Welcomed A Set Of Quadruplets After 15 Years Of Childlessness Share Their Touching Story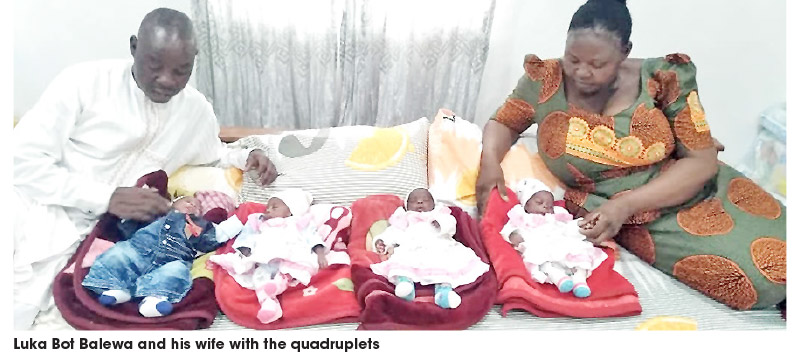 After 15 years as a couple without a child, a retired Federal Medical Laboratory Scientist, Mr. Luka Bot Balewa and his wife, Mrs. Nyarum now have a cause to smile. The couple who wedded on December 4, 2004, made headlines a few weeks ago after they welcomed a set of quadruplets in Bauchi State and became parents for the first time ever.
Nyarum delivered a boy and three girls through a caesarean section at the Bingham University Teaching Hospital, Jos on July 3, 2019. This was after enduring mockery and pain for lack of children since marriage.
"I felt the pain of childlessness every month, every month, I hoped for a new story,"
she said in an interview.
According to her, childlessness is the worst form of torture a woman could possibly endure.
"It deals with you socially, mentally and spiritually."
But Nyrumah wasn't suffering alone, her husband Luka in a new interview with PUNCH talked about the ridicules he faced during their harrowing and long wait for children.
"We got married on December 4, 2004, and since then we had been hoping to have a child. It is natural that when you get married, there will be an expectation that you will start having children.

After it didn't happen in two, three, four years, we were thinking that it would happen by the time our marriage was five years. But strangely, it didn't happen.'
READ ALSO:Elated New Mum, @Miracletwinjj Tells What It Felt Like Battling Fibroid And Childlessness For 7 Years
Revealing the efforts he made during those times, Luka said;
'I took several steps. I knew that the first person to go to was God so we kept praying and sometimes fasted, believing that God would give us a child. But we didn't just pray and fast, we also contacted medical facilities.

We kept going to the hospital to see if there was any medical reason why there was no conception. We visited several facilities starting from where I work – Abubakar Tafawa Balewa Teaching Hospital, Bauchi.'
Luka explained that he and his wife were further perplexed because their infertility was unexplained and doctors consistently gave him and his wife a clean bill of health. In his words;
There was no medical problem suggesting that we (my wife and/or I) would not be able to have a child. We looked at it as probably the wish of God.

In all the investigations, there was no day that they told us that because of this or that reason, we would not be able to have a child. There was no time they told us that.
Balewa who also pastors a church said he was, however, under-confident in preaching about God's supreme power due to his inability to father a child.
"I asked God at various times; how do I preach that all things are possible with you while still without a child?"
READ ALSO: After 1 Stillbirth And 3 Miscarriages, Elated Ghanaian Actress, Kafui Danku Flaunts Baby Bump
But the couple kept their hopes high and prayers up and finally their breakthrough came in a major way. When asked the specific action that they took that led to the turn around of their fortune, Mr Luka explained thus;
"We were going from one health facilitate to another. Finally, we went to a fertility clinic but it was not the first fertility clinic that we had been to. It was after visiting the fertility clinic that we had success."
Some 10 months ago when Nyrumah tested positive for pregnancy, she didn't believe it and she sharedc what her thoughts were at the time
"I didn't even believe it, but when I went for scanning six months later and was told it was quadruplets, I was dumbfounded,"
Her husband, Mr. Balewa didn't just share in the disbelieve but kept it to himself until the kids were born.
"I hate disappointments so I told God if this blessing wasn't mine in the first place, don't raise my hopes and later take it away,"
he said.
All four babies are healthy and doing fine; the new dad is grateful to God for the joys of fatherhood, although he admits it is difficult providing for his family especially as a retiree.
I just retired and for now, God has been helping us. We have been living at the mercy of good Samaritans.

A lot of people hear our story and say, 'please give me your account number'. And that is apart from those giving us diapers, food and other things.

I have just retired and have yet to receive my gratuity and pension. But God has been faithful.
The proud dad said.
See another photo of the babies below