Wife Of UNIZIK VC, Chinyere Esimone, Tells Her Uplifting Story of Overcoming 11 Years of Infertility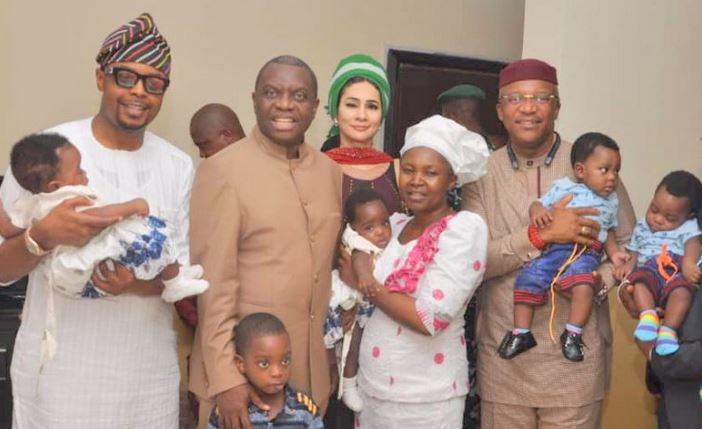 Dr. Chinyere Esimone, the wife of the 6th substantive Vice-Chancellor of Nnamdi Azikiwe University, Awka, Anambra state, Prof. Charles Esimone, has shared her amazing testimony, narrating how God gave her a new story after 11 years in marriage.
Sharing her testimony on Sunday, December 15, 2019, the overjoyed mother-of-five revealed her battle with multiple fibroids during a thanksgiving service at the Deeper Life Bible Church Headquarters, along Enugu-Onitsha expressway, Awka.
According to Mrs Esimone, it took the grace of God and surgical operations to get rid of 21 fibroids from her womb that had prevented her from conceiving after many years. In her words, she has had a total of 25 surgeries before she could finally conceive.
The visibly elated wife of the vice-chancellor described the moments she delivered her first son in 2014 and the quadruplets in 2019 as visitation by God, while calling on other women seeking the fruits of the womb to continue trusting God. She shared:
SEE ALSO: After 17 Years of Marriage & Failed IVFs Nigerian Woman Shares Her Testimony
"The 11 good years I was staying with my husband without a child was not an easy-going one for me, but be it that God gave me a wonderful and God-fearing man, he took upon himself and travelled with me abroad in search of a solution, which was not successful.

Until 2014, while prayers were ongoing, my husband and I were introduced to a God-sent doctor, Professor Joseph Ikechebelu, who disclosed to me that my womb was stored with multiple fibroids and that after the operation, I will testify to the glory of Almighty God, which by His grace resulted in my first son and the quadruplets being celebrated here today hallelujah."
Describing her children as bundles of joy, Mrs. Esimone prayed God to bless, prosper and equally use the children to bring glory to the world.
Also corroborating, her husband, Prof. Esimone added,
"First I want to thank this Great God of Heaven because today we are marking the first anniversary of these special gifts from the incomparable God.

"After eleven good years, he turned away our captivity. When men thought it was over, God said it was not. I stand before God to say there is no other God like him. Today I stand before him to say our joy is full. Today I stand to say this great God of heaven can never fail."
READ ALSO: After 16 Years In God's Waiting Room, Mr And Mrs Egenti Are Now Telling A Different Story | Be Inspired By Their Testimony
The Vice-Chancellor expressed appreciation to family members, friends, associates, the university community and clergy for gracing the occasion, thus, making it memorable for the children.
The testimony of the couple left many inspired as the cleric, Pastor Godwin Okeke urged those who are waiting for the fruit of the womb to emulate the patience of Mrs. Esimone and look unto God for the rest of the solution.