Kenyan Mum, Connie Muuru, Advises Women As She Marks 4 Years Since Her Daughter Was Battered To Death By Boyfriend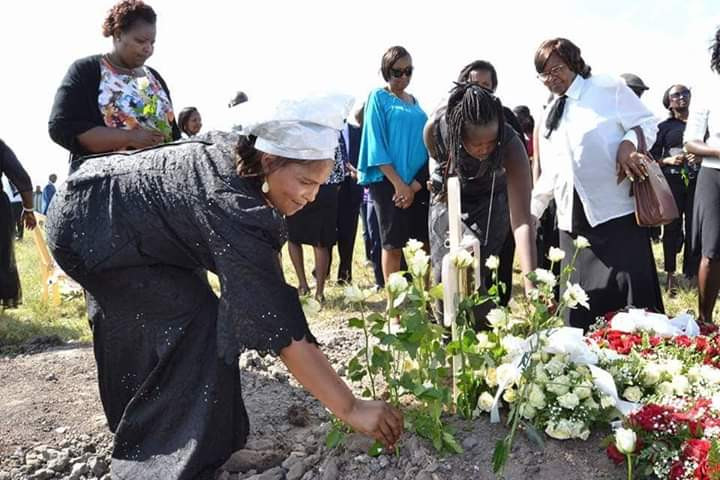 Yesterday, January 14, marked the fourth anniversary of the death of a young Kenyan woman, Sharon Muuru who was killed by her boyfriend, Salim Kipruto Seem. The deceased's mother, Mrs Connie Muuru, a Nairobi businesswoman took to Facebook to mourn and warn victims of domestic violence as she always does since the untimely loss of her daughter, who was a single mum.
Connie, who has started a project that would empower victims of domestic violence, says her daughter's experience has made her cognizant of the morbid experiences people in violent relationships go through. She narrated that Salim made a habit of getting violent with the deceased even though he was jobless, lived in her daughter's house and was fended for by Sharon.
The deceased was also not married to her killer and her only child was from a previous relationship according to Connie, who only got to know of how serious her child's travails had been, only after the young mum had passed.
She narrated to eDaily what transpired until her daughter died.
"If someone shows you little elements of violence, walk out. Don?t wait to be beaten to death ? this applies to members of both genders.

Let the wrangling couple, whose relationship is marred by violence, to separate and solve their differences when not living under the same roof.

They can come back together later after their problems are solved amicably. For instance, my daughter knew her partner Serem was not a good person because she was beaten severally. She shouldn?t have waited until she was killed.

I am not against families, I am not against marriages. But when it comes to death, nothing can be compared.

My daughter thought since she was the one providing and paying the rent, then the man was the one to leave.

But that shouldn?t be the case. If you are the one providing and your partner becomes violent, please leave him or her. You can get another house and other properties, but not another life."
READ ALSO: There's Much To Learn From This Woman Who Lost Her Baby And Womb Due To Domestic Violence
Read Connie's Facebook post from yesterday below:
Baby girl I wish there's anything I can do to bring you back… It's exactly 4 years today, since you left us.
January 14th will remain dark and sad day all my life!

It's more painful to remember the man you cared and loved, decided to kill you.
Sadly you allowed him to continue staying in your house, even after many nights of violence.

You were kind… brilliant…considerate and selfless… maybe that's why he took advantage of you.

But it's doesn't matter now though…I only hope that you made to heaven child

Continue resting with Angels, because you are one of them!

Your beautiful memories are with me daily and have consciously, refused to forget you.
IN MEMORY OF MY DAUGHTER SHARON MUURU, I CONTINUE SAYING NO TO DOMESTIC VIOLENCE!

If your spouse can't solve problems without a fight just part ways, while you are alive.Remember you have only one life… once you lose it, it's forever!

MAY THE BEAUTIFUL SOUL OF MY DAUGHTER SHARON MUURU REST IN PEACE
See more photos:
The accused