TV Presenter And Actor, Yemi Shodimu Gets Candid About The Lessons, Gains & Challenges Of Fatherhood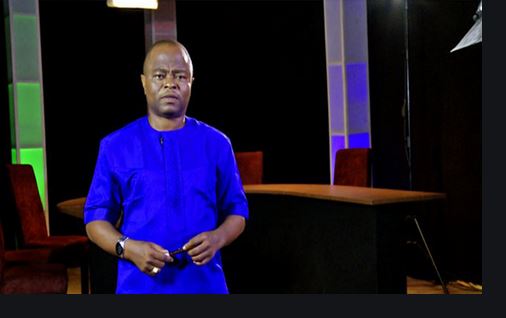 Veteran actor and TV personality, Yemi Shodimu, in an interview with PUNCH talks about fatherhood and how it has impacted him positively.
Speaking on the lessons, gains and challenges of being a father, the cool dad said fatherhood has taught him to be responsible and has also stopped him from doing naughty things that he wouldn't want his children to learn from him.
Read and enjoy the chat below:
Nigerians have different definitions of fatherhood, what is your definition?
Fatherhood comes close to being a caretaker with a responsibility imposed by God to take care of one life or some lives, though you requested it. As a father, your business is to guide, protect, provide and be a mirror to your children.
When did you decide to become a father and what was the motivation?
Prior to getting married, I worked with children, due to the nature of my job, and I knew that I had to play some inspirational roles in their lives. I guess that must have set me thinking consciously or unconsciously (about fatherhood). When you get married within the Africa setting, what is next is to bear children. So, that was it; I decided then that I had to be one (a father) and I knew the degree of responsibilities attached to it – maybe not all but I was willing to learn.
When did you have your first child?
I had my first child about a year or two after my marriage.
What came to your mind at that time?
I saw God's creation. I saw a life that needed to be protected. I saw the fact that the child could do absolutely nothing on its own and that made me realise I had to play the role.
Were you concerned about the gender of your first child?
I never thought about that; it didn't really matter.
So, what has fatherhood changed about you?
It has calmed me down a bit. It has made me think twice before taking a number of actions, including spending. It has told me strongly to think about the future not just for myself but of the lives that have been entrusted to me to take care of. Fatherhood has taught me to analyse situations here and there.
That also extends to the society at large because those children are not going to live in isolation; they are going to live within a societal setting and structure that I felt and still feel have to be restructured and readjusted. Fatherhood has taught me that there is so much madness all around.
So, how do I keep sanity around my own children? To do that, it means I had to think of other people's children; there is the need for them to be sane so the insanity does not extend to my own enclave.
So, I cannot be thinking of my own children alone. I think of the Nigerian child. I think of the African child. I also think of the European child because one way or the other, my children will interact with them and I want to be a bit comfortable with the space they occupy.
READ ALSO: Nigerian Singer, Bez Opens Up On How Fatherhood Has Changed Him
What were the values you learnt from your father that have helped you as a dad?
The fear of God is one. Being responsible and not running away from it is another. Of course, I learnt to have a listening ear and discipline from my father.
Did you experience any fear before becoming a father?
No, I didn't because while growing up, I interacted with children from the very low and high societal class and some in-between. I realised the fact that it was shocking that children who had little or nothing growing up are today at the top of the societal ladder.
Of course, we had children who had all and are up there and those who had all but are nowhere to be found. So, that says something. I am always out to learn something from almost everything. I am not afraid of failure or making errors and I try to instil that in my children.
What would you say fatherhood has helped you to accomplish in your career?
It has helped me to improve myself in my career because I know that a lot of hard work is required to make headway in life. You could be lucky to have some things thrown on your laps. When I look at the fact that my children are looking up to me, not just for their welfare but for my character and the building of theirs, I realise that some young eyes are watching me. So, it helps me to face life headlong, be naturally modest, care about others – the society and country that are mine – and take a keen look at the goings-on around me, even in governance.
What are the things fatherhood has stopped you from doing?
It has stopped me from doing a few of the naughty things you do as a young man, like when it is just you and you go out and come in as you like. There are some things you won't do naturally if you want to be a good father.
What are the domestic chores you do as a father?
I didn't and still will not want to see my wife stressed or over-stressed doing domestic chores; so, I help her out every now and then. At times, you just want to sit in front of the TV while she is in the kitchen. But once in a while, you just go to the kitchen, even if it is just to say, 'well done' or help wash a few plates. I don't see a big deal in that.
How do you relax with your children?
They are coming of age now. But as little children then, I was forced to watch their cartoons with them. I try to read with them. We go out for picnics and shopping. Travelling is a major thing that we do to see other places; it is part of education and I think it has helped them. Travelling is a major way to bond with my kids.
Are any of your kids toeing your career path?
I have one or two that have shown that trait; I am watching and not influencing them. They will find their own platform and expression. I can only guide them; I know a bit of the pitfalls and I throw it to them once in a while to let them know. But I will encourage anyone of them that wants to go that way.
READ ALSO: New Dad, Jim Iyke, Talks Fatherhood And How It Is Reshaping His Thoughts On Being A Man
How do you discipline your kids?
I can't remember the last time I raised my hands to beat them. I show them, by example, what is right and what is wrong but children will still be children. I reprimand them verbally; I hardly raise my hand to beat them. But I also realised that it has made them be extra cautious.
They don't want to piss me off; they try not to. I leave room for children to play a few of their pranks but when I raise my voice, they know that they have crossed the line. One of my boys was being naughty at school, I had one or two complaints from the school and I told him that it must not happen again but it happened.
So, one morning when he was getting set for school, I told him to get into the car and told his brother to go without him. I drove him straight to a school that no one would be proud of and told him that was where he was going to continue his education.
I dropped him there and left him for hours. Without knowing anybody, the crowd of students and noise were strange to him. I think I went to pick him up at the end of the day, by which time he knew he had had it. It was after that time that I told him that was what would happen the next time I got a complaint from his school. Till he left that school, I never got any complaint about him.
What is the most challenging thing about being a dad?
It is the economy – the need to provide (for your children). Unfortunately, we are not in a friendly environment; the money one should be keeping is the one being used in educating children. If our public schools were up to standard, a lot of people in the middle class would probably have been better off by now.
But private investors are cashing in on it by building schools and you have no option but to go there if you want a bit of quality for your child's educational development. It is not something one is proud of but that is the reality. That is a major challenge not just to me but a lot of people, particularly in the middle class, especially when you are not in a position to steal public funds.
In your opinion, what are the misconceptions about fatherhood?
It depends on your outlook on life and what exactly you want out of life. When I met my wife, I made up my mind that if we had children, we would do our very best for them; otherwise, we would still live a happy life.
But they came and there was no U-turn on this particular express road; we brought them here and we've got to take care of them. Some people have the misconception that children are a burden.
I think the first thing to do is to ensure that the number (of kids) you want to have is the number that you can adequately take care of. That your neighbour has six children does not mean you should go for six. You should also have time for your children.
What do you teach your kids about good moral values?
I tell them to be kind to others and not trample on the underprivileged because that child that probably finds it difficult to measure up, could be the head of this nation one day. I tell them that hard work pays. I also tell them that they need to spend a lot of time studying.