'Our first quarrel as couple' -Rev. Mother Esther Ajayi And Husband Share The 2nd Part Of Their Inspiring Marital Journey That Has Spanned More Than 40 Years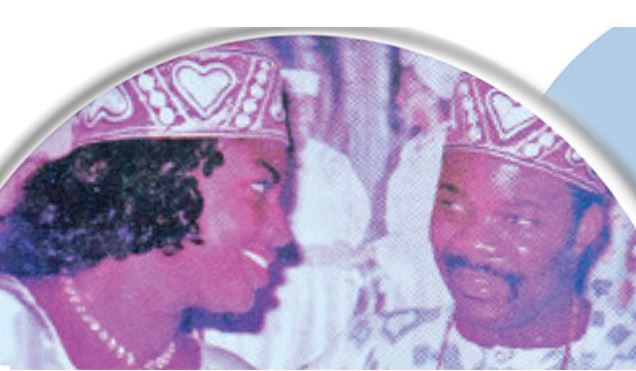 Rev. Mother Esther Abimbola Ajayi, needs no introduction whether in United States, United Kingdom, Nigeria, Ghana, Sierra Leone, or across Africa and the world. She is the Iya Adura (Mother of Prayer), of Cherubim and Seraphim Church, and founder of Love of Christ Church, London.
Rev. Esther is married to Rev. Dr. Ademuyiwa Ajayi, a lecturer in theology at Faith Bible College, Ota, Ogun State. The couple has known each other for over 40 years and so much so that they are now able to read each other's mind perfectly.
Last week we shared with you the inspiring love story of how the philanthropist and her husband met and got married despite oppositions from both families (one on religious and the other on wealth grounds).
In this second part, the power couple spoke, among other issues, on their marriage proposal, wedding, first misunderstanding in marriage and how they settled it. Enjoy!
What did you say when he proposed? What exactly did he say and what was your reply?
Wife: I have been a sociable person, right from childhood. So when he came that day, I thought it was his usual coming to say hello to me. But by the time he said: 'Bimbo, we have to get serious about this relationship', I had left secondary school and was doing my thing.
He said: 'I have something to show you.' I asked: 'what is this?' I was laughing but when he said 'if you don't take this ring today, it means you are having an affair,' I said I was not having an affair. Then I accepted the ring. You see, the NTA (Nigerian Television Authority), Ibadan thing came about when one of the Irawos children got married and her husband happened to live in Ibadan.
She said that it is only Bimbo that could follow her to Ibadan. I became like the bride's child. They call it "Omo Iyawo." Once you get married, someone would go with you to your matrimonial home. Someone came with me too when I got married. So, he (my husband-to-be) used to come to Ibadan every weekend.
One of his friends lived there and, at times, he would spend the night with him. When he brought out the ring, I was laughing. But when I saw his face, I knew he was very serious. He said: 'Aha! Bimbo, you don't want to take the ring.' I said, okay, let's have the ring. At that time, I was presenting a very popular programme called Toko Taya, at NTA Ibadan.
The Lord knew the end from the beginning. When I was on that programme, I was very popular. Sometimes when my sister's husband was not opportune to take me out and I happened to go by public transport, I would not be allowed to pay the fare because the drivers recognized me as the presenter of Toko Taya.
I fell in love with the media. But eventually I had to leave the place. I am saying this because of those that would always want to sleep with girls before they are allowed to get to the top of their careers. I thank God for my life. Maybe I wouldn't have become a pastor today. I marvel at how many souls have come into the kingdom because of the fact that I am a pastor.
SEE ALSO: Armed With 35 Years Experience, UNILAG Prof., Hope Eghagha & Wife, Patricia Share What Makes An Ideal Marriage
Since you were such liked by viewers, why did you leave the NTA Ibadan?
Wife: What led to my quitting the job was the action of one big man there then. I won't mention his name. He was my chief programme officer or producer then. One day, I went to his office and he left his seat and advanced amorously towards me.
I wondered at what he was trying to do. Before you knew it, I had left my handbag and run out. Eventually, they brought it to me at the gate and that was how I ended my stay at NTA, Ibadan. What helped them to keep the programme running for a while was because I had recorded some of the episodes in advance. They tried talking to me to come back.
I never did so because I asked myself: how would I face the man again? He was the one I was always reporting to as regards the programme. So when Muyiwa came the following weekend and I said I was no longer with NTA Ibadan, he said it's very good. I was wondering why he said so. I mean I was beginning to love the media work then. But I shrugged it off.
As God would have it, my sister and her husband relocated to Lagos for a period before eventually going back to Ibadan. I think the Lord allowed that to happen so that I and my husband would get serious about marriage. So in 1984, he made up his mind to marry this slim girl.
Eventually, on June 3rd, they brought a letter and two bottles of schnapp drink because my people said they are not selling their daughter. Along the line, I became pregnant and the Irawos said it is like this girl was not ready to look back. I believe the Lord had destined that we must be together.
It is His doing and it is marvelous in our eyes. I am still wearing the ring that he used to propose till date. Yes, wealth came along with everything else but I am still wearing that ring because I cherish it. It's the same one that we used when we went to Ikoyi marriage registry in 1989.
How were you able to communicate in those days when you were in Ibadan and he would come visiting, when there was no mobile telephone as we have it today?
Wife: What we used to do was that any day we met, we would agree on the next meeting date or visiting time. I knew for sure that Muyiwa must come on a Friday and he never missed any day he promised to come. Every weekend we must see each other; it is either he came to Ibadan or I went to Lagos. We did that for one year. There was a lady that used to call me 'Weekend Lady' because of it but that's another story.
What do you remember most about your wedding?
Husband: We had had our first and second child before we went to the registry. Our first child came in 1984 while the second came in 1986. It took us long to go to the registry because we had no money. Nowadays, people will go a-borrowing before they get married, To us what mattered most was the fact that we were in love. When we went to Ikoyi registry, we didn't do anything elaborate until 1993.
Wife: In 1993 when he went to pay my bride price, if they asked him for one thing, he would give them 10 of it. By then, we had gotten our property at Ali Baba Street, Ketu (Lagos).
In 1994, we marked our 10th year anniversary and we 'opened' our house as well. We invited Dupe Olulano (a popular Yoruba gospel music songstress), to the house warming party. She was the one who sang, "This God na correct." We named our home M & B (for Muyiwa and Bimbo) Contentment Villa. Our story is amazing; we are destined couple.
Could you remember your first misunderstanding in marriage and how did you handle it?
Husband: In marriage, you will have misunderstanding. But in my case, it made me understand my wife better, to know what she wants and what she doesn't. Our first misunderstanding had to do with money. I found out that she did not want me to have excessive money in my pocket because she didn't want women to run after me.
Most of the time, if I made money, she would collect almost all of it and give me a little. Initially I was angry with that. But eventually as I got to know her, I realized that she was helping me. Looking at my life now, maybe if I had not complied with her directive, it would have been a different thing today. You can say she was very jealous.
Wife: I agree with him 155 percent. Let me tell you my story. Since age 12, I have been handling money. I used to go to what they call Eko Idaji (early morning business). I used to have what they call "tobi" that is the zip cloth purse you tie around your waist.
The money of the items I went to buy, with the list, would be there, like, for instance, five cartoons of Titus fish, Geisha. I would buy those things and go back home. Among all my siblings, I believe I'm better at handling money than any of them. I was brought up to believe that if you don't have money as a man, women will not follow you. So before I got married, I had it at the back of my mind that my husband must handle less money.
I will tell you a funny story. He was using First Bank in Western House as his salary account. But I was the one going there at the end of every month to collect his salary. On one particular day, he was on break and we decided to go to the bank together.
Then he was working with Data Processing Maintenance and Services (DPMS). We decided to meet at the bank premises. At the counter, we presented the cheque and they asked him to step aside since he was not the owner of the account.
My husband was surprised. I told them that he was actually the owner. But they did not believe until they checked their records. They all laughed and said: 'Madam, we thought you were the owner.' I said no, it's his salary account. I have always been in charge of finances even till tomorrow.
SEE ALSO: Want To Make Your Marriage Quarel-proof? Get The Tips From Ex Bankers, Mr & Mrs Umeh As They Share The Secrets Of Their 50 Years Marital Bliss
How did you come about your theory about money and men?
Wife: I am from Iwori. Both my parents are from Iwori. We believe your success starts from when you own a property. You must have a house before owning a car. That had been at the back of my mind. So every penny I took it from him. His car loan, I took. I said, use my car. The car I was given at the place I was working before.
If you don't have money to squander, women will hardly follow you. Let's say he made N20, 000, I would give him N5, 000 as the highest amount of allowance. I would first test him with N2, 000. He would protest and say: 'Bimbo, is this what you are going to give me? At least, give me N5, 000,' I would add N2, 000. Later, I would give him N1, 000 to complete the N5, 000. Thereafter, there is nothing you can do to take the balance from me.
I had always wanted us to use the money to buy what we can see. But my husband when we got married proper, would want to be taking the N20, 000 bit by bit. But I would tell him: 'you will finish this money' I would tell him: 'let's use the money to buy some plots of land.' That had been my think- ing from childhood.
I will tell you another story. One day, his younger brother ran into fraudsters. Then we were getting ready to buy a plot of land at Ikotun, Lagos. We still have tenants living in that property till date. When his younger brother came and narrated his story, because of my Mushin exposure, I lived in Mushin Ojuoye to be precise, I knew that he was about to be duped.
He is from Ebute Metta; they are not exposed to such things. He said there were some people that promised to give him more money if he would bring certain amount of money. The reason he came, he said, was so that he could get some money from my husband to add to the one he had and also to ask for his traveling bag to collect the money they were going to give him from it.
I told my husband that from the look of things his brother was about to be duped. Then we had N4, 500 and wanted to use N2000 out of it to pay as deposit for the land we were trying to acquire at Ikotun. And, I would use the balance to go to Alaba to buy baby things because I was pregnant with our first daughter then. Before then we had had our two sons. The money was always kept under the mattress.
When I listened to the cock-and-bull story that his younger brother was telling, it suddenly occurred to me that my husband had been swayed by it and had made up his mind to give him the money. Before he could come into the room, I removed it from under the mattress and hid it at the back of our wardrobe.
After searching frantically for it, he turned to me and said, 'Bimbo, that money, with which we wanted to go and pay for land tomorrow morning, where did you keep it?' I didn't allow him to finish before I asked: 'which money? I have given it to them.'
He said: 'what is the meaning of that? If you don't bring the money…' I said: 'which money? It is not going to happen.' I told him to warn his brother that he was about to be duped. But while he was leaving us he said that we had missed our chance and boasted that we would see the kind of money he would bring back from the financial deal. I told my husband that if he returns with any money, both his and the other money he was expecting, then he should call me a bastard. The next morning we went and paid for the land.
There is one good thing about my husband. Though he is very temperamental, if you are able to convince him on a particular thing he would be calm and listen to you. I'm sure his family members still wonder how we have been able to stay married all this while. I always say this: 'if the Lord sends you on a mission, He will make the mission easy' After paying for the land, we went to Alaba to buy the things we needed in preparation for the baby's arrival.
When we were through, we decided to check on that his younger brother. He happened to live in that axis with his mother. On entering the compound, we started hearing shouts of "I'm dead o; I am finished o." And, then we saw him rolling on the floor.
I remembered what I had told him that nobody can make money by bringing money in order to collect a bigger sum. I am using this medium to tell young people of nowadays the same truth. If anybody tells you that if you bring N100, 000, Esther Ajayi will empower you with N400, 000, if you fall for that kind of trick, it means you are greedy and gullible.
The thing with my husband is that if something is going bad, he would blame me for it. But the moment it's successful, he would say, 'Aha, Bimbo, it is God that helped us.' He could have taken that money and given to him but for the fact that I applied some wisdom.
But I also give him some kudos because he could have insisted on having the money. But somehow he let it go. The property we used the money to buy is one of those that are bringing income to the family today. It takes two to tango [to be continued].