Rape Pandemic: Experts On Why Older Men Are Preying On Underage Girls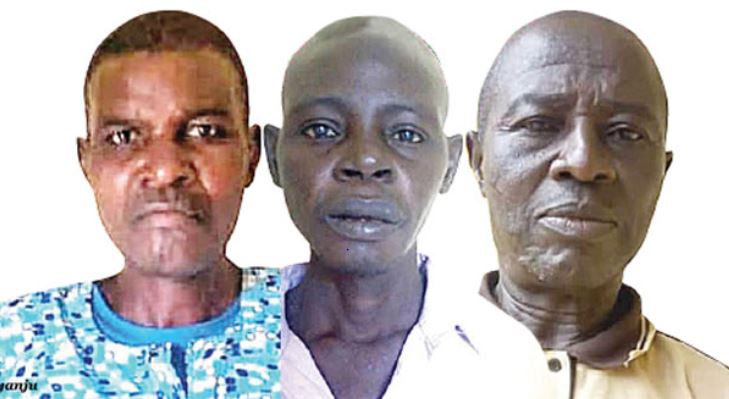 The elderly persons in society are looked up to for protection by the younger ones. Unfortunately, many older people have committed act that they should ordinarily be warning the younger ones to desist from.
Also, aged persons usually regarded as the 'eyes of society' have been accused of raping younger people who could pass for their children.
In recent times in the country, rape has been on the front burner when on May 27, a 100-level Microbiology student of the University of Benin, Uwaila Omozuwa, was allegedly raped and murdered inside a church where she went to study in Benin City, Edo State.
Barely a week after the sad incident, Barakat Bello, an 18-year-old student of the Federal College of Animal and Production Technology, Moore Plantation, Apata, Ibadan, Oyo State, also suffered a similar fate.
On the same day, armed men allegedly gang-raped a 17-year-old street hawker at the Oja-Oba Market, Ado-Ekiti, Ekiti State.
A few days later, a 12-year-old girl was allegedly gang-raped by four masked men at her residence in the Abijo area of Ajah, Lagos State.
For 13 years, Morenike Jimoh (not real name) bottled up anger and bitterness in her mind. The emotions hurt her and affected her self-esteem and identity for a long time but she didn't know where and how to pour out the vexation.
No one, not even her mother, believed her when she tried to divulge the secret. She did not even bother to tell her father, a disciplinarian feared by her and her two brothers.
With no support whatsoever, she decided to live with the bitterness which lasted for over a decade until she got married to a man who supported her and by whose caring she managed to survive the trauma.
Morenike was 15 at the time she was raped by her maternal uncle who visited the family in Ibadan, Oyo State, sometime in 2000. Prior to this event, they always spoke on the phone anytime he called from the United States where he was working at the time. He was almost 60 then.
While on leave at work, he decided to visit home in Nigeria, making the Jimohs his first stop after arriving in the country. It was understandable; Morenike's parents had played a huge role in sponsoring his trip out of the country.
Paying them a visit first and giving them the goodies he brought before visiting other family members was the proper thing to do, he possibly thought. Morenike recalled while speaking with PUNCH:
"He brought large boxes full of wear, chocolates, perfume and other nice things. He gave me many nice stuff."
On a cold night on the third day of his arrival, when Morenike's parents had gone to bed, the-then teenager narrated how her uncle barged into her room, gave her some money and told her to not mention it to her parents. Morenike shared further:
"He told me he knew my mother, his sister, could get jealous if she knew he gave me money. I was shocked but I promised not to. I thought he was just being an uncle who wanted to pamper his niece. He called me all sorts of nice names; he said I was more beautiful than my mother. He said I should not allow boys to destroy my life. But I was utterly amazed when he kissed my forehead as he left my room that night.

"He promised to look after me afterwards, saying he would sponsor my education in the US when I graduated from secondary school. I was ecstatic. But on the following night around 11pm, he came into my room again and engaged me in another discussion, telling me I was more beautiful than I was the previous day.

Then he started rubbing my cheeks and thighs, and then my breasts. I jumped out of bed but he pulled me back and the next thing I felt was that I couldn't breathe properly.

"He pulled off my nightgown and forcefully had sex with me. Unfortunately, my brothers had gone to school and my parents slept upstairs; they couldn't have heard my little scream. I felt devastated after the act. He started pleading with me after the act and asked me not to tell my parents. He even said that no one would believe me if I tried to."
Morenike said the following morning, she felt like hitting her uncle with a club because of the boiling anger in her. Because of her sad mood, her parents asked her what was wrong but she couldn't utter any word. She said,
"I couldn't find the courage to tell anyone what happened until a month after when my uncle returned to the US. I called my mum into the room one day when dad was not around and told her what happened during my uncle's stay. She was shocked but at the end of it said she didn't believe her brother could do such a thing. I was left more devastated."
Morenike said the incident strained her relationship with her mother for some years as she could not understand why she would not believe her own daughter. She stated:
"I lived with the anger and bitterness towards everybody for 13 years until in 2013 when I married. I hated men for many years, maybe that was why I married at 28. But when I met my husband, I saw love in him. I confided in him all that happened and he didn't stigmatise me. He even loved me more. I think it was his love that healed me of the trauma."
Morenike wasn't the only person raped by a person old enough to be her father.
Another rape victim, Charity Mgbanuchukwu, also shared with our correspondent how she was raped by an aged neighbour when she was 14.
She said her mother died when she was 7 years old while her father travelled to Lagos to work. She lived with her relatives in Benin City, Edo State. Sharing her story, she said,
"There was a man in the neighbourhood that my aunt used to send me to sell fufu (processed cassava flour) that she used to make to. He had grey hair, a baritone voice, and a protruded belly. I used to go there every evening to sell fufu. The man liked touching me anytime I went to his house, and anytime I told my aunt, she would scold me and tell me to just make sure I sell her fufu.

"At a point, I didn't bother telling my aunt again since she saw nothing wrong with it. I expected her to warn her customer against touching my body but she didn't. I started feeling scarier each time I went to sell fufu to the man. At the time, I heard the story that the man and his wife had separated and their children lived with the wife."
SEE ALSO: DG NAPTIP, Julie Okah-Donli, Issues Strong Warning To Anyone Who Justifies Rape | Releases Useful Information To Victims
Charity said it was one of those evenings that she took fufu to the man's house that she was raped. She added,
"I observed that the neighbourhood was quiet that day. He told me to come inside when I approached his door and said he would buy all the fufu I was meant to sell that day. I was happy.

He told me to go inside his kitchen to bring a tray where he would put the fufu. As I went in, he grabbed me by my waist and carried me to his bed. He had sex with me. He said if I told anyone what he did, my aunt would send me to the streets and I would be homeless.

"I cried and cried until I got back home but my aunt did not bother to ask me what went wrong. Her concern was that I sold all the fufu I hawked that day. She even wanted me to go on another hawking but she was out of stock. She praised me for being 'a good girl.' I wished my mother was alive. She would have protected me."
Another rape victim, simply identified as Grace, recalled with tears how she was raped by her 55-year-old uncle who she once stayed with when she wanted to sit the West African Senior School Certificate Examination in Uyo, Akwa Ibom State.
She was 16 at the time. Her father had died and her mother had no means to register her for the exam. So her uncle, a businessman, who lived in the state capital, offered to register her for the exam.
On the night after the exam, she said her uncle asked to take her to a bar in the city to celebrate her success in advance. According to Grace,
"He told me to drink some alcohol but I refused. He insisted that I should take it, that I was no more a kid. He also promised to sponsor my university education. In that mood of excitement, I took some alcohol.

I later found myself in a hotel room where I was raped. I cried and asked why he did that to me. He said he thought I wanted him to sponsor my education since my father had passed. I was helpless, couldn't even tell my mom."
Now a graduate and married with two kids, Grace said he hated her uncle 'passionately' until he died. She added:
"He only paid my tuition fees in 100-Level. My mother did lots of menial jobs to see me through my university years. I was only able to put the incident behind me when my uncle died, and with the help of my loving husband."
Raped by 'custodians of morality'
In February 2020, a former lecturer at the University of Lagos, Azeez Baruwa, was sentenced to 21 years' imprisonment by a High Court in Lagos State for raping an 18-year-old admission seeker.
Baruwa, 45, was charged with one count of rape and sentenced by Justice Josephine Oyefeso.
The victim had scored 211 in the Unified Tertiary Matriculation Examination and wanted to study Mass Communication at UNILAG. But because she failed to meet the varsity's cut-off mark, her father approached Baruwa for help.
Baruwa, a former part-time lecturer at the Department of Accounting at UNILAG, reportedly agreed to help and took the victim to the school on July 23, 2015. He, however, raped her in the morning of the said day in Room 8 at the Faculty of Business Administration Annex.
Baruwa was later arrested and charged to court after the victim reported the incident to her parents.
Delivering the judgement, Justice Oyefeso held that the convict understood the gravity of the offence and the consequences of his action and that in line with Section 258(1) of the Criminal Law of Lagos, 2011, the culprit should be sentenced to 21 years' imprisonment.
Also in February 2020, an Ekiti State High Court sitting in Ado-Ekiti sentenced a 55-year-old man, Bashiru Adeyanju, to 14 years' imprisonment for the attempted rape of his daughter.
Justice Monisola Abodunde sentenced the convict without an option of fine. The prosecution counsel, Mr Wale Fapohunda, had during the trial said the convict committed the offences on September 10, 2017, at No 30, Irona Street, Ado-Ekiti.
Fapohunda, who is the state Attorney General and Commissioner for Justice, said Adeyanju unlawfully attempted to have sexual intercourse with his 17-year-old daughter.
Fapohunda explained that Adeyanju, whose wife left him when the victim was 10 years old, confessed that he always beat the victim whenever she refused to have sex with him.
Also in Ekiti State, 45-year-old Ajibade Olaoluwa was convicted for raping a 14-year-old girl and currently serving a 10-year prison sentence in the Nigerian Correctional Centre, Ado Ekiti.
In August 2016, an Egor Magistrates' Court in Benin, Edo State capital, sentenced one Eric Lelekuma to 12 years' imprisonment for defiling a 9-year-old girl.
Lelekuma, aged 57, had been arraigned on two counts bordering on unlawful carnal knowledge and assault of the victim. The state counsel, Mrs O. Ewemade, told the court that the accused committed the crime between November 20 and November 28, 2013.
In September 2019, Justice Muslim Hassan of a Federal High Court in Lagos sentenced a 58-year old farmer, Yesiru Onajobi, to a jail term of 10 years for raping his 13-year-old daughter in the Lekki area of Lagos.
Also, in July 2016, an Egor Chief Magistrates' Court in Benin, Edo State, sentenced one Lucky Idahosa to 14 years' imprisonment for raping his 17-year-old daughter for alleged money ritual.
The police prosecutor, Osaretin Ogiehon, told the court that the 40-year-old committed the offence sometime in June 2016.
On June 2, 2020, Justice Adedayo Akintoye of the Lagos State High Court in Igbosere, also sentenced a former ExxonMobil engineer, James Onuoha, to 15 years' imprisonment for raping his tenant's 14-year-old niece.
Onuoha, 45, was alleged to have on January 4, 2016, around 11.30am at No 25 Samuel Amoore Street, Idowu Estate, Oke-Ira Nla, Ajah, Lagos, engaged in an unlawful sexual act with the victim without her consent.
Reports showed that the majority of rape cases in Nigeria weren't reported due to fear of stigmatisation by the victims. Therefore, data on rape cases are limited.
However, in December 2019, several reports quoted the Minister of Women Affairs and Social Development, Dame Pauline Tallen, as saying an estimated two million Nigerian women and girls were sexually assaulted annually.
Africa Unite, an arm of the United Nations Women campaigning against gender-based violence, in a 2019 report stated that anywhere between 13 per cent and 45 per cent of women in sub-Saharan Africa experienced assault by an "intimate partner during their lifetime."
Similarly, the Women At Risk Foundation in a 2018 report said the statistics at its disposal revealed that over 10,000 girls were being raped in Nigeria daily.
Parents should be more vigilant–Activist
A child rights activist and founder of the Esther Child Rights Foundation, Mrs Esther Ogwu, described as pathetic a situation where aged people had become perpetrators of rape whereas they should be cautioning young ones committing the crime. She said,
"The raping of minors by elderly people has become rampant and we are dealing with some right now. Most of the victims are minors. We have also seen cases of fathers attempting to rape or raping their daughters. I think why we are having more cases is because awareness is massive now, and victims are beginning to speak out."
Ogwu noted that parents were at fault in most rape cases, stating that those who committed rape were well-known to parents. She said,
"At times, parents are to blame for this act because some of them don't have time for their children. I wouldn't know why a parent, especially a mother, would leave their daughter alone and go out. In most cases, people who rape are close to the family–uncles, home tutors, drivers, gatemen, security men, neighbours, and so on.

"We are to take care of our children, and nobody can take care of them as we do; when we leave them alone, they become preys in the hands of rapists. Nowhere is safe now. Even the creches. We need to try as much as possible to watch over our young ones.''
Ogwu also said more awareness should be created on protecting children at schools and other places. She added:
"We also have some elderly females who abuse young boys. The authorities in schools, churches, mosques, etc must take more steps to protect our children."
She further opined that the law was not strict enough to deter rapists. She said,
"We need stricter laws on rape. Our laws have not been strong enough and that is why rapists think they can commit such acts and still walk freely on the streets. When a scapegoat is made of one of them, the rest will not do it again.

If I were to make a law for rapists, I would say their manhood should be cut off. Rapists sometimes make the excuse that it is because of the way a lady dresses. What about babies being raped? Our laws should be reviewed concerning sexual assault in Nigeria.

"I think we need special courts for rape cases so that when a rape occurs, judgement takes place immediately. For instance, there was a case of a lecturer who raped a girl seeking admission at one of the universities in Lagos. The case lingered for five years, even when there was the evidence showing the girl was sexually assaulted. Courts should stop adjourning rape cases over and over again because when it gets to a point, even the victim is tired of going to court."
ALSO SEE: Heartrending Moment 4-Year-Old Girl Recounts How She Was Constantly Raped By Her School Teacher, Uncle Elias(Video)
Besides, Prof Taiwo Osipitan (SAN) of the University of Lagos said stricter laws must be made against rape, describing it as "bad behaviour" a situation where people who should protect the young ones were the ones committing rape. He said,
"As a solution, I would love to see a situation where our courts come out forcefully against rapists; maybe they have to redefine rape in such a way that it becomes a capital offence.

The suggestion that rapists be castrated is also an attractive punishment because when they are castrated, it means they can't do it again, and when they know that when they rape, it will be their last time ever, this will send a strong warning to others.

"Imprisonment for 14 years does not seem to work for rapists. When they are in prison, they commit the act again, though this time with same-sex. They commit all sorts of anti-socials in prison, and these are fertile grounds for transmitting all sorts of deadly diseases.

The law must be more severe for rapists. A person who rapes does not deserve to go about walking among the people again because they will do it again. Make them impotent so society can be free."
A sociologist, Prof Lai Olurode, said societal decay was responsible for the act of rape by aged people. He said ideally, aged people should be the custodian of morality in society and should be seen as close to angels in terms of conduct. He said,
"They should be the custodians of morality in society but what we have now is pathetic. Definitely, something is wrong somewhere and we need to go back to our cultural values to stop this act."
Why aged persons also rape–Psychologist
A psychologist at the Olabisi Onabanjo University, Ogun State, Mr Oladotun Adeyemo, noted that rape could happen at any age, be it an elderly person raping a young person, or a young person raping an elderly person.
He, however, explained that older persons accused of rape might have started committing the crime when they were younger. He said,
"Someone who is a rapist doesn't start that behaviour in a day; there would have been behaviours related to it. Such people would have had an anti-social personality problem. Most of them would have been manipulative right from time. They would have touched someone inappropriately before without being remorseful."
Adeyemo expatiated that there were factors inherent in a person that made them be prone to rapeHe said,
"First is substance abuse. What substance does is that it suppresses the front part of our brain, called the forebrain, where judgement is promoted. It is the most developed part of the brain where people make decisions, but what substance does is that it suppresses that angle and distorts decisions. It can make one's thoughts to be confused. Ideally, an older man should protect a child but substances such as alcohol affect their judgement.

"The second factor is impulsivity. When it comes to sex, those who rape are impulsive; they act before they think. That is why some of them blame the devil when they are caught. For someone who is not impulsive, they will ask themselves if what they are about to do (commit rape) is right, and in the process of asking themselves that question, they are restrained from committing the abominable act.

"The third factor that could make an older person rape a younger person is that society has somewhat made rape to be acceptable. If a rapist receives a severe punishment, it will stop others. This is a judicial issue.

The judiciary system must be strong enough to punish rapists, and I think the Federal Government's move in publicly shaming rapists and their families as well is a good one. To some extent, when someone thinks of the name of their families being soiled, they will not commit rape."
SEE ALSO: Experts Stress On The Benefits Of Early Psychological Counseling For Rape Survivors
Adeyemo said protecting children from rapists involved a multidimensional approach. He said,
"Parenting in Africa has a way of making children look at their parents as 'devils.' For every little offence a child commits, they are spanked, whereas parents can develop a connection with their kids at a young age. Your best friend is someone you cannot hold anything away from, which is what our children should be. When we do that, they will reveal their big secrets.

"One thing that makes rape perpetual is that the perpetrators make their victims be fearful; but if parents can get connected to their children, it removes the fear factor and makes them talk about their experiences."
Adeyemo also cautioned against stigmatisation, describing it as having a "double jeopardy" on rape victims. He said,
"Society should also stop stigmatising rape victims; they should not be subjected to double jeopardy of emotion, in the sense that they are raped and they are not getting support from society. It's double jeopardy of their situation. If society cannot help, they should keep their mouth shut.

"People should stop asking questions like, 'How did she dress when she was raped?' Rape doesn't occur because of the way someone dresses; it happens because a depraved mind sees something else behind a person's dressing. Society should find a better narrative of describing a rape situation."