RESEARCH: How Alcohol Consumption During Pregnancy Affects Your Child's Brain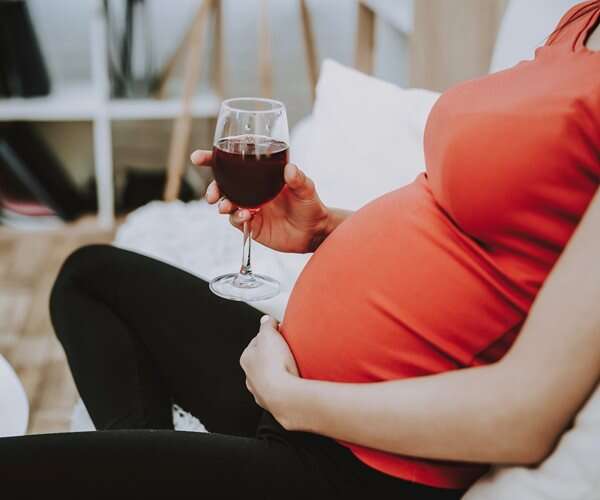 Drinking alcohol at any time during pregnancy can cause serious health problems for your baby. Alcohol includes wine, wine coolers, beer and liquor.
When you drink alcohol during pregnancy, the alcohol in your blood quickly passes through the placenta and the umbilical cord to your baby. The placenta grows in your uterus (womb) and supplies the baby with food and oxygen through the umbilical cord. No amount of alcohol has been proven safe at any time during pregnancy.
Drinking any amount of alcohol at any time during pregnancy can harm your baby's developing brain leading to anxiety, depression, and poor attention in youth, a new research from Australia's University of Sydney said.
This was published on Friday by researchers from the university's Matilda Centre for Research in Mental Health and Substance.
The researchers said it was found that children who were exposed to even low level of alcohol in the womb during pregnancy displayed more psychological, emotional or behavioral problems than unexposed children.
Low level of alcohol use has been defined as no more than six drinks per week. In the largest study of its kind, the researchers sampled 9,719 youth to investigate the connection between a small amount of alcohol consumption in pregnancy and the psychological, behavioral, neural, and cognitive differences in children aged nine to 10 years old.
READ ALSO: How Excess Weight Gain In Pregnancy Affects Your Child's Brain Development
In the sampling, they hoped to find out whether there is a safe amount of alcohol use during pregnancy.
"Our research found that even small amounts of alcohol consumed while pregnant can have a significant impact on a child's brain development," Lead Author, PhD candidate, Briana Lees from the Matilda Centre said.
"The data indicates that there is no completely safe level of alcohol consumption during pregnancy.

"This study is so important because in Australia, around 50 per cent of women drink alcohol before they know they are pregnant, and 25 per cent do so after they know.

"The vast majority consume one or two standard drinks per occasion which this study shows is enough to impact the baby's brain,"
she added.
Drinking alcohol during pregnancy increases your baby's chances of having these problems:
READ ALSO: Alcohol In Early Pregnancy & Miscarriage Risks- Study
Premature birth. This is when your baby is born before 37 weeks of pregnancy. Premature babies may have serious health problems at birth and later in life.
Brain damage and problems with growth and development
Birth defects, like heart defects, hearing problems or vision problems. Birth defects are health conditions that are present at birth. Birth defects change the shape or function of one or more parts of the body. They can cause problems in overall health, how the body develops, or in how the body works.
Fetal alcohol spectrum disorders (also called FASDs). Children with FASDs may have a range of problems, including intellectual and developmental disabilities. These are problems with how the brain works that can cause a person to have trouble in learning, communicating, taking care of himself or getting along with others. They also may have problems or delays in physical development. FASDs usually last a lifetime. Binge drinking during pregnancy increases your chances of having a baby with FASDs. Binge drinking is when you drink four or more drinks in 2 to 3 hours.
Low birthweight (also called LBW). This is when a baby is born weighing less than 5 pounds, 8 ounces.
Miscarriage. This is when a baby dies in the womb before 20 weeks of pregnancy.
Stillbirth. This is when a baby dies in the womb after 20 weeks of pregnancy.
Source: (Xinhua/NAN)