#EndSARS: Family Members & Victims Of Police Brutality Share Their Horrifying Experiences With SARS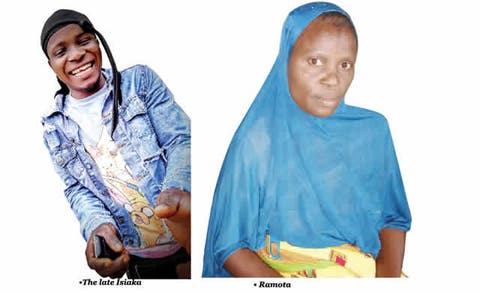 As the #EndSARS protests continue across the country, some Nigerians who were victims of brutality and extra-judicial killings by the disbanded anti-robbery squad of the Nigeria Police Force have shared their ordeals under the 'terror reign' of the outlawed squad.
Also, some citizens who were victims of police brutality during the #EndSARS protests across the country have voiced out their traumatic experiences as they called for justice.
Traumatised parents seek justice for slain son
Family members of a 29-year-old Jimoh Isiaka, who was killed during the EndSARS protest in Ogbomosho, Oyo State, have called for justice for their son. Isiaka was killed and many were injured in the course of protesting against police brutality.
An eyewitness confirmed to Daily Trust that he was killed by a stray bullet shot by security operatives. He was confirmed dead at the Bowen University Teaching Hospital, Ogbomosho. The young man was killed a week before his graduation as a trained electrician.
His 21-year-old pregnant wife, Zinab, who could not explain how the incident happened, insisted that the killer of her husband must be brought to justice.
The family of the deceased has appealed to Governor Seyi Makinde of Oyo State and Inspector-General of Police Mohammed Adamu to ensure that justice is served and killer of their son brought to book.
The father of the deceased, Jimoh Atanda, who was visibly sad, described his late son as a cool-headed boy who didn't like to get involved in trouble.
"I was at Orita-merin, coming from Aroje when I received a call from his sister that her brother had been shot dead.

"I asked how it happened because I am aware that he was a cool-headed boy. She could not answer but said she was called by her mother.

She said she suspected that Isiaka decided to take a road where the protest was taking place while coming from work, but was shot from afar while watching the scene.

"That was how he was hit by the gun fired by the police.

"He was rushed to Bowen Teaching Hospital. We tried so much to save him but he eventually died.

"I donated blood for him but we could not save him.

"I want justice for him. I want to beg the Oyo State Government to help me as he left a pregnant wife and a two-year-old child behind.

"Education of the child is very important to me, and I know Governor Makinde is a man of mercy and of the people.

"I believe he would help us. Jimoh was due to have his graduation as a trained electrician on Sunday, but death took him away,''
he lamented.
His mother, Ramota Jimoh, in an interview with PUNCH disclosed that she spoke with her son few minutes before he was killed, adding that she warned him not to take part in the protest. She narrated:
"My name is Ramota Jimoh and I am Isiaka's biological mother. He was 21 years old. He was still an apprentice. He was learning electrical installation and he was about to graduate but his life was cut short."
What was your last conversation with him?
It was not long after he left my place that I called him on the phone and asked where he was. He told me that he went to work and he had left and was about to meet someone whom he wanted to work for. I asked him to go ahead. That was our last conversation.
How did you hear about his death?
After that conversation, I had the urge to call him again and I discovered that I couldn't get through to him again. I was not apprehensive at that time but his dad called me and asked me to rush to Bowen Teaching Hospital. I asked him why and he told me that my son had been shot.
Did you have any premonition that such an incident would happen?
I can say yes. I just discovered that I started having a stomach upset shortly after I spoke with him (Isiaka) on the phone. Nobody had told me anything when I started having a stomach upset.  After that, tear gas started affecting my eyes and because I live around Ile Ewe, the wind blew it to the area. I just started feeling uncomfortable and I went to use the toilet twice within 10 minutes. But I didn't suspect that any unpleasant thing had happened to my son. It started raining and immediately the rain stopped, I received a call from his dad to go to Bowen Teaching Hospital.
Did he die on the spot?
No. He was taken to Bowen and when I got there, they were attending to him. They said he needed blood transfusion and they were doing that when he gave up the ghost.
At what time of the day did it happen?
It was at about noon on Saturday.
How would you describe your late son?
He was a very good boy. He was jovial, hard-working and he loved everybody.  I know him, he was very obedient. He didn't fight or quarrel with anybody. He was not a Yahoo boy (Internet fraudster). He was very hard-working.
Had he been harassed or arrested by the police for any reason?
That never happened. You can go round the police stations and find out. You can't find his name in their books. Ask people around, they will tell you the type of person Isiaka was. It's very unfortunate that he was killed.
Are there things he promised to do for you before his death?
He promised me many things but death has affected all that. God said it was his time and that was why he took him away. It's painful but there is nothing anybody can do about it. He used to assure me that all would be well. He would hug me, peck me and show me that he loved me.
Isiaka would always come around me just to make sure that I was happy. He promised me so many things but police killed him. May God grant him eternal rest. God gave me and he has called him back. I accept it that way because God owns me, the mother of Isiaka, and I cannot question him. I accept that as my destiny. I pray that God will stop such bad occurrences in our family. This is enough. I accept my fate.
There have been protests against police brutality. What is your advice to the government on it?
The youths are angry against SARS because they trouble them too much. They arrest and harass the innocent and the guilty. There should be a way for the police to know criminals from the law-abiding ones. Are they saying every young person is a criminal? Aren't there young people among the police themselves?
The protest is against the problem they are giving the youths. I want the government to find a way of listening to the protesters and do what they want. The government should make the economy better. Let there be jobs for the youths and everybody. If everybody is meaningfully engaged, there will be little problems for even the police.
SEE ALSO: Hairstylist, Olorogun Marbel Recounts How She Was Unjustly Arrested, Detained, Extorted And Sexually Harassed By SARS Operatives
One of the protesters who gave account of the incident told DailyTrust,
"We started the protest peacefully and marched to the palace of the Soun of Ogbomoso. The monarch sent someone to address us and charged us not to cause any problem.

"From there, we marched to the police station and submitted a petition to them. We were surprised as the Divisional Police Officer (DPO) was seen holding a gun.

"Many of us got furious about it because it was a peaceful protest. The leader of Ogbomoso Parapo later came to address us and asked us to go back to the palace.

"But to my surprise, as we were going back, I heard a gunshot, followed by teargas. When I looked back, I discovered that someone had been hit by the shot.

"The person happened to be Jimoh. He actually lived in the area but was not involved in the protest. He was in his shop before he decided to step out.

"This actually got his neighborhood friends and peer group angry on Sunday when they heard the police said they didn't shoot or kill anyone during the protest.

"They marched back to the police station at Owode, where two people were killed again and their bodies dumped at the station before they moved them to the palace of the Soun of Ogbomoso."

The caretaker chairman of Ogbomoso Central Local Government Area, Adeyinka Oluwaseun, said he was surprised at the incident, adding that people of the ancient town were peace-loving.

"I am not happy with the incident. It was not expected because our people are peace-loving."
Also reacting, the caretaker chairman of Ogbomoso South Local Government, Oyedokun Timothy, said the incident was unfortunate, adding that investigations were ongoing to unravel the killer of the victim.
'Family of ex-corps member still in trauma'
The family of the late ex-corps member, Ifeoma Abugu, who allegedly died in the hands of SARS operatives in Abuja, said they were still in a state of shock over the incident.
Family members of the deceased ex-corps member had, through their counsel, Ifeanyi Mammah, petitioned Inspector-General of Police Mohammed Adamu, seeking investigation into the alleged rape and killing of their daughter by three SARS officers in Abuja.
Speaking with our reporter, the deceased's elder brother, Alex Abugu, said the death of his younger sister, whom he said graduated from the Institute of Management and Technology, Enugu State, was too difficult to get over.
He said the family was always in shock each time they recalled the circumstances that led to her gruesome death in the hands of the SARS officers.
"We are still in shock and state of devastation, especially anytime we remember the manner the SARS officers manhandled my sister.

"As I am talking to you right now, an autopsy had been carried out since the 25th of last month, but we are still waiting for the result,"
he said.
SEE ALSO: #EndSARS: How Nigerian Women Are Pooling Resources & Defying Odds To Drive Perhaps The Biggest Political Awakening Yet In Nigeria
Abugu recalled that he was in Lagos when he received a phone call on that fateful day that some SARS operatives from the Federal Capital Territory (FCT) police command came to Wumba village in the Lokogoma area to arrest his sister's fiancee, Afam Ugwunwa, but ended up whisking away his sister when they did not see their target.
He alleged that his deceased sister, who just concluded his National Youth Service Corps (NYSC) programme, died in the custody of SARS.
According to him, the ugly incident occurred four days after she had her marriage "introduction" in Enugu State.
"Can you imagine that until this moment, my mum is not yet aware of the incident because she has been bedridden for some time now because of old age?

"If we eventually open up to her on the death of Ifeoma, she may collapse,''
he said.
He said the family was in full support of the ongoing protests.
A woman identified as Ebohon Egbe Rebecca from Edo state, also recounted how her 22-year-old brother was allegedly killed by the police in 2013 after labelling him a robber, an allegation that was cleared years later.
Taking to Facebook on Saturday, Rebecca recalled how her mother went to a police station to report her son missing. Unknown to her, he had been allegedly killed and buried by the police.
After series of protests led by activist Kola Edokpayi, her brother's corpse was exhumed and in 2017 after the court declared the deceased innocent, he was finally buried by his family members.
Read her post below:
"Momodu Ibrahim was our General. He was murdered by the Nigeria police on 27th May, 2013 at the age of 22. And buried by the police on the 28th May, 2013. The police wrote a letter to the LG office stating that he was a criminal who was caught at the scene of a robbery operation ( … my Brother was not a criminal), before going to bury him. (I read that letter then)

On 29th May, 2013, my Mother went to Textile Mill road police station to report that her son was missing (without knowing that he has been buried )… we later got to know that we will never see him again.

On 30th May, 2013, Kola Edokpayi, Pharez Okpere, and Yusuf Bukhari came to pay us a condolence visit, we told them the story and it didn't sit well with them. They raised alarm. There was a massive protest and my Brother was exhumed and kept in the morgue for 3 years while the case was ongoing.

He was finally buried in 2017. Barr. Jefferson Uwoghiren stood solidly for us free of charge to see that my Brother get justice and I am grateful that my Brother's name was cleared that he was not a robber.
As I live with the pains of his murder and how it happened, I always wish that those who had a hand in his death will never live a peaceful life."
ALSO SEE: #EndSARS: We Love Falz's Spot-On Open Letter To President Muhammadu Buhari On The National Human Rights Commission