'What's that?' President Buhari Leaves Nigerians Speechless After His Address On The #EndSARS Protests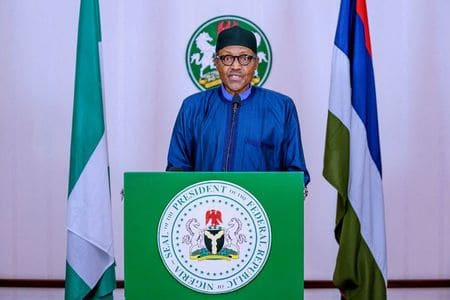 Nigerians have taken to various social media platforms to express disbelief after President Muhammadu Buhari addressed the nation. The address took place at 7 pm on Thursday, October 22; two days after peaceful EndSARS protesters were shot at the Lekki toll gate and twelve days since the peaceful agitation began.
The shootings degenerated into chaos causing panic and leading to an unconfirmed number of gunshot casualties but before then, as the call for police reforms heightened, the president was eerily quiet prompting Nigerians and foreign interests to call for the president to address the nation and douse simmering tensions.
The president has finally heard the request, just one thing- his speech has left more despair and left almost every one of speechless.
READ ALSO: Feminist Mum & Author, Chimamanda Adichie Pens Her Thoughts On The Timeline Of Events Of The Historic #EndSARS Protests
While speaking to Nigerians today, the president stated that Nigerians "misconstrued" the "promptness" with which the government acted on the End SARS demands "as a sign of weakness"
He added that "human lives have been lost" and properties have been destroyed "in the name of the End SARS protests while sending word of caution to protesters and international groups who have voiced concern for the upholding of peace and justice within Nigeria.
The president went on to list the "measures and initiatives" the government has put in place for "youths, women and the most vulnerable groups in our society."
He then called on youths "to discontinue the street protests." After Buhari's speech, Nigerians took to Twitter to express despair and disappointment. Some pointed out that he didn't address the Lekki shooting and the lives lost. Most said they have no more hope in Nigeria and expressed eagerness to leave the county.
Below are some reactions: