"My family doesn't know I'm alive." Survivor Of Lekki Toll Gate Massacre Share His Experience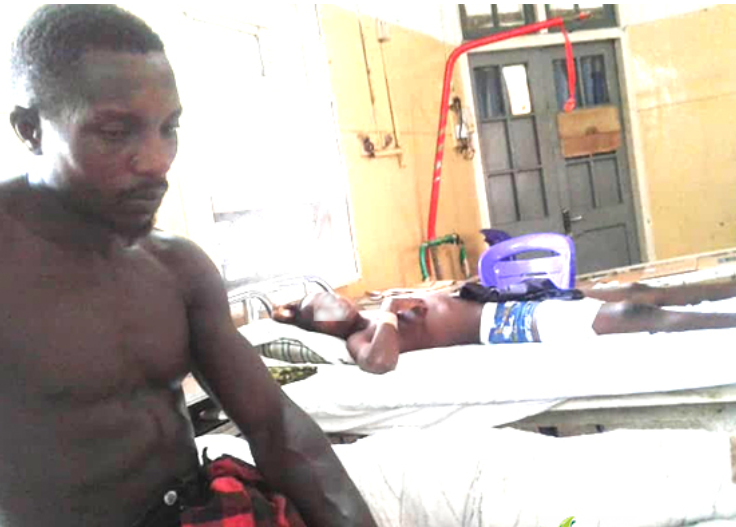 Meshack Esanibi who claims to be a survivor of the shooting that attended the #ENDSARS protest at Lekki Toll Gate, Lagos, said up until now, his family does not know that he is alive. He said they also don't know his whereabouts.
It would be recalled that the army shot at #ENDSARS protesters at the Lekki toll gate on Tuesday, October 20, leading to a yet-to-be ascertained number of casualties.
The shooting incident had also attracted national and international outcry, with the Lagos State and Federal governments being urged to unravel the identity of the shooters and who deployed them.
The alleged Lekki gunshot victim, Meshack, spoke to PUNCH on his sickbed at the General Hospital, Odan, Lagos Island, on Monday.
Meshack, who said he was a construction worker, hails from Delta State but lives and works in Lagos. He said he had yet to establish contact with his family.
A day after the incident, Lagos State Governor, Babajide Sanwo-Olu, said 27 survivors of the shooting were variously being treated at three different hospitals namely, Reddington, Vedic, and General Hospital.
He had also said three of the survivors were discharged after they had undergone medical treatment. Sanwo-Olu was quoted:
"There are currently 10 patients at the General Hospital, 11 at Reddington and four at Vedic, with mild to moderate levels of injuries; while two are receiving intensive medical care.

"Three patients have been discharged and we will continue to monitor and ensure all patients get the best care."
Meshack said he was among the 10 survivors that the governor visited at the General Hospital last Wednesday.
In an exclusive interview with PUNCH HealthWise, Meshack said he could not reach his relations because he lost his phone and wallet during the melee that followed the shooting.
"I lost my phone and wallet containing money, ATM and identity cards at the protest scene. That had proved detrimental because I have not been able to reach my family in Ikorodu.

"Nobody knows whether I am alive or dead. They don't even know that I participated in the protest at Lekki. I have been here for one week now. I am sure they must have been in confusion about my whereabouts,"
he narrated.
READ ALSO: Lekki Massacre: Nigerian Man, Ayoola Gives Chilling Account Of How He Survived Gunfire Attack At The Tollgate (Video)
He said his sister, Naomi Esanibi, and parents live at Omoyele Street, in the Majidun area of Ikorodu.
On why he did not inform the management of the hospital about the need to contact his family, Meshack said he could not recollect any of their contact numbers.
Narrating the incident leading to the shooting, Meshack said he joined the #ENDSARS protesters at the Lekki Toll Gate before security agents came shooting.
Pointing to his heavily bandaged leg, he said he felt "a sharp pain" when something he later realized was live bullets pierced through his left limb.
"When the soldiers arrived, we stood our ground. But when my friend, who stood in front of me slumped, I panicked and tried to run back into the crowd.

"That was when the bullets also hit me. I saw blood gushing out of my left leg. I have never seen so much blood coming out of my body in my entire life.

"I recollect seeing a number of protesters carrying me from the scene. I was initially taken to one hospital in Lekki where a doctor attended to my wound.

"But owing to the severity of the gunshot wounds, I was referred here (General Hospital) for intensive care,"
he said.
Meshack said he has been traumatized, adding that he spent the first three days of his stay at the hospital agonizing and wondering whether he would ever walk with the leg again.
"I have never been so scared in my life as I had been in the first three days. Every time I was to be moved from the Accident & Emergency unit to the ward, two or three different persons would hold the affected leg.

"At a point, I feared my leg would be amputated. But after the x-ray was carried out, I was told I will be alright.

"We were three gunshot survivors from Lekki Toll Gate sharing the same ward. Others have been discharged. I am the only one left. I was told the cases of the other two were not as complicated as mine,"
he shared further.
On when he was expected to be discharged, Meshack said it has not been communicated to him yet.
While thanking the Lagos State Government for making the treatment of injured protesters free, he also drew attention to the additional burden of making relatives pay for drugs.
"I heard the government has directed that all gunshot survivors should be treated free, which I think was a good initiative. But I also understand that procurement of drugs was not part of the free treatment.

"I want to appeal again to the government to look into this issue, as relatives of patients on admission have been the one buying drugs for them,"
he stated.
READ ALSO: Lekki Massacre: 'Terms of reference for probe panel has been expanded' -Governor Babajide Sanwo-Olu Says As He Calls On The General Public With Useful Info Against SARS Operatives 
When contacted, the Medical Director of the hospital, Dr. Ismail Ganikale, declined comment, stressing that the Commissioner of Health, Prof. Akin Abayomi, was in the best position to give the information.
"I am not in a position to speak on the issue. Please talk to the commissioner of health," Ganikale said.