Distraught Mom, Chrissy Teigen Shares The 'Frustrating' Way Pregnancy Loss Has Changed Her Body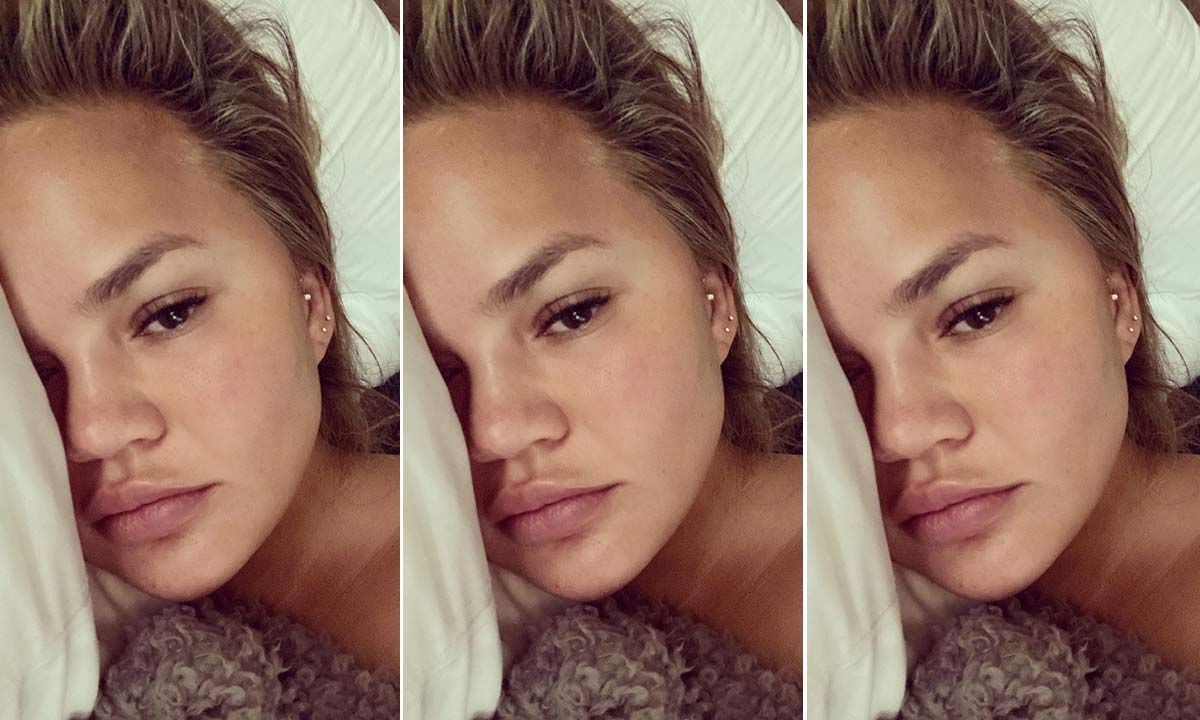 US model and mum-of-two, Chrissy Teigen, has shared a candid details about the "frustrating" way pregnancy loss has changed her body in a new Instagram post about her late son Jack, who was stillborn.
In September, the 35-year-old mom and her husband John Legend (who share daughter Luna, 4, and son Miles, 2) announced the tragic loss of their unborn son Jack, due to a partial placenta abruption, a pregnancy complication that causes the placenta (which carries oxygen and nutrients to the fetus) to separate from the uterus, and severe blood loss.
On Wednesday, the cooking star posted an Instagram selfie, shot from the side, to reveal her body in the postpartum period, which is the six- to eight-week stretch post-delivery. Teigen wrote: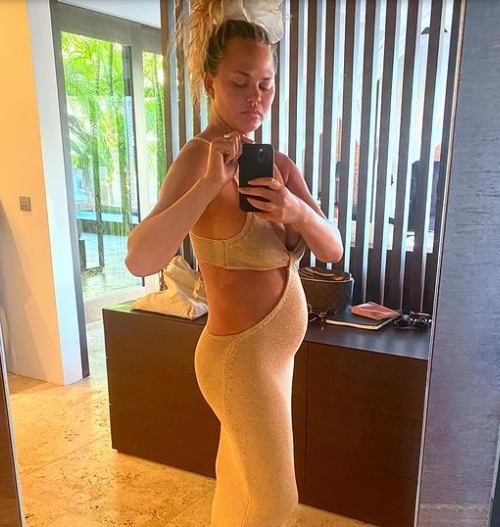 "This is me and my body, just yesterday. Even though I'm no longer pregnant, every glance in the mirror reminds me of what could have been. And I have no idea why I still have this bump, honestly. It's frustrating."
The celebrity mom continued,
"But I'm proud of where this entire journey took my body and mind in other ways. I love being pregnant, so so much, and I'm sad I never will be again. But I am lucky to have two amazing little ones who are transforming into big little people more and more every single day."
SEE ALSO: Mom-Of-Two, Chrissy Teigen Recalls The Struggles Of Trying To Breastfeed As She Calls To 'Normalize Formula'
Teigen shared the woeful update on Instagram, along with beautiful photos of her and Legend holding Jack. Later, her Medium essay captured the singular pain of child loss and grieving so publicly.
"And, I always forget I'm not pregnant anymore," she wrote in the essay. "I hold my belly when I walk around. I have a moment of freak out when the kids jump on my non-existent bump. The clarity after these moments always make me sad."
According to certified nurse-midwife Julie Lamppa, the physical signs of pregnancy can linger for several reasons:
increased adipose tissue (fat),
an abdomen stretched by the growing uterus, a condition called Diastasis recti (the separation of abdominal muscles that causes a stomach bulge) or weight retention with age and multiple pregnancies.
"The further a pregnancy progresses, the more obvious these changes will be," she tells Yahoo Life. Lamppa says those changes can also happen with pregnancy loss, depending on the stage of gestation that was reached.
Teigen's partial placenta abruption doesn't necessarily indicate the inability to have future children, says Lamppa, though women could hesitate to conceive again for emotional reasons or fear of recurrence.
Since the loss, Teigen continues to share, even during the hardest of moments, such as helping her young children understand pregnancy loss.
"I'm just thinking a lot about jack today. our house is very open about life, death, grief, everything really," she captioned a November video of Jack's boxed ashes next to a stuffed bear and one of Luna, her "incredibly empathetic little mini," talking to the box.
READ ALSO: Distraught Mum, Chrissy Teigen Pens Heartbreaking Essay As She Reveals What Happened On The Morning Of The Day She Lost Her Third Child, Jack
"We try to explain things well and answer every question imaginable in a beautiful, spiritual but literal way," Teigen wrote.
"I know this is a weird post but I just wanted to share these to always remember my incredibly empathetic little mini. life is infinitely better with her in it. I miss u, jack. we miss you a lot."