Celebrity Dad, Adewale Amu (DJ JimmyJatt) Draws Lessons From His Marriage Of 24 Years In Advice To Young & Intending Couples
Music producer and DJ, Adewale Amu better known as DJ Jimmy Jatt has shared some useful advice with young and intending couples. The dad-of-two who has been married now for 24 years and counting advised intending couples to only make the decision to marry the right person for the right reasons, stressing that compatibility and companionship are top signs to look out for.
Jimmy Jatt shared that marriage requires compromise, tolerance, understanding and finding a common ground when opinions differ. According to him, time does make the journey better as the couple would have developed a better understanding of each other through the years. allowing for a more cordial and peaceful relationship.
READ ALSO: Celebrity Dad, Oritsefemi Ekele Shares On Communication & Other Gems That Cause A Marriage To Thrive
Read excerpts from his interview with Punch below
When did you marry?
I got married in 1996.
How did you meet your wife?
I met my wife at a party. That was the only place I meet people because of the nature of my job. We stayed in the same neighbourhood but we didn't use to talk, it was at the party that we got talking. And things progressed from there.
How long did you date before you got married?
We dated for about five to six years before we got married.
What stood out for you on your wedding day?
It was just a great day and everybody was excited.  For me, the wedding day was just a formality. As far as I was concerned, we were long married before the wedding day.
What lessons have you learnt from marriage?
I have learnt that marriage is about being able to tolerate, compromise and understand each other. It's about being able to find a meeting point for each other's weaknesses. There are no two people that are the same in life. How you are able to manage that is what makes a marriage work. If you have been with a person for long, you will have a better understanding of the person and things will be smoother.  Also, if you marry for the right reasons, and you find out that this is the right person for you, you will be able to withstand whatever comes your way. But if you marry for reasons otherwise, it might be a bit difficult.
People often say that the first five years of marriage are usually problematic. Would you say it is true?
Well, it depends on the people involved. For me, it was just a continuation of what we already had. So, all the shaky part had been sorted out before we got married. I believe our long years of courtship helped a lot in that aspect.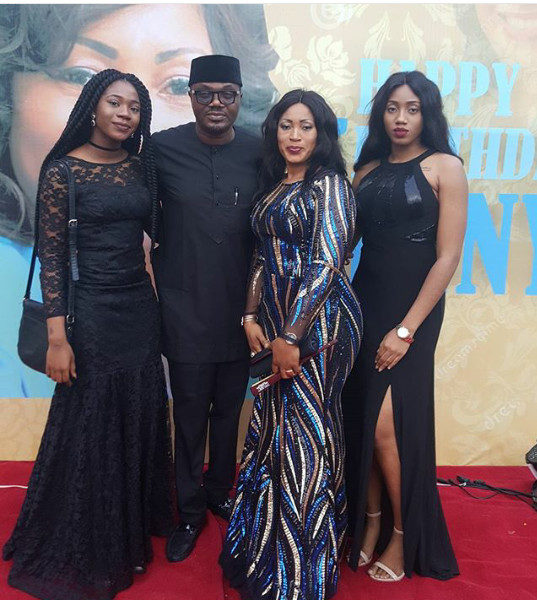 What is your advice to younger ones on their choice of a life partner?
Ensure that you are marrying the person for the right reasons. I think people get married for reasons other than compatibility. Some people marry for physical appearance, they want a trophy they can present to outsiders, and some marry because the person is from a wealthy home and all that. Those are wrong reasons to get married to people because those things can finish. When those things are no longer there, what will the person do?
Unfortunately, people go for those things. For me, I will go for compatibility and companionship over other thing.