For The First Time, Victoria Inyama Opens Up About Finding Out Her Son Is Autistic As She Schools Fellow Parents On The Disorder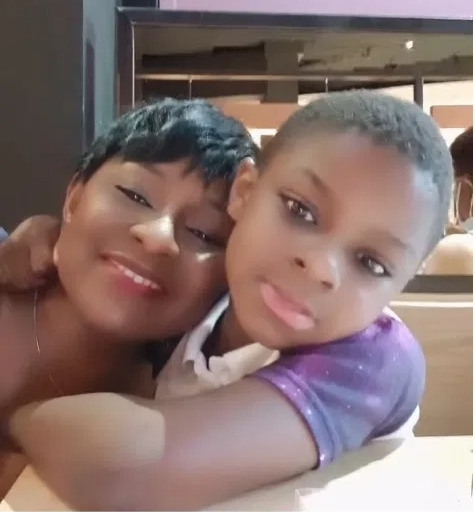 Former Nollywood actress and mum-of-three Victoria Inyama has opened up for the first time about finding out one of her children is autistic.
Speaking on Autism Spectrum Disorder (ASD) in children on her Instagram page, the single mama revealed that she didn't notice her son is autistic on time because she was enduring domestic abuse in her marriage at the time she had him, coupled with the fact that she had never heard the word, or knowing what it is at the time.
According to her, ASD is a developmental disorder that can cause significant social, communication and behavioural challenges.
The super mom who revealed that she was blamed for having an autistic child by his dad & a Pastor, then went on to school parents on the types, and tips on reading.
Below is her full post…
"AUTISM SPECTRUM DISORDER (ASD) is a Developmental Disorder that can cause significant Social, Communication & Behavioural challenges. There are 4 major types 1, Autistic disorder
2, Asperger's syndrome
3, Pervasive Developmental disorder (PDD-NOS)
Then there's
4, Childhood Disintergrative Disorder, this is the rarest but most severe part of the spectrum, the child may later develop a Seizure disorder.
READ ALSO: Celebrity Mum, Victoria Inyama Reveals How Her Ex-Husband, Godwin Okri, Allegedly Humiliated Her
AUTISM can be diagnosed by 18, sadly l was enduring Domestic abuse & didn't really notice coupled with the fact that I had never heard the word talkless of knowing what it is.
I do know about the Stigma ??‍♀️??
I was blamed for having him by his dad & a Pastor…..??
My baby is the sweetest most amazing human.

Yes, there's loads of work as a Parent So l pray God strengthens You as he does me…
Lots of love, Patience, Routine etc.
I also do believe in Prayers & Miracles….You should too….God bless Us All
❤???❤????‍♀️
Will post more on my TIME LINE!!!"

TIPS ON READING:

Always read in an empty room/ quiet/calm
# Use books with pictures/ big images so the can also see to sound it….

# Keep reading time as short as possible & do read anytime they tell you they feel like reading apart from the set time.
SEE ALSO: Parents Of 5-Year-Old Special Needs Share How Their Son Was Diagnosed With Autism & How It Changed Their Family
# Provide constant Repetition & Praise

# Be very Patient, allow him time to absorb everything that you are both reading at his own pace…

# Encourage the child to sound out words and explain the meaning of the word

# Every autistic child is Different ? Understand that they are doing their Best? Instead of defaulting to an Authoritarian Attitude. It's more Effective to take a Collaborative, Compassionate and Understanding approach……

Dedication and lots of Love. You can do it….com'on let's go ???❤??
Gratitude Gratitude Gratitude."
SEE ALSO: 5 Early Signs Your Child May Have Autism