British Social Commentator, Piers Morgan Once Again Rips Meghan Markle And Prince Harry Apart For Bombshell Oprah Winfrey Interview: 'It Is an absolutely disgraceful betrayal…'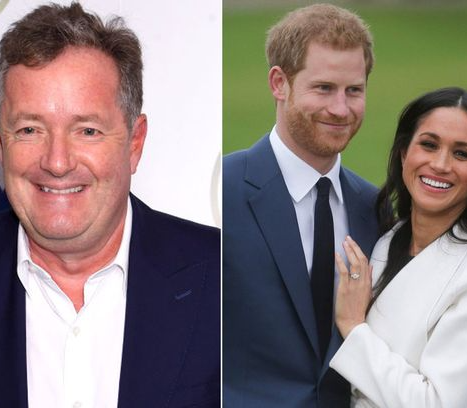 British social commentator and author, Piers Morgan has once again slammed royal couple, Prince Harry and Meghan Markle for the things they revealed during their interview with Oprah Winfrey.
In the tell-all interview, Meghan made some shocking disclosures about the monarch's perception about her, her marriage and the racial comments made towards her unborn child, Achie.
The TV host who has always been critical of the royal family took to Twitter after their bombshell interview to call out the couple.
He insinuated Meghan Markle was acting during the interview as he tweeted:
"Is it too late for Oscar nominations? #meghan"
Morgan, who has never hidden his disgust for Meghan, added:
"This interview is an absolutely disgraceful betrayal of the Queen and the Royal Family. I expect all this vile destructive self-serving nonsense from Meghan Markle – but for Harry to let her take down his family and the Monarchy like this is shameful. #OprahMeghanHarry."
READ ALSO: Piers Morgan Rips Prince Harry & Meghan Markle Apart As He Dissects The Consequences Of Their Latest Action
In another post, he wrote:
"Harry wants America and the rest of the world to hate his own family, hate the Monarchy and hate his country. I suggest everyone waits for the victims of his wife's rampage to have their say on her outlandish claims before they do so."
He also expressed his lack of trust for Meghan, writing:
"I wouldn't believe Meghan Markle if she gave me a weather report."

"Let's be clear: Prince Harry and his wife just spent two hours trashing everything the Queen stands for & has worked so hard to maintain, whilst pretending to support her. And they did it while her 99yr-old husband Philip is seriously ill in hospital. It's contemptible,"
he concluded.
READ ALSO: Expecting Mom-Of-2, Meghan Markle Reveals How She Contemplated Suicide Before Leaving Royal Family In Bombshell Interview With Oprah Winfrey