#IWD2021: Daddy Freeze's Partner, Benedicta Elechi Addresses Fundamental Gender Issues Surrounding Women's Rights In A Country Like Nigeria As She Alleges Battery By Ex-Husband
Benedicta Elechi, a partner of media personality, Daddy Freeze, has alleged Paul Odekina, her ex-husband, battered her when they were still together as husband and wife.
Benedicta, who has a son with Freeze also shared medical proof to back her claims. Elechi also shared a medical report revealing she was given anti-inflammatory drugs due to an "assault" by Odekina. The medical report read in part:
"The above named presented to our centre with neck pain, headache, and voice hoarseness. thought to have been due to a scuffle with her ex. The impression made was of stress-induced laryngeal oedema."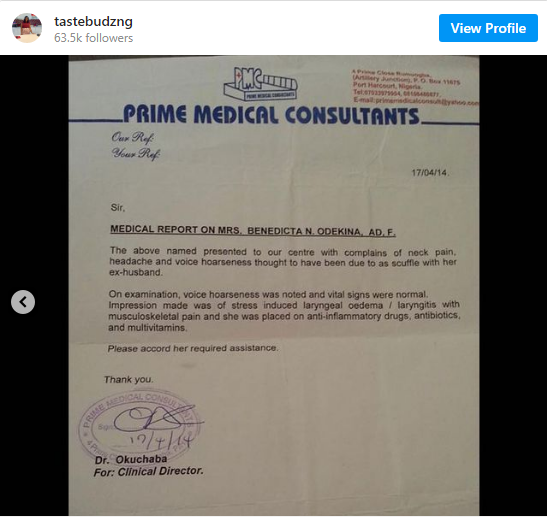 READ ALSO: 'He's Gay' –OAP Freeze's Baby Mama, Benedicta Reveals Why She Divorced Ex Hubby in Explosive Interview
She made the revelation known on social media while celebrating International Women's Day, (IWD) 2021. To mark the special day, she took to her Instagram handle to address fundamental gender issues surrounding women's rights in a country like Nigeria.
Elechi wrote:
"We live in a country where the rights of women are nonexistent. Today is a day, when women all over the world, come to celebrate the social, economic, cultural, and political achievements of women.

"We should be observing a moment of silence for the fearless women, who fought to the death for the rights of women and children and raising our glasses to a toast…

"…to all the strong women that have fought and continue to fight for the abolishment of archaic practices and the reformation of laws that have enslaved women for decades in unison.

"But no, as women, living in this part of the world, it will be hypocritical for us to partake in this celebration.

"This day should mark a call to action for accelerating gender parity, gender equality, and reforms that will protect our fundamental rights as women. We owe it to the girl child."
TheCable Lifestyle had earlier reported how a high court sitting in Port Harcourt, Rivers had ruled that Freeze should pay N5 million as compensation to Odekina for having an affair with Elechi while she was still married to him (Paul Odekina). The relationship gave birth to Jason, their son, in 2015.
SEE ALSO: Daddy Freeze's Fiancée, Benedicta Got Pregnant For Him While Still Living in With Husband: Court Proceedings Reveal
In his ruling, Justice Akpughunum said Daddy Freeze was in an adulterous relationship with Benedicta Elechi before her marriage to Paul Odekina collapsed.
According to him, Odekina was able to present photographic, documentary and electronic evidence before the court to provide that the one-time divorced OAP was in an adulterous relationship with his former wife.
In his response to the ruling, Daddy Freeze had vowed to challenge the verdict at the appeal court, where he hopes to receive a "fair" judgment.