"Who Marriage Help?" – Expectant Mom, Uche Ogbodo Asks, As She Counsels Unmarried Women Above 30 In Lengthy Instagram Post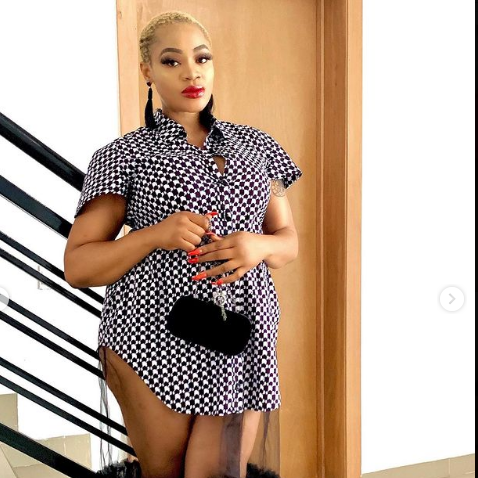 Nollywood star, Uche Ogbodo took to Instagram to talk about expecting her second child as a single woman.
In a lengthy video posted to her Instagram page, the actress whose relationship with Apo Arthur in 2013 crashed over irreconcilable differences a few months after spoke about her first pregnancy at 27 and her current one now that she's 34.
Miss Ogbodo said she doesn't regret having her first child, who is now 6, or the one she's pregnant with. She further  explained that despite all she went through in the hands of her baby daddy when she was pregnant with her daughter at 27, she kept the child because she doesn't support abortion.
She went further to reveal that abortion is against her beliefs as a Catholic, adding that it is silly for a single woman above 30 to have an abortion because she's waiting for marriage.
Uche, who had her first pregnancy out of wedlock, and also the one she is carrying, advised this set of women to start have their kids now, rather than wait till they are no longer fertile because they want to get married first.
She went on to reveal that marriage doesn't favour everyone and gave an example with an old acquaintance who no longer looks beautiful since she got married. In her words:
READ ALSO: Delaying Fertility Checks/Treatments Because You Are Single? Read Expert Advice
"It's so painful o when I see a lot of girls my age, they don't look beautiful anymore and they were so pretty. I saw one yesterday I had to go back to the page to refresh…she was looking haggard and old and ugly. She's married oh.

"So who marriage help? If with marriage and the almighty man that you're marrying, you're looking terrible, without marriage, who knows how you go look?

"Please, stop killing your children, especially when you're of age. Have your kids. If marriage comes, marry oh, if marriage no come, raise your children now."
She also said in the lengthy video:
"I'm 34. I already have a kid. This is going to be my second child. I have a boyfriend who loves me, I'm happy and I'm having my baby."
READ ALSO: Actress / Expectant Mom, Uche Ogbodo Talks Life And Why She's Having Kids Out Of Wedlock
She said she didn't "plan for this but it happened" and "I'm not a candidate for abortion."
She said: "I can never in my life support abortion.  I don't support abortion because I'm Catholic."
Watch a short clip from the video below. 
"Who marriage help?" – Uche Ogbodo asks as she advises unmarried women above 30 to have their kids rather than abort. pic.twitter.com/I2uDfNUPsh

— Lailasnews.com (@Lailasnews_com) April 8, 2021