Few Weeks In, Actress Princess Shyngle Shockingly Announces The End Of Her Marriage To Her 'Best Friend' Of 10 Years: 'You're A Mistake'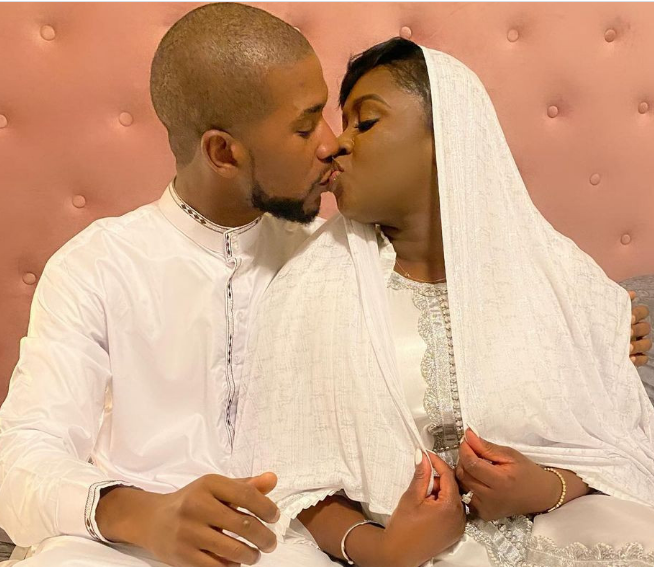 Princess Shyngle, the Gambian-born Ghanaian actress, has filed for divorce from her husband, Gibou Bala-Gaye, after over two months of marriage.
The movie star, famed for her curvy physique had tied the knot with Bala-Gaye, whom she described as her "childhood crush", at a private ceremony in January.
In several clips and terse posts on her Instagram stories, the 30-year-old star accused her husband of domestic violence on numerous occasions.
The actress came online to make the revelation after her husband went on Instagram live to tell the world that his wife locked him out of the house after a little disagreement about 8 weeks ago and he hasn't seen her for 7 weeks. He added that she's in New York doing "her thing".
Princess Shyngle said she had no intention to bring her marital woes online but since her estranged husband was already giving the impression she's a bad woman who left her husband for 7 weeks, she has to come out with her truth.
In an Instagram live video, she told the world that her marriage has been shaky for over 8 weeks. She said her husband was violent and "put hands" on her so she decided to divorce him.
"Since you want to tell the world everything, tell them you are a woman beater. Let them know you put your hands on women and pull guns on women,"
she had captioned one of the recordings.
READ ALSO: Troubled Actress, Princess Shyngle, Calls Toyin Abraham 'Angel' For Doing This
The Banjul-born film star also described her husband as a "mistake", adding that the "drama is just getting started."
"You're a fu*king mistake. I've divorced your as* so leave me the f*ck alone. This drama is just getting started. I think you really underestimated me,"
she wrote.
The actress also shared a copy of the divorce paper containing her signature while appealing to Bala-Gaye to also sign to facilitate the split.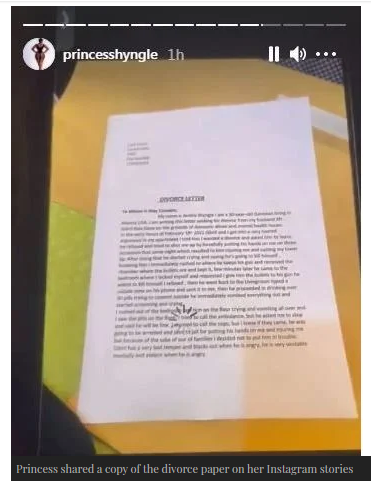 Shyngle said she had been making efforts to get her husband's signature on the divorce paper for weeks without success.
Only weeks ago, Princess Shyngle announced she's married to her best friend who she's crushed on since 8th grade and has been best friends with for over 10 years. Now, she says she has no idea he was violent.
9 weeks ago, on January 30 precisely,  Shyngle announced she is married. Going by her revelation on her Instagram live that the domestic violence incident happened 8 weeks ago, leading to their separation and then divorce, it means their marriage lasted only one week or thereabout.
In a twist to the ensuing drama, Frederic Badji, Shyngle's former Senegalese boyfriend, shared an Instagram video on Sunday wherein he showed his support for the actress.
The movie star also shared clips of the video on her Instagram story and expressed her appreciation to Badji. Shyngle had in September 2019 announced her engagement to Badji.
The union however hit the rocks shortly after. But the actress had stunned many when she re-engaged the Senegalese in January 2020.
SEE ALSO: Kenyan Mum, Connie Muuru, Advises Women As She Marks 4 Years Since Her Daughter Was Battered To Death By Boyfriend