JAY-Z Talks Fame, Lockdown Life With Family, His Parenting Goals And How He Will Like To Be Remembered In Rare Interview
Power couple, JAY-Z and wife, Beyoncé rarely give the public a peek into their private lives, and when they do, it's on their own terms.
In a rare interview with The Sunday Times to promote his partnership with Puma as creative director, the Hip-hop legend turned mogul, 51, discussed his life in lockdown with Beyoncé and their three children.
He also revealed how he has been living with his family and staying productive during quarantine. The celebrity dad said during his chat with the outlet:
"In the beginning it was time for everyone to sit down and really connect, and really focus on family and being together, and take this time to learn more about each other."

 "And then, as it wore on, it's like, 'OK, all right, what is the new normal?'"

"If anything came from this," Jay says of the pandemic, "it's that we have to recognize that we're all connected. It's a metaphor for how connected we are."
During the zoom call interview, Jay takes a moment to acknowledge his youngest daughter off camera. "Hiii, beautiful!" he says while blowing kisses.
"That's my youngest daughter, Rumi."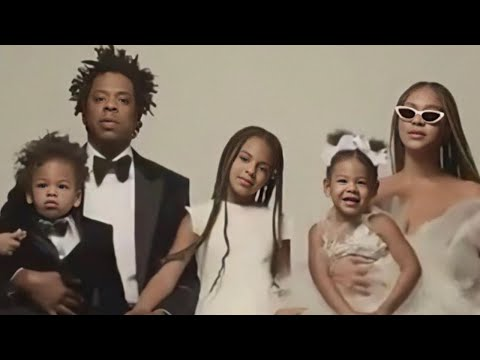 As he's done many times in the past, JAY-Z spoke warmly of his children. He discussed how critical it is for them to feel loved and to teach them to be compassionate.
READ ALSO: Jay-Z Opens up About How His 9-Year Marriage to Beyoncé Survived Infidelity
Despite his and Beyoncé's fame and wealth, he wants them to carve their own paths. He said:
"Feeling loved is the most important thing a child needs, you know? Not 'Here's this business that I'm going to hand over to you, that I'm creating for you.'

"What if my child doesn't want to be in music or sports? I have no idea, right? But as long as your child feels supported, and feels loved, I think anything is possible.

"Just make sure we provide a loving environment, be very attentive to who they want to be. It's easy for us, as human beings, to want our children to do certain things, but we have no idea. We're just guides."
JAY-Z also mentioned his gym habit, which ties in with his parenting goals.
"… just to be able to catch my children on the lawn. Those are my goals," he added.
Following the trial of Derek Chauvin for George Floyd's murder, Jay-Z says says there's still a long way to go but acknowledges that progress has been made.
"As a human race we're still on basic things. We're still on Stop Asian Hate. We can't sit and cry over spilt milk, but we do have to acknowledge that there's milk, right?" he says, adding, "Are we here today? No. Are we further than 50 years ago? Yes."
Although he rarely uses social media, the entertainer says its necessary for today's stars. He added:
"You can't give someone a microphone for 24 hours a day and [have them] not think they have to use it!. These kids, it's unbelievable. Imagine having a microphone and you're asked about social justice questions at 18 years old?

It's like, 'What? I'm meant to know the answer, and if I don't answer the correct way, if I don't say everything right, even if my intentions are right, and I don't say the same right thing, it's going to be everywhere.'"
SEE ALSO: Jay-Z Discloses Why He & Beyoncé Decided to Stay Together After he Cheated
Speaking about how he'll like to be remembered Jay Z said;
"I have no idea.

"I'm not beyond ego, right? Hopefully they speak of me [with] the names of Bob Marley and all the greats. But that's not for me to say."
When asked what he's most proud of, he responds,
"I'm most proud of overcoming my circumstances and providing opportunity for people who look like me and who came from the same situation that I've come from."