Widowed Mom, Chinwe Oforduru Pens Heartbreaking Open Note To Late Husband, Narrating Her Horrible Experience With His Family Since His Death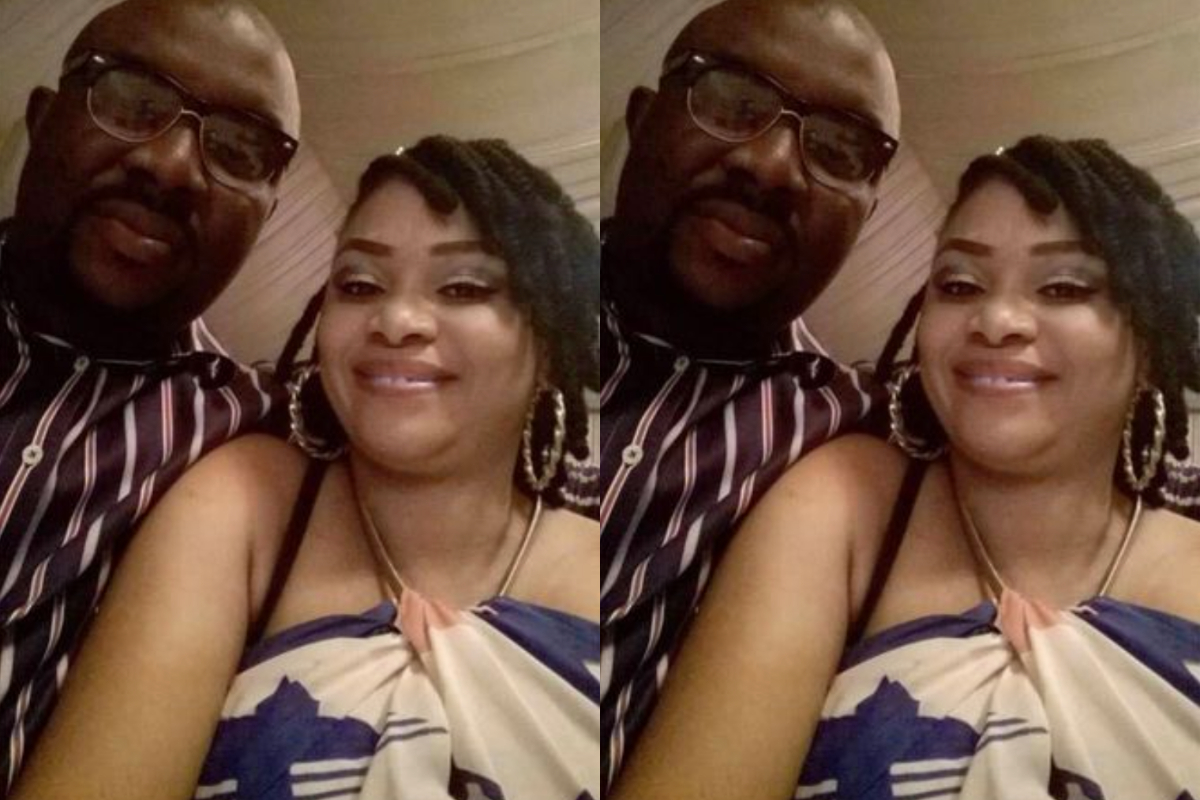 A widowed Nigerian mom-of-three, Chinwe Oforduru has taken to social media to share the horrible experience she had in the hands of her late husband's family since he died 5 years ago.
Sharing photo of her late husband and herself, the widow wished him a happy 44th posthumous birthday and also reporting to him how his family members have been mistreating and dragging for his properties.
According to Chinwe, who shared three daughters with her late husband, her husband's sibling have been billing her ever since her husband died in 2015.
She alleged that her late husband's sibling are also fighting with her over his property in Owerri just because she had no male child for him.
Below is her post…
"Happy 44th birthday My love.

Is already 5 years you left this wicked & miserable world to be with your maker, without considering I & your 3 daughters! Ihe di nwata mma, dikwa chi ya mma.

Chimee, it has been from one battle to the other. Your so called lovely & caring siblings have all turned to wolves. They are showing me their true colours now. Fighting over the only house we built in Owerri with me just because I had no son for you.

Even your eldest sister Mrs. Lilian Kelechi Arigbodi Née Oforduru, who also has 3 daughters in her husband's house is financing court proceedings for them. They have never asked how your 3 daughters are doing since 5 years you left us. None of them have asked how their school fees are paid, how house rent is taken care of & how they are fed!
SEE ALSO: Nigerian Mum, Chizoba Favour Chinedu Narrates How Underestimating Her Mother-In-Law's Determination Against Her Marriage Has Rendered Her A Widow
They just want to take over our house! Even Vincent Oforduru, your elder brother who you banned from entering our house in Owerri, has enough guts to enter our house now.

Chimee, I weep everyday knowing that if you were to be alive, none of these hungry wolves will dare come close to attack me. Chiagozie Paul Oforduru, your most stingy last brother who you fought your parents to allow him go to the University in UK, sued me last week, claiming that he paid in $10,000 to your account in 2015 & that he found out that I took the money after your demise! Can you beat that?

You died in 2016, & after 5 years, he is asking me to refund $10,000 he paid into your account after 5 years in 14days! This money was paid into your account a year before your death! Not into my account! How can I refund money I knew nothing about?

Chimee, your siblings shared your late fathers assets & properties without giving us a dime! Vincent Oforduru, has moved into the family house & in-charge of the two storey building there too. And he's still taking policemen to our house to harass my security man causing problems here & there.

Ogedi Vivian NiXon- Irabor wants my Range Rover you bought for me after I gave birth to Kayla, your last daughter. How can your own elder sister ask me to give him the car you bought for me, that she just wants to keep it in remembrance of you? Who does that?

Chimee, we were married legally, in church & traditionally. I was working in the bank when we got married! Your parents begged me to resign & I obliged! So because of the respect I have for you!

We bought & built our house together! I have never been a housewife since I got married to you. I have always hustled even with pregnancy to support you in the years we lived together until your demise, to the extent that friends & customers thought I was a breadwinner! Let your spirit fight them. Force the truth from their mouths in court , so that all the glory will be to JESUS!

Chimee, remember you told me that your immediate elder brother Vincent kidnapped Yannie @5 years but begged me to keep it to myself just because you didn't want to destroy his name as the heir apparent! Your considered your family name & held back! Now the same person has killed you & is after my life. Paul Chiagozie Oforduru said he can only pay Angel & Yannie's school fees only if I bring them back from USA .
ALSO SEE: Agony Of A Childless Widow: Olufunke Oladapo's 15 Years Battle For Husband's Inheritance Is Heartbreaking
Just negodi wickedness in the highest places?

Oh God of the widows, the father to the fatherless, do that which no man can do for me & my children. Fight this seen & unseen battles for me. Your words says; that they shall surely gather, but if their gathering is not of you, they shall scatter. Father destroy the devices of the crafty, so their hands cannot perform their enterprises.

Hbd to the world's best husband. I will still marry you in our next world when your siblings in this world are no longer your siblings in our next world.

Continue resting in the bosom of our Lord Jesus, till we meet to part no more
I still love you Chimee."