How A 54-Year-Old Caregiver Maltreated 11-Month-Old Baby Leading To Her Death | Watch The Heartbreak Video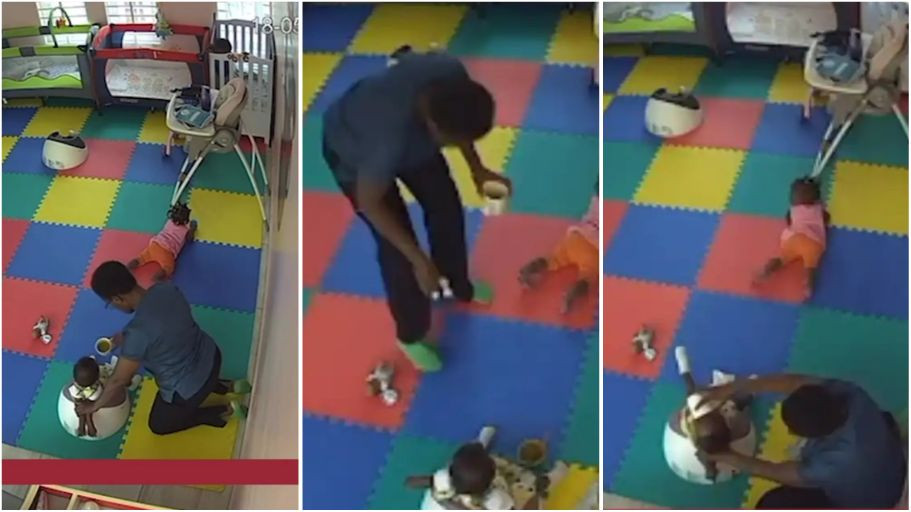 A 54-year-old female caregiver, Clara Ayani-Ampah has been nabbed by the police over the torturous handling of an eleven-month-old baby in her care which allegedly led to the death of the child.
The wicked caregiver was arrested after a closed circuit television (CCTV) camera installed in the room exposed the dastardly act, following a complaint the parents of little Allegra Yaba Ackah Mensah lodged over her death.
In the video shared online, the caregiver could be seen coercively striving to push what looked like a liquid-based food substance down the throat of the frail baby girl.
The lady who was not perturbed by the cries of the innocent child and her visible attempts in gasping for breath, pushed the fragile baby-hands of her victim behind her back all in her endeavour to push food down the throat of the frail baby.
The struggle between the woman and the baby who was gasping for breath, amidst cries for help while two other babies helplessly looked on without a full understanding of the ensuing incident is reported to have led to the death of the baby.
The little girl was pronounced dead at the North Legon Hospital where she was rushed by managers of the creche.
SEE ALSO: Crèche Owner Arrested for Allegedly Breaking Toddler's Leg
Reports indicate the incident occurred at Happy Bloomers, a preschool located at Ashongman Estates in Ghana on May 18, 2021.
Public Relations Officer of the Accra Regional Police Command, Deputy Superintendent of Police (DSP) Mrs Effia Tenge, said a docket on the case had been forwarded to the Attorney General's Department for advice.
She said on May 18, this year, the victim's father reported to the Agbogba Police that the management of the school had called him to inform him that his daughter was sick and had been taken to the North Legon Hospital where she was pronounced dead on arrival.
Graphic Online reported that a team of police investigators went to the hospital, examined the baby's body and took it to the Police Hospital morgue.
The Proprietress of the school, Mrs Christiana Atta Kumah later handed over a CCTV of the day's activities in the school to the police, which revealed how Clara had handled the baby.
READ ALSO: So Sad! How a 7-Month-Old Baby Died in Lagos Crèche… Videos
The body of the victim has since been released to the family for burial. An autopsy which was later conducted on the body, is yet to be made available to the family by the police.
Watch the tragic video below…
https://www.youtube.com/watch?v=wicG4X0aXc8