Toyin Lawani Addresses News About Her Marriage To A Married Man, Removing Her Womb And Why She's The Most Mocked Parent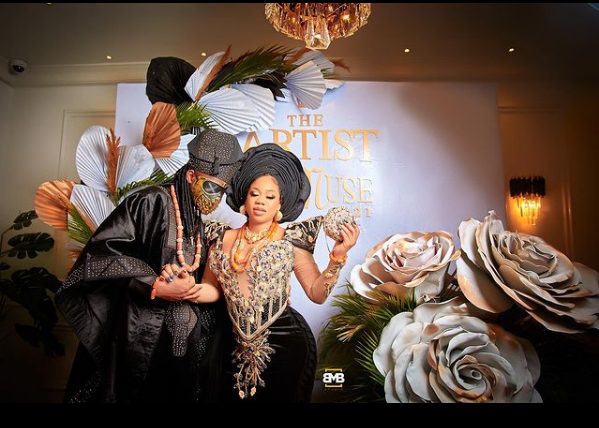 Nigerian fashion stylist and entrepreneur, Toyin Lawani is once and for all putting a rest to fake news about her life, recent marriage to her photographer, removing her womb and many more.
Recall that reports emerged that Toyin's new husband, Segun Wealth is already married with 2 kids and had to marry Lawani by abandoning his wife and kids.
However, Segun, who didn't deny being married before tying the knot with Lawani said that he takes care of his family.
Reacting to the mockery from people, Lawani said she should be allowed to live her life. Recall also that many people mocked her for having two children for two different men.
Taking to her official Instagram page to react to critics of her marriage to Segun Wealth, the expecting mom said she knows people mock her for her decision to get married again but she does not care because it's her life.
Speaking further, Toyin said she would not die in silence so that she can please the world. The celebrity stylist went further to say that she is the most mocked parent because she has kids from separate dads.
The stylist in an Instagram post she shared, said she has developed a thick skin and will always do what makes her happy.
Lawani added that she can have 6 children from different dads for different reasons as long as it makes her happy.
She wrote;
"I think I'm the most mocked parent out there , Guess what my crime is ??? Having kids From separate dads , well if Doing that will keep giving me kids like @therealtiannah and @thereallordmaine I will make the mistake over and over and over again , cause I don't Believe cause you failed once or twice , you shouldn't have the right to love again , see when it comes to all this nasty shits you people think you write to mock me , it doesn't move me at all , I've grown tough skin , that's what you people have taught me to do , so I do me and what makes me happy.

No matter how much you soil my name , the world people who mean well see how hardworking I am at my various crafts and see how I strive at my various crafts daily , imagine if I listen to such nonsense you all have to say , will my kids be where they are today ? Will they be making you happy ?? , cut that crap , see if I like I will have 6kids from different dads for different Reasons, so far it makes me happy , if the next one mess up i will move on again , its like you people don't know me, moni shoko gan.

I don't let anyone or anything hold me down and I don't care what anyone has to say , when something doesn't make me happy again I move on , I'm not one of those that dies in silence to please you lots , you lots that don't even have your life together , are the ones who knows how others should be living their lives , I don't care what you all have to say , you can't control my life cause I'm in charge of it , live and let live , my life is my business not yours , I'm too focused to be distracted."
In a separate post, Toyin talked about how she almost removed her womb when she was battling fibroids for over 15 years.  She also confirmed that she is currently expecting a child with her newly wedded husband. She wrote: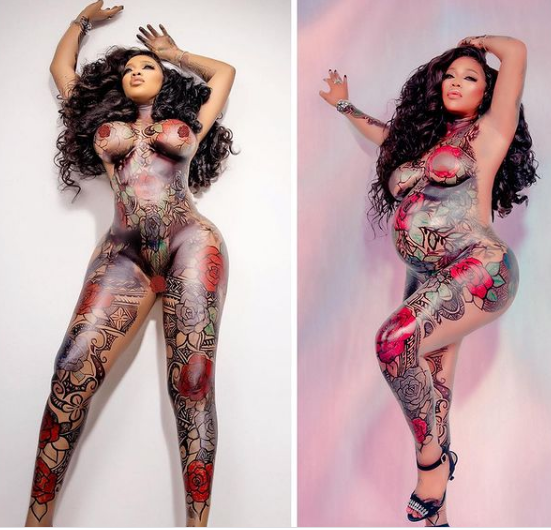 "Nigerians Are the funniest set of people ever, oh lord , see I will address this only because it has to with the fact that I don't sell lies, swipe and see all sorts of comments that was sent to me.

Number one , every statement I have ever made about my fibroids journey for over 15 years are online, dated and also on my page , Google is your friend, Not once did I say I removed my womb, I said I almost did and even booked an appointment to and when I started using @iyaeweherbs_ng s herbs to cure the fibroids, I said it and didn't even drop @iyaeweherbs_ng s handle until I got the results I wanted.

After I had my son , I really wanted another baby before I took the womb out, due to the warnings and the bad experience I had when I had him ? but it wasn't coming.

Obviously I had a relationship then too , even that I'm pregnant now , it's the Glory of using the herbs from @iyaeweherbs_ng which I'm grateful for and can't give the Glory to anyone else plus God.

I only found out I was pregnant after my proposal and during my birthday period, that's for you to know I keep my private life private, I only let you know what I want you to know.

People need to learn how to read well and stop spreading lies, on this same page, during lockdown I wrote epistle of how I found @iyaeweherbs_ng and how she saved me from taking out the womb after I planned for the procedure, scroll down , your hands are not broken, see @iyaeweherbs_ng works.

If you have fate and you are patient try it out, for future Mums to be, there's no harm in seeking for help when it's needed, I take pride in my brand and anything I lay my hands on and I've always been honest when It comes to this , so don't let anyone with hateful opinions out there distract you. It's still the #kingofallQueens ????."