Chidinma Ojukwu Makes U-turn On Killing Super TV CEO, Usifo Ataga, Shares Personal Details About Ataga's Marriage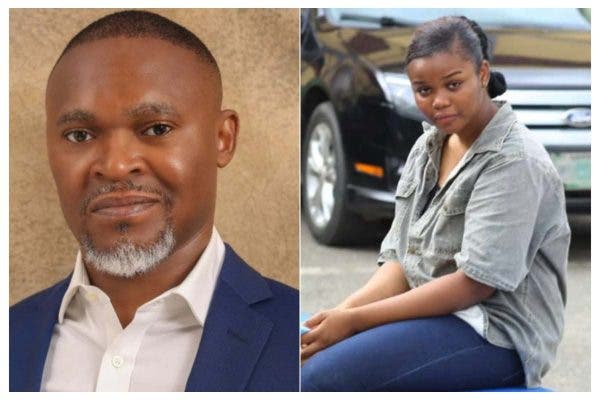 The main suspect arrested in connection to the murder of the Chief Executive Officer (CEO) of Super TV Michael Ataga Usifo, Chidinma Adaora Ojukwu has denied killing him.
The 300L student of University of Lagos, UNILAG was the alleged side chic and lover of late Usifo before his shocking death and her arrest.
In previous interviews she granted to the press, the suspect admitted she committed the crime during a scuffle in their short-let apartment in Lekki.
However, in a new development, the 21-year-old student is now retracting her previous comments and claiming she doesn't know who killed Ataga.
According to her, all she did was panic after she saw his lifeless body and left the room with his things including his ID and bank card. She later withdrew money with his ATM.
She currently mentioned that after she got home she called the owner of the shortlet where they stayed to check on Ataga.
Chidinma further said that the reason she didn't raise alarm after she saw his lifeless body was because she was scared she would be blamed for his murder.
She claimed that after they were accommodated in the short-let flat, she went out to fetch food and returned to find the deceased in a pool of blood. Ojukwu said in an interview with Crime Fighters.
"I went to withdraw money from the ATM and when I was leaving, he locked the door after me. When I came back, I noticed that the door wasn't locked and the duvet was on the floor.

"The couch was facing the door and the bed was stained with blood already. The floor was bloody and the TV was on."
Ojukwu said the room was disarranged as if someone broke into it and she was afraid that if she raised an alarm, the police would arrest her for the crime.
"I packed my things and left the room. I took the bag that contained his ID card and bank statements."
The 21-year-old said she took the phone and later withdrew more money from his ATM which he had earlier promised to give her
"There was no 5 million naira in my account. I don't have anything to do with his death.

"I know someone did it, but I don't know who the person is. I don't know what happened when I went to buy the food.

"I did not kill him. I believe someone knew where we were and waited for me to leave to do what they did."
She said she decided to take the blame initially because she was scared and insisted no one is influencing her.
Chidinma also mentioned in the video that Ataga wasn't in a happy marriage to the best of her knowledge.
READ ALSO: Chidinma Ojukwu Narrates How She Gruesomely Murdered Lover, Super TV CEO, Usifo Ataga | WATCH
The suspect described Ataga as someone who gets angry easily and was always busy.
She further revealed that the Super TV CEO was having issues with his wife and was not in a happy marriage, as it was more of catering for his kids.
Chidinma also denied having N10m in her account, revealing that she has about N400-500k which was money she made from selling a laptop which the deceased gave her.
She further revealed that they rented a shortlet apartment because Usifo said it wouldn't be fun staying in a hotel.
This is also coming after the wife of the late Usifo, Brenda sued a media outfit over a libelous post made about her over the death of her husband.
Brenda demanded N1billion as compensation over libelous and malicious reports against her person.
In a letter directed to the management of Naijaloaded, and dated June 28, Brenda asked the online outlet to pull down the report from its website and retract the damaging report.
In its report published on June 26, Naijaloaded had fingered Brenda in the murder of her husband, citing her relationship with the suspect through Brenda's boyfriend.
SEE ALSO: Chidinma Ojukwu Recounts How She Met Super TV CEO At A Wild Party As His Family Reveal More Grim Reports About His Horrific Death: 'His Neck Was Broken, Hands Tied …'
Reacting to this, Brenda stated that the report was a callous, malicious and a mindless attack on her personality.
She then demanded N1bn in damages, in the letter which was addressed to the Managing Director of the online medium, Mr. Makinde Azeez through her counsel, Chief Charles Uwensuyi-Edosomwan (SAN).
The letter read in part:
"A properly worded unreserved apology for the libel published in your news blog, two national television stations including Channels Television Network and three National newspapers including The Punch newspaper.

"That you pay the sum of N1, 000, 000, 000 (One Billion Naira) through our office to our client as pecuniary compensation for your reckless and mindless injury to her vide the published defamatory materials aforesaid.

"If at the end of 14 days from the date of this letter, any of the listed demands still stands unfulfilled, we would proceed on our full instructions to initiate steps to bring the full consequences of your recklessness in the aforementioned publications to you.

"In that case, all costs, fees and charges necessary for our client to redeem her image and recover her damaged character and credit would be on your account."
Meanwhile, investigations are still ongoing on issues surrounding the death of the Mogul.