Taliban Takeover: Horrifying Moment Afghan Mums Throw Their Babies Over Barbed Wire Fences As Fears Grow For Women And Children In The Country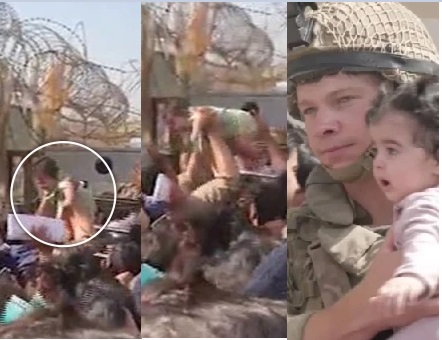 Desperate Afghan mothers have been filmed throwing their babies over barbed wire fences at the Kabul airport and begging British paratroopers to take them to safety.
On Sunday, Taliban militants took over Afghanistan's capital, almost two decades after they were driven from Kabul by US troops.
Although Afghan security forces were well funded and well equipped, they put up little resistance as Taliban militants seized much of the country following the withdrawal of US troops beginning in early July.
Same day, many watched with sobriety the fleeing of the Afghanistan president, Ashraf Ghani, and the takeover of The Taliban in major cities, including Afghanistan's capital, Kabul.
This new regime comes with a lot of questions and the fear of what the future of Afghanistan looks like, particularly for women and girls.
In several shocking videos, we see Afghanistans at the Kabul airport trying, desperately, to flee their country; many dead bodies at the airport; men clinging desperately to the landing gear of an American airplane taking off and falling off the plane mid-air; women fleeing their homes for fear of murder, rape, or being married off to Taliban soldiers.
Just yesterday, violent scenes unfolded at one of the routes to Hamid Karzai International airport as people try to escape a future under the Taliban militant group.
The entrance to the Baron hotel has become the focal point where Afghans seeking refuge in the UK have been gathering in the hope of being able to escape the Taliban. It is guarded by Parachute Regiment troops.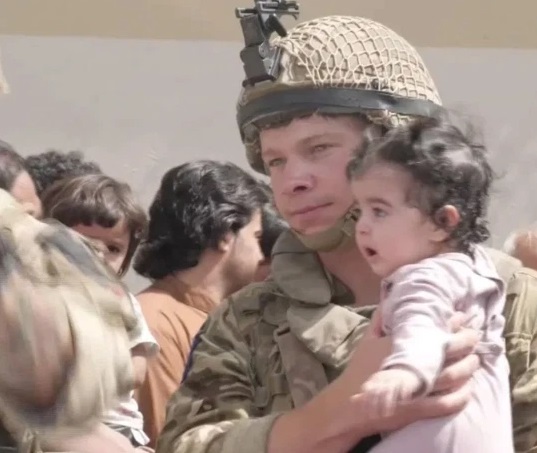 One officer told the Independent:
"The mothers were desperate, they were getting beaten by the Taliban. They shouted, 'save my baby' and threw the babies at us.

"Some of the babies fell on the barbed wire. It was awful what happened. By the end of the night there wasn't one man among us who was not crying."
SEE ALSO: Child Marriage: Afghanistan Father Gives 6 Year Old Daughter To 55 Year Old Imam In Exchange For A Goat
Another senior military officer spoke about the scenes to Sky News. He said:
"It was terrible, women were throwing their babies over the razor wire, asking the soldiers to take them, some got caught in the wire.

"I'm worried for my men, I'm counselling some, everyone cried last night."
The UK is currently evacuating British citizens and Afghans who worked for the government during the 20-year-war.
The route to the Baron Hotel also leads to the facilities of other countries which are carrying out evacuations, and the numbers of those desperate to get away are growing by the day as even those without paperwork beg to be airlifted to a place of safety.
Defence Secretary, Ben Wallace said the armed forces cannot take youngsters without their families.
However, he offered reassurance that the UK government is continuing to load families onto planes departing Kabul airport and will continue "rolling through that process".
He said that as he was speaking, troops were loading 120 families on to a plane to depart, with another 138 set to leave a few hours later. He said:
"It is a 24-hour airport now for military planes and they are getting through.

"Obviously we cannot just take a minor on their own and it is difficult, but you will find, I think if you see in the footage, the child is taken – that will be because the family will be taken as well.

"It will be the challenge of trying to make it through the crowd. We are finding other ways of dealing with that, but that is what is happening."
For many Afghans, the future is uncertain, bleak and dark. For Afghan women, the freedom they have long fought for could go down the drain. Their future is one of no freedom, one where they could be erased, and lost in historical books.
Ruth Polland, for Bloomberg, writes that:
"A generation of Afghan women who have taken their place in society are now watching that space shrink before their eyes. Now The Taliban are going door-to-door in some areas, compiling lists of women and girls aged between 12 and 45 years for their fighters to forcibly marry.

Women are again being told they cannot leave the house without a male escort, they cannot work, study or dress as they please. Schools and colleges are being shut and businesses destroyed."
Love and light to Afghans in this trying period!